After a trophy-laden spell at White Hart Lane ended in shock relegation the supposedly declining Northern Ireland No 1 found a new lease of life at Highbury
By Tom Hocking
5 September, 2022
After flitting between Gaelic and association football in his teens, Pat Jennings swapped hometown club Newry Town for Third Division Watford aged 17. During an excellent debut season in 1963-64 he earned a Northern Ireland call-up, lining up alongside fellow debutant George Best against Wales. Watford missed out on promotion by two points but Jennings had caught the attention of Bill Nicholson at Tottenham.
By late 1965 Jennings had overtaken Double-winning keeper Bill Brown as first choice at White Hart Lane. A late charge in 1966-67 saw Spurs finish third and reach the FA Cup final, where Jennings inspected the pitch with Jimmy Greaves and Terry Venables ahead of their 2-1 victory over Chelsea. This set up a Charity Shield clash with Manchester United in which Jennings' punt up field looped over the head of Alex Stepney into the United net for the Northern Irishman's only goal of his career.
A few years later and Jennings' experience in Gaelic football had made him one of the best handlers of his generation, the ball seemingly drawn to his grasp. A 1971 League Cup triumph was followed by a 3-2 aggregate win over Wolves in the 1972 UEFA Cup final. By March 1973 they had a third trophy in three seasons, beating Norwich 1-0 in the League Cup final. That same month Jennings made two penalty saves at Anfield, from Kevin Keegan and Tommy Smith, showing the kind of form that earned him the 1973 FWA Footballer of the Year award.
Though no more trophies were won at Spurs, Jennings remained high-profile enough to star in a 1976 Frosties advert in which he muttered the immortal line "They're grrrrreat" while his giant hands – he needed size 11 gloves when they were introduced – dwarfed the bowl of cereal. He also became the first goalkeeper to win the PFA Players' Player of the Year, as Spurs finished ninth.
The following season ended in shock as Tottenham succumbed to their first relegation since 1935. Believing Jennings' career was in decline, Spurs sold him to Arsenal where he clinked pints of milk with former Northern Ireland boss Terry Neill. The 33-year-old established himself as No 1 and in 1978 began a run of three FA Cup finals in a row. Only one was won, a 3-2 victory over Manchester United in 1979, and 1980 saw double heartbreak. Four days after an FA Cup final defeat to West Ham, Arsenal lost the Cup-Winners Cup final to Valencia on penalties. Jennings saved the first spot-kick from Mario Kempes but was unable to stop the rest.
The keeper ploughed on to become the first player in English football to make 1,000 senior appearances, receiving champagne before keeping a clean sheet against West Brom in February 1983. He was eventually replaced by John Lukic, and had a farewell match against Spurs at Highbury in May 1985.
Jennings was not done, though. He returned to Spurs, maintaining fitness in their reserves ahead of Northern Ireland's 1986 World Cup campaign. On his 41st birthday Jennings was in goal for a 3-0 defeat to Brazil in their final group game, making him at the time the oldest player to compete at a World Cup. It was his last international appearance, and he soon moved into coaching.
This article first appeared in WSC 424, September 2022. Subscribers get free access to the complete WSC digital archive
Want to see your writing published in WSC? Take a look at our pitching guide and get in touch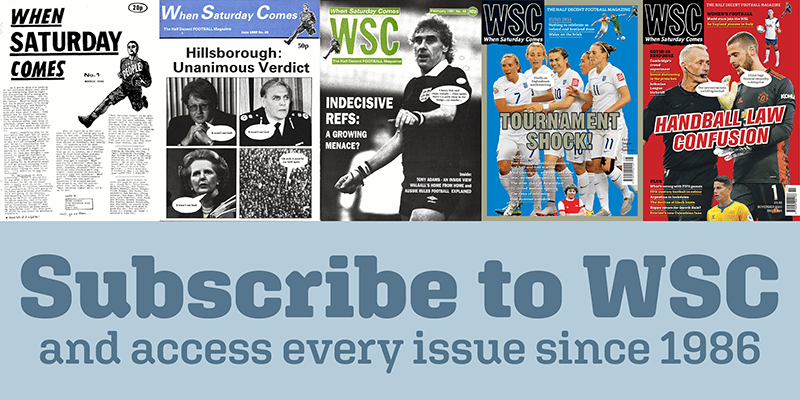 Tags: Arsenal, Focus On, Goalkeepers, Northern Ireland, Pat Jennings, Tottenham Hotspur