For 160 years women have been denied the opportunities afforded to men, but now the fightback is on
By Jean Williams
25 August, 2022
There's a certain kind of masculinity that likes to regulate women's joy and pain. It is assumed that women are not smart enough to judge what to do with their bodies for themselves, and require help, in the form of rules, regulations and prohibitions on what women may, and may not do. Crowds of women are even worse. A peaceful vigil for Sarah Everard, a woman killed by a serving police officer, was more heavily policed than the men's Euros in 2021. So even mass female sorrow has to be regulated. But in regards to joy, in this fiction women and girls just do not understand, and can never have, the passion that drives the average football fan to follow their team in the most adverse conditions and obscure of away grounds available. Yet adversity and obscurity are the spaces that traditionally women have been allocated in their love of football.
The myth of women's lack of passion and knowledge was punctured on a glorious Sunday in July when joy filled a triumphant Wembley Stadium and its surrounds. People were pleased to see old friends, and to make new ones. Wandering around the German fan park, I bumped into Petra Landers who won the women's Euros with Germany in 1989 and was presented for her efforts with a china coffee set. We hugged, had photos, drank a Pimms, and talked and talked and talked football. We put the coffee set in a museum so that future generations might see how women winners have been undermined and trivialised.
Inside the stadium, the young man in the seat next to mine had taken his younger brother. They had been priced out of the men's Euros, and he didn't like the violence anyway. They'd bought merchandise, sang and cheered, ate their nachos, and knew the names of the entire England squad. In what is often mistakenly assumed to be a family audience for women's football it is often missed that the majority of fans are male, the kind of men and boys who are allies of women's sport, and don't see the difference in supporting their national male or female side. There are sizeable groups of LGBTQ+ fans too, celebrating the pride of being part of a diverse and inclusive fan culture, and reflecting a sizeable number of the current England squad who are part of the LGBTQ+ community.
The rollercoaster of jubilation had begun almost a month earlier one evening in Manchester, when England had a shaky start to the tournament against one of the surprise stars of the finals, Austria. On their social media, in their press conferences, and in their play, coach Irene Fuhrmann made sure that her Austrian team really enjoyed what was only their second ever Euros, after first qualifying in 2017. Their exuberance was contagious, and this belied the years of neglect, under-funding and lack of direction provided by their national association. Austria had played in the unofficial women's world cup in Italy in 1970, and had some success before then in friendly internationals, but the national association continues to disregard the team, and in this first match against an England squad under Sarina Wiegman now supported by a 100-person-strong women's technical directorate, it showed.
Both Wiegman and Fuhrmann looked like they wanted to be coaching a women's national side, not perceiving it to be window dressing for a step to a male squad, and the coaches who were poor, Jorge Vilda, noticeably for Spain, looked technically naive. He arguably lost the match for his team with a poor substitution, taking off the goal scorer, just as Ella Toone and Georgia Stanway came on to score late goals for England. Again, even with the fabled golden generation in the national side, Spain has only recognised women's football since 1980, and club teams such as Barcelona and Real Madrid have done more to develop the technical ability of the players than the national association. Of the four national associations that could have won, Germany and France also had female coaches. The gap between Northern Ireland, led by a hopelessly inept Kenny Shiels, was clear and in his attempt to ruffle Wiegman, by saying she was benefiting from Phil Neville's tenure, he looked like a hapless dinosaur.
So the exhilaration at Wembley on July 31 was not about overcoming 30 years of hurt, as the song goes, but almost 160 years of disapproving of women who love their football. Most people are now aware that the Oxbridge old boys of the FA in 1863 just ignored women until 1902 when the council forbade women's teams playing against men's teams, in response to the matches of the British Ladies Football Club which drew large crowds for mixed matches. Then came the First World War and women's huge popularity in charity games, followed by the 1921 ban on women playing on FA-affiliated pitches. This invented a myth that women's football was not spectacular and had to play in smaller out of the way venues, like the semi-final match between France and Germany at Milton Keynes.
So the rejoicing at Wembley was not just about the football, but something much bigger. The ebullience was for every little girl who had been told not to play football, for every woman who had to settle for the worst pitches and changing rooms, and the Sunday leftover referees, playing when every­one else had already left. Call it football feminism if you like, with plenty of very welcome male allies. It was also for all those women and girls who still today are denied a place in a stadium, on the pitch and in the boardroom. No one wanted to leave but everyone was well behaved. There was no need for regulation or rules. We knew exactly what we were doing.
Professor Jean Williams is the author of several books on football history, including A Game For Rough Girls (2003) and The History of Women's Football (Pen & Sword, 2021)
This article first appeared in WSC 424, September 2022. Subscribers get free access to the complete WSC digital archive.
Want to see your writing published in WSC? Take a look at our pitching guide and get in touch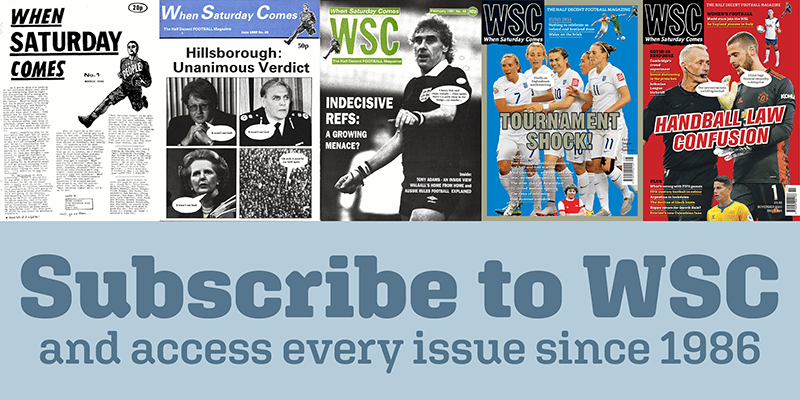 Tags: England, Euro 2022, Lionesses, Women's Football