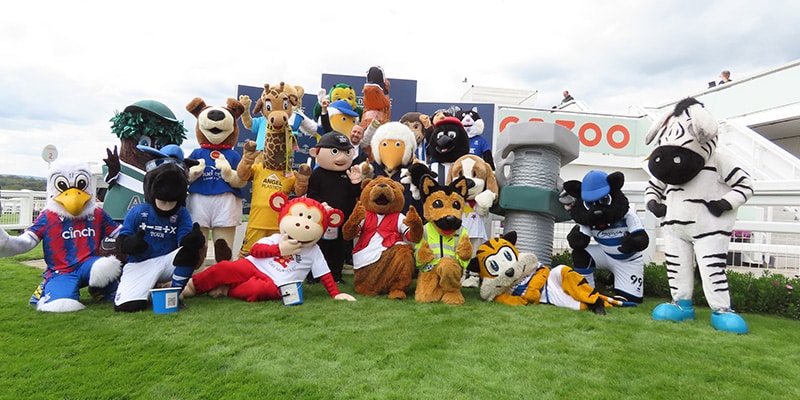 Representing your club as their mascot makes you part of a community like no other – one well worth the sweaty costume and risk of broken fingers

By Faye Hackwell
25 August 2023
It was a hospitality suite accustomed to being filled with champagne, canapés and flamboyant hats. But on this occasion, giant dismembered heads, furry legs and over-sized items of football kit were strewn across every piece of furniture. "I'm Nuts and Bolts and this is Ash the Tree," I told the Womble holding a register and pen. "We're here for the mascot race."
The annual event at Epsom Downs Racecourse is the highlight of many football mascots' sporting calendars. Mascots from lesser-known non-League clubs like mine go up against professional club icons in a surprisingly competitive race, which was the racecourse's most-watched video on social media last year.
My first experience of being a mascot was as a trainee local newspaper reporter when the man who had been Newport County's Spytty the Dog for a decade "retired". Never one to shy away from an opportunity to perform, I volunteered to write a feature about spending a match inside the costume in the hope of encouraging someone to take over the role and save Spytty.
It wasn't until I became involved with my local side, Ashford United, years later that being a mascot became a regular Saturday afternoon fixture. A sponsor funded a competition asking local school children to design a mascot and the winning design – Ash the Tree, inspired by the Kent town's name – was made into a costume.
With other fans surprisingly reluctant to take a turn as Ash, I became the regular mascot and, in addition to home fixtures – the club now plays in the Isthmian League – started to make appearances at community events, youth tournaments and school assemblies. Ash caused such a stir that a second mascot, Nuts and Bolts, was commissioned, and we became one of the few football clubs in the country with two mascots.
Although it can get hot and uncomfortable, and you constantly risk knocking over small children thanks to the letterbox vision, nothing beats the adoration you receive as a mascot. You're constantly being watched, so there's no chance of taking a quiet moment or removing the head for a quick drink in public view. But you do get the chance to develop your mascot's personality through traits like a funny walk, trademark goal celebration or dance routine.
Among those I've met in the online community of football mascots is 22-year-old James Knell, who juggles being Bamber Bridge's The Brig Cat with his role as kitman. "I love that I can take the mickey and no one knows it's me," he says. "I have traits of autism so usually I don't like busy places but once that head goes on, I'm a different person."
Matt Haynes has been Howie the Hornet for Sussex side Horsham since 2005. "Stepping into the outfit, I can kind of be someone else. I accidentally broke Haydon the Womble's finger during a half-time penalty shootout once by kicking the ball too hard and I also got my head antennas caught up in a net, so when I left the goal my head stayed attached and I walked out as a mascot with a human head."
Haydon the Womble, whose finger has thankfully now recovered, is played by Dean Parsons, who set up the annual mascot race at Epsom for charity three years ago (this year's race will take place on Bank Holiday Monday, August 28). In his 17 years with AFC Wimbledon, as well as being a well-known furry face at local events he's appeared on the fourth plinth in Trafalgar Square, carried the Olympic torch and made national headlines when he crowd-surfed after Wimbledon scored against Liverpool in the FA Cup in 2015. "You have to care for the club you're a mascot for," the 49-year-old says. "I love doing the stuff in the community that reflects well on AFC Wimbledon."
Howie more than redeemed himself for breaking Haydon's finger when he came to my aid in last year's race at Epsom, won by Hartlepool United's H'Angus the Monkey in a photo finish ahead of The Brig Cat. Struggling on the racecourse's long grass as Nuts and Bolts, the pigeon steps my costume limited me to left me several minutes behind the rest of the field. Having worn the heavy suit for a couple of hours by that point, I was running low on reserves when Howie swept in to help propel me towards the finish line, with the assistance of Queens Park Rangers' Jude the Cat.
Nuts And Bolts needed serious assistance to finish pic.twitter.com/ufiRHAeLeg

— Epsom Downs Racecourse (@EpsomRacecourse) August 29, 2022
Photo by Kirk Pritchard
This article first appeared in WSC 434, September 2023. Subscribers get free access to the complete WSC digital archive
Want to see your writing published in WSC? Take a look at our pitching guide and get in touch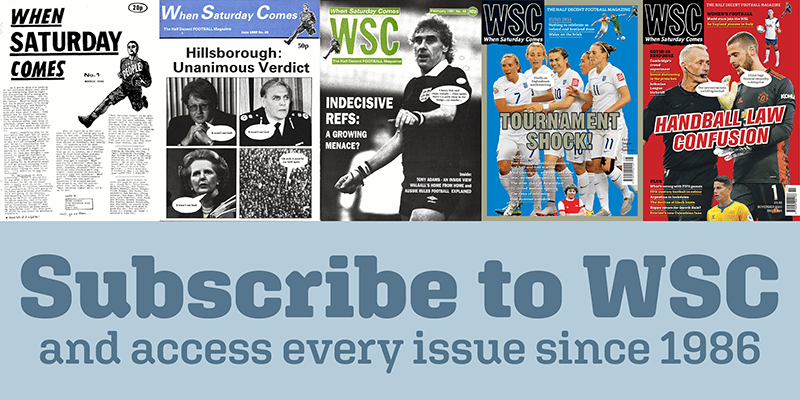 Tags: Ashford United, Mascots