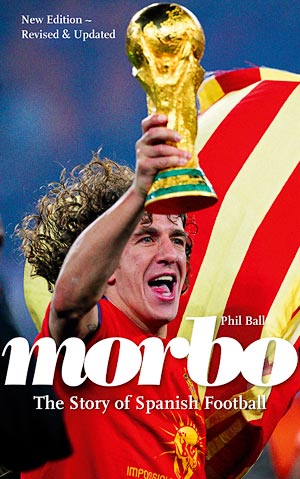 Morbo
The Story of Spanish Football by Phil Ball
Morbo is the unique element that gives Spanish football its special flavour. More than mere rivalry, it is the expression in a thousand provocative ways of the feeling between clubs divided by history, language and politics.
At its most bitter between Barcelona and Real Madrid, the same spirit courses through the uncompromising politics of the Basque Country, hangs over the divided city of Seville and marks Spain's attitudes towards its national team.
In this 2011 edition, Phil Ball examines the successes of the Spanish national team in the World Cup of 2010 and the European Championship of 2008, as the dark horses finally managed to live up to their potential. In addition the analysis of the rivalry between Real Madrid and Barcelona is brought up to date to take account of the many fractious recent encounters between the two clubs, in both domestic and European competition.
Subscribers save £1
"Essential reading for every football aficionado"
Rough Guide to Spain
"Excellent… Phil Ball has written nothing less than a guide to Spanish life"
Simon Kuper, Observer
"An entertaining and original analysis of the sociopolitical history of Spanish football"
El País
"His eye for the thrilling moment is matched only by his succinct manner in telling the tale"
World Soccer
"A fascinating book, full of politics and culture as well as football"
Independent