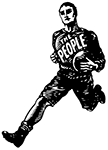 Day 17 of the WSC Christmas advent calendar and we've got the joys of Christmas gifts for you. Today is the final day to order a UK WSC Christmas gift subscription and guarantee their personalised card arrives in time for the big day. You can order by following this link to our shop.
Give someone a subscription to When Saturday Comes this Christmas and you will save them from being stuck for a conversational topic throughout 2013. Is 4-5-1 an outmoded system? Will the seven years of trophyless heartache bravely endured by Arsenal fans come to an end at last? With the money he earns, why can't Alan Shearer dress better than that? Reading WSC will ensure that they will never be short of opinions whenever such topics are raised. The new subscription will start with the issue sent out in January, so to ensure they don't feel hard done by on Christmas Day, we'll send them a card telling them all about it, complete with a message from you. You can give us the recipient's name and address and leave your message when you check out.
If you're looking for other presents we do plenty of books and T-shirts, too. Self-promotion over, more advent treats for you tomorrow.