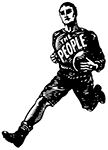 We are pleased to announce the return of the annual WSC writers' competition, in memory of contributor David Wangerin. Entrants are invited to submit an article of between 800 and 1,500 words about any aspect of football, not necessarily to do with the current season. The award was David's idea and he requested that it should only be open to amateur writers, ie those who don't make their living from writing. The closing date for submissions is 5pm on Monday, June 27, 2022.
Send entries by email to writers.competition@wsc.co.uk. This address should also be used for any questions you may have as we will not take phone enquiries.
The judging panel will be made up of WSC editor Andy Lyons and deputy editor Tom Hocking. There will be a cash prize of £250 for the winner and the winning article will be published in the magazine.