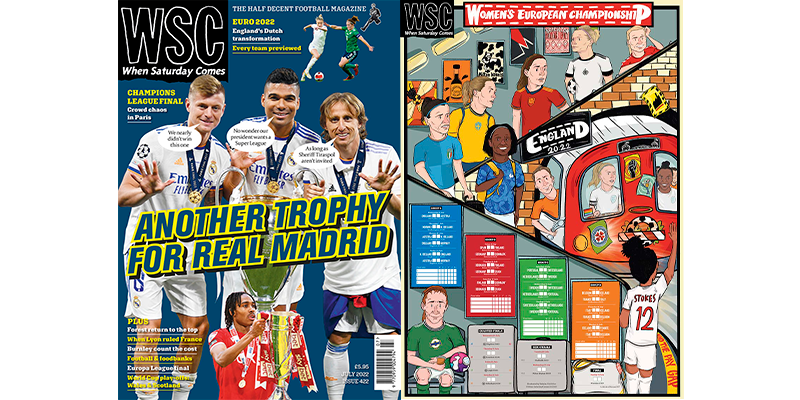 July issue available now online and in store
The new WSC, including our Euro 2022 fixture wallchart, is out now available from all good newsagents or to order from the WSC shop with free UK delivery.
Inside
Euro 2022: England's Dutch transformation | Every team previewed
Champions League final: Crowd chaos in Paris
Plus
Forest return to the top | Burnley count the cost | Football & foodbanks | Europa League final | Wales ready for Qatar | Scotland agonise again | Remembering the 1971 Women's World Cup | Jake Daniels speaks out | Watford's new approach | Gateshead on the up | Brackley Town v York City | Inspirational posters | Football on the radio | When Lyon ruled France | Focus on Hope Powell
Gang of four Euro 2022 preview
Only four nations have ever been European champions since UEFA's inaugural women's championship in 1984. In 27 years, just three have achieved the feat as hosts. Both those stats could be enough to make any England fan wince ahead of this summer's home Euros as the Lionesses look to become only the second new name on the trophy since 1989. First, England must overcome Austria, Norway then Northern Ireland in packed stadiums and carrying high expectations. England have gone through two head coaches and an interim boss since the last Euros in 2017. Now, in former Netherlands captain Sarina Wiegman, they may have found the best fit yet.
Buy now to read the full article
Blame culture Shambolic organisation at the Stade de France
We like to think that times change, that we now live in a more tolerant and transparent age. Yet we know this isn't the case. As recent politics has only laid bare, the noble assumption that society is in a state of gradual progression is a fallacy. The Champions League final in Paris was an appalling example of how attitudes have, by and large, remained the same. With the kick-off delayed for over half an hour, both the French authorities and UEFA wasted no time in blaming fans for the situation, citing the late arrival of thousands of Liverpool supporters outside the stadium, creating a build-up at the turnstiles. Between 30,000-40,000 people with fake tickets, they claimed, had tried to force access into the ground, before "the rapid intervention of the police allowed the return to calm". Aside from the shameless manipulation of the truth, what was equally alarming was the speed with which the authorities – UEFA, the police, French politicians, the French Football Federation – rushed to defend one another.
Buy now to read the full article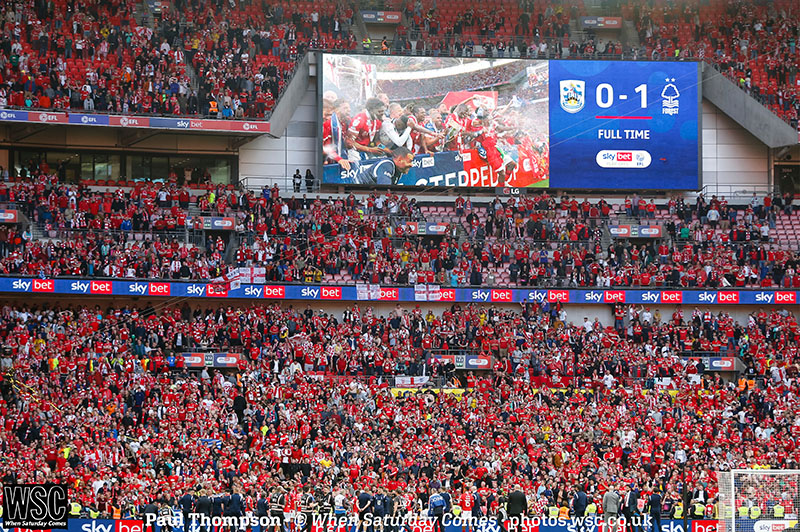 Huddersfield Town 0-1 Nottingham Forest Steve Cooper takes Forest back to the top
It makes a sort of sense that the Championship play-off final generates a feeling of excitement and occasion not far off that of the FA Cup final. After all, in recent years that competition has been busted down to almost League Cup status, a piece of consolation silverware for elite teams with larger ambitions – the Champions League trophy, the Premier League title, even a top-four Premier League place. It is perverse that the fanfare of a Wembley appearance should only be granted to those teams who might have finished as low as sixth in the Championship table, and unfair on those clubs who finished third. However, the sense of joy that is experienced by supporters on these occasions, albeit with a sickly undercurrent of anxious adrenaline, feels churlish to deny. Players and managers can move on, move about – fans are attached permanently to their clubs, for whom Wembley appearances can be scarce indeed.
Buy now to read the full article
Page turner World Cup joy for Wales
Anyone who thought Wales might be swept away by the emotional wave accompanying Ukraine's World Cup bid did not know that they have previous in disappointing victims of Russian geopolitics. One of the few past Wales matches of comparable importance, the group play-off against Hungary at the 1958 World Cup finals, was played the day after the execution of Imre Nagy, leader of the 1956 Rising. Cris Freddi's Complete Book of the World Cup describes an atmosphere at Stockholm's Rasunda Stadium, with a tiny crowd and "an eerie background of Free Hungarian chanting and banners draped in black", diametrically different to the euphoria in Cardiff 64 years later. But the outcome, with Ivor Allchurch's volley from John Charles's cross playing the role of Gareth Bale's freekick in a 2-1 win, was the same. Qualifying after 64 years puts Wales into the World Cup record books in place of Egypt and Norway (56 years). They'll be there for a while unless Cuba or Indonesia (84 and counting) make serious progress. Next on the list are 1958 qualification playoff victims Israel, 52 years.
Buy now to read the full article

England photo via Getty Images, Stade de France photo via Getty Images, Nottingham Forest v Huddersfield Town photo by Paul Thompson/WSC Photos, Wales photo via Getty Images
Availability
WSC is the only nationally available independent football magazine in the UK. You should be able to find a copy in your local newsagent, otherwise outlets that stock WSC include WH Smith, mainline train stations plus selected Tescos. If you're having trouble finding the magazine, you could do one of the following:
1. Subscribe now and also get access to the complete digital archive
2. Buy the latest issue direct from WSC
3. Sign up for our digital edition and apps for iPhone, iPad and Android
4. Email us
5. Ask your local newsagent to order it for you