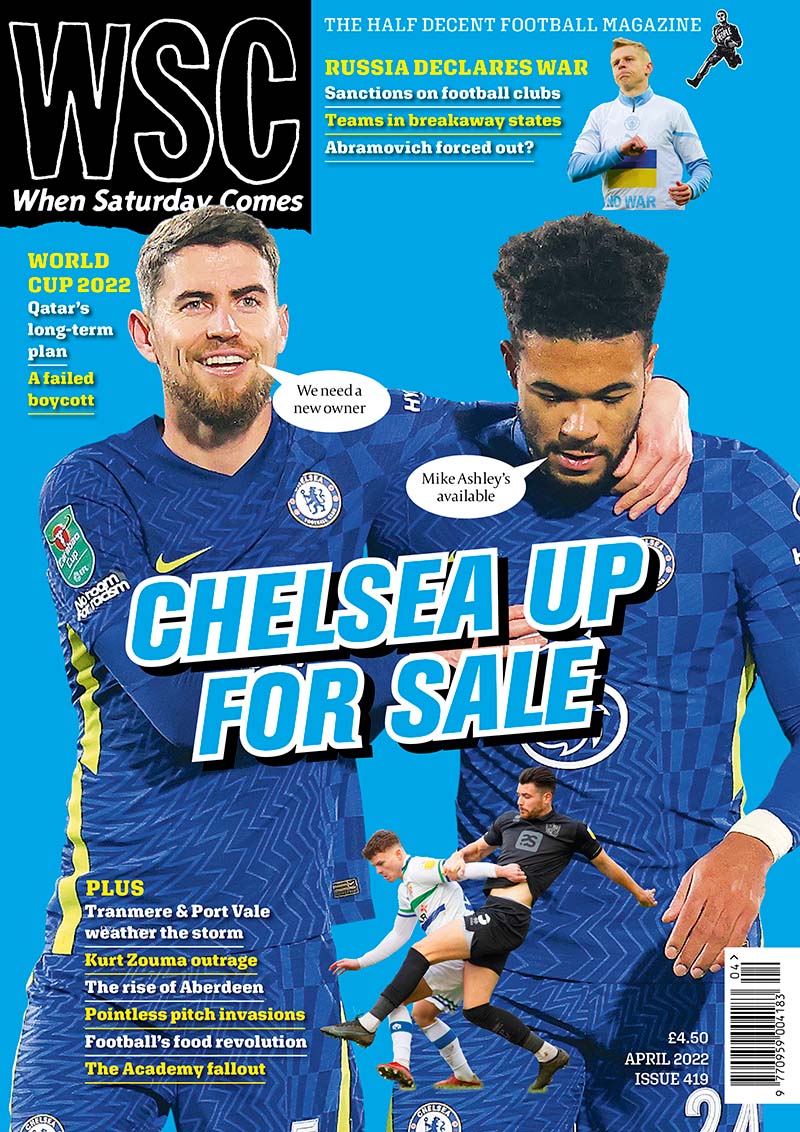 April issue available now online and in store
The new WSC is out now available from all good newsagents or to order now from the WSC shop with free UK delivery.
Inside
Russia declares war: Sanctions on football clubs | Teams in breakaway states | Abramovich forced out?
World Cup 2022: Qatar's long-term plan | A failed boycott
Plus
Tranmere & Port Vale weather the storm | Kurt Zouma outrage | The rise of Aberdeen | Pointless pitch invasions | Football's food revolution | The Academy fallout | Arnold Clark Cup | Bridlington Town & Hall Road Rangers | Asking questions of Clyde | Non-League crowd boom | Storm Eunice hits Sussex games | A lost Cypriot card | David Wheeler talks politics | Conifa controversy | Poland's unexpected appointment | Focus on Sean Dyche

Russia blood Frozen out of football
When Europe woke up to a new war, I walked from a heavily policed Red Square to Novy Arbat – a popular tourist area of central Moscow – in search of public opinion. "What will become of us?" one young Russian asked, his face racked with a panic that had shaken the nation. "Are we the next North Korea?" As the shock thawed and a sense of anger and helplessness set in, Russians watched as the ties they had built and nurtured with the western world over the last three decades were severed; airspaces closed, visa schemes scuppered and businesses frozen out. Once sanctions began to be imposed, nowhere was safe for the illicit Russian money that has sloshed around European capitals for the last 20 years. Not least in one of the Kremlin's favoured vehicles of influence and legitimacy – football. Since a camera-shy, scruffy-looking Roman Abramovich turned up in west London in 2003, pledging £140 million to buy Chelsea, a deal that took him all of 30 minutes to complete, Russian state enterprises and linked personnel have continued to meddle in European football.
Buy now to read the full article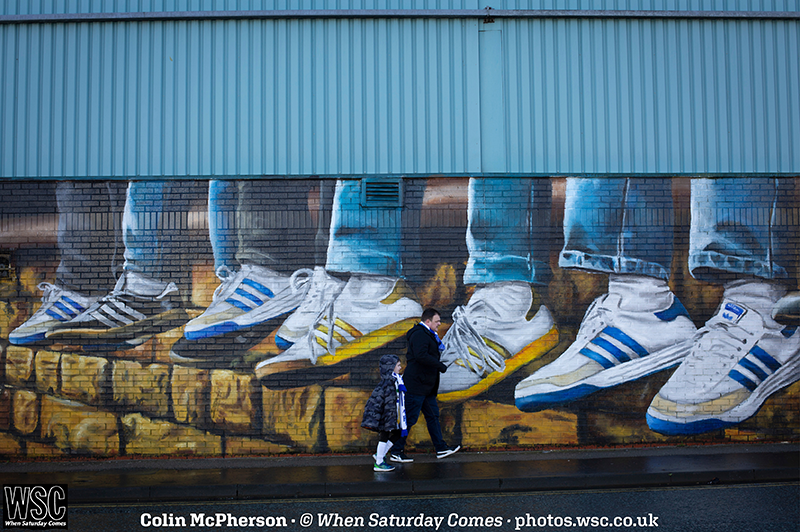 Tranmere Rovers 1-1 Port Vale Nerves jangling at the top of League Two
It's not a day to be out. Yet two men and a woman stride purposefully through the wind and rain down Borough Road. The taller man, shoulders of his burgundy jacket wet through, spots his target. He slows. Looks around to see if anyone is watching. He raises his hand above his head, and plants a Port Vale sticker on a road sign. Further along, the trio approach a bus stop. The tall man slaps a sticker on the timetable board. The woman, concealed inside a coat with a fur-lined hood, is emboldened to stop, whip out her phone and take a picture. Mission accomplished, they cross the road and dive into the dry of the Prenton Park pub. There are a lot of Vale fans here, the biggest away following anyone at Tranmere Rovers can remember for a while. Apprehension is building. Tranmere are second in League Two, but wobbling. Eight 1-0 wins have helped their automatic promotion bid, but two single-goal defeats in the past week have undermined it. Vale, in ninth, could overtake them by winning their four games in hand, the legacy of a coronavirus-hit fixture list. This weekend, it's Storm Eunice playing havoc with the football programme across the country, but this match is on.
Buy now to read the full article
Aiming high Qatar spending big to build a team
Back in 2005, I watched Diego Maradona play football. It wasn't something I thought would ever happen. The year before Maradona was on death's door, both addicted to cocaine and, oddly, morbidly obese at the same time. He'd had two heart attacks. But with the help of his old friends Fidel Castro and Hugo Chávez, he was packed off to Venezuela for a stomach stapling operation and Cuba for rehab. Now he was better. And there he was, tearing around the pitch of the Aspire Academy in Doha, Qatar, looking like a new man. Aspire is a state-of-the-art sports facility and talent incubator built by Qatar, no expense spared. Which is why they spent millions of dollars getting Pelé and Maradona to open it. At the time it seemed like a strange concept, more like a glorified leisure centre than anything else. Qatar was only beginning to flex its muscles in sport. It was about to host the Asian Games in 2006 and had grand ambitions of hosting an Olympics or a World Cup. But that seemed ridiculous. Qatar was too small, and hot, to take such a plan seriously. But five years later Sepp Blatter was pulling a piece of card out of an envelope in Zurich that awarded Qatar the right to host the World Cup, and Aspire took on a pivotal role. It was charged with building a team to compete in 2022.
Buy now to read the full article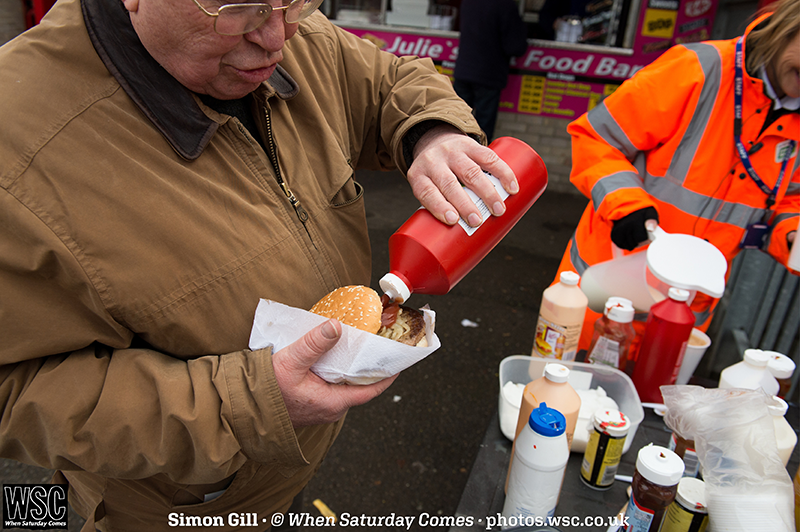 Hunger games Ranking stadium food becomes a social media hit
There was a time not too long ago when anyone hoping for a warm meal on the terraces of a lower-league football match would face a stark choice: Pot Noodle, or hunger. While many understandably chose the latter, you would still see innumerable tubs of freeze-dried slop perched precariously on crush barriers, one wayward shot away from discharging their rehydrated gruel over unlucky bystanders. They were often served from little wooden sheds for an astronomical mark-up by faintly furious volunteers who would give you nothing more than an indignant frown if you dared asked for chips. Things have come a long way since then. Technology has shrunk the size – and price – of once-exotic catering equipment and British culinary tastes were forever broadened by the explosion of affordable casual dining on the high street in the 1990s. A whole new generation of amateur and not-so-amateur chefs have forged a truly global street food scene. From farmers' markets to music festivals, the choice now offered is bewildering. But there's always been a market the scene has struggled to break into: football.
Buy now to read the full article

Roman Abramovich photo via Getty Images, Tranmere Rovers v Port Vale photo by Colin McPherson/WSC Photos, Aspire Academy photo via Getty Images, burger photo by Simon Gill/WSC Photos
Availability
WSC is the only nationally available independent football magazine in the UK, and you can get it monthly for a very reasonable £4.50. You should be able to find a copy in your local newsagent, otherwise outlets that stock WSC include WH Smith, mainline train stations plus selected Tescos. If you're having trouble finding the magazine, you could do one of the following:
1. Subscribe now and also get access to the complete digital archive
2. Buy the latest issue direct from WSC
3. Sign up for our digital edition and apps for iPhone, iPad and Android
4. Email us
5. Ask your local newsagent to order it for you