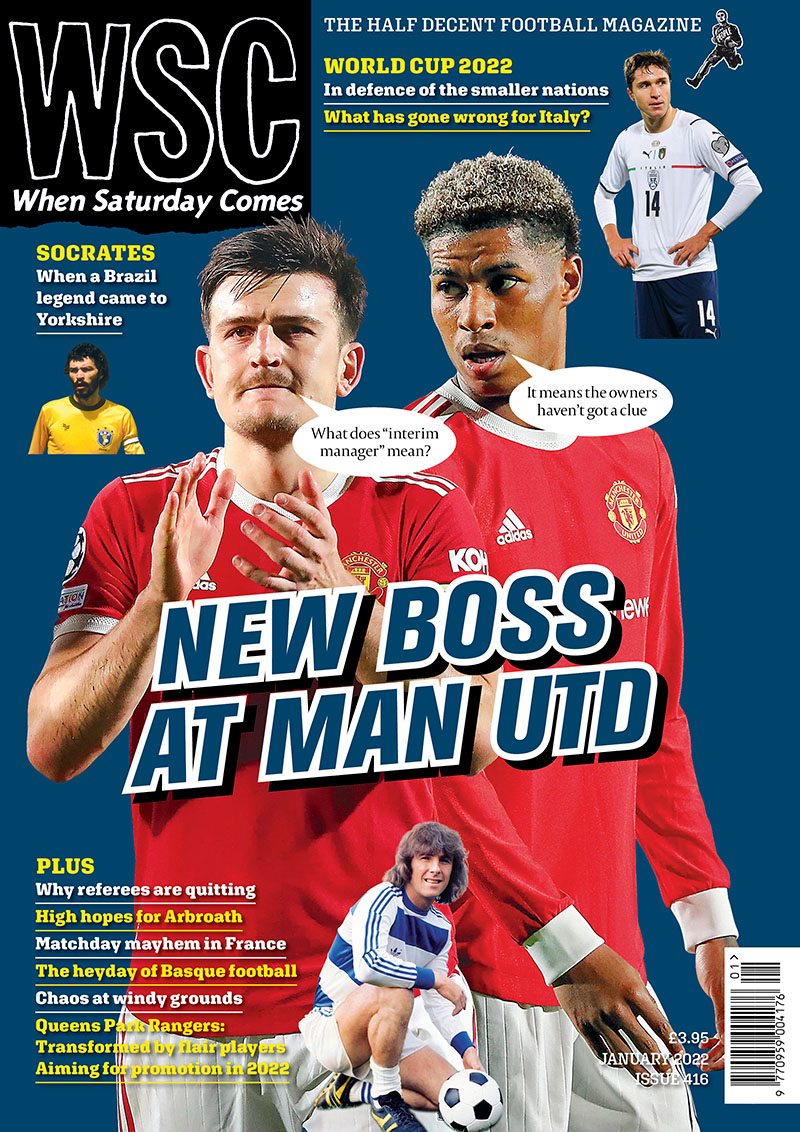 January issue available now online and in store
The new WSC is out now available from all good newsagents or to order now from the WSC shop with free UK delivery.
Inside
World Cup 2022: In defence of the smaller nations | What has gone wrong for Italy?
Socrates: When a Brazil legend came to Yorkshire
Plus
Why referees are quitting | High hopes for Arbroath | Matchday mayhem in France | Chaos at windy grounds | QPR: Transformed by flair players & Aiming for a promotion in 2022 | Fan-led review | Cycling to London's stadiums | Bala Town on the up | Unrest at Gillingham | Canada's long-term plan | Waterford v St Patrick's Athletic | Focus on Gerry Cranham | The heyday of Basque football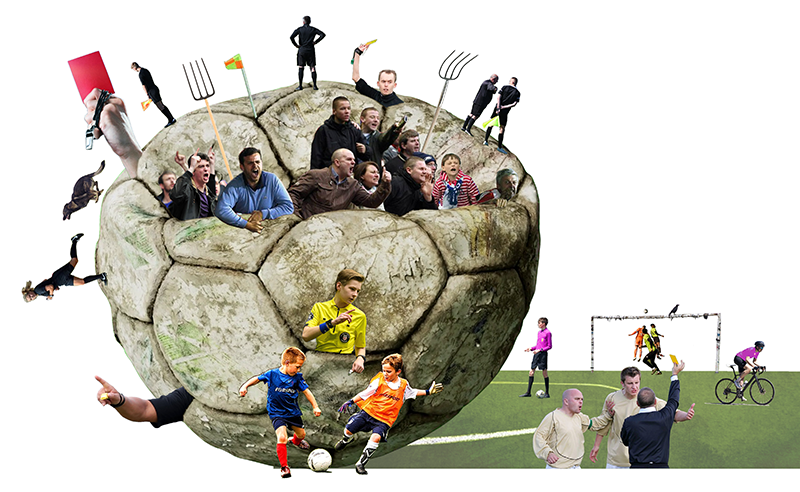 In the thick of it Refereeing crisis
In the past five years, the UK has lost almost one in seven of its HGV drivers. While this supply of labour has dropped, the demand for the haulage hasn't, causing queues at pumps, fuel shortages, problems with imports and deliveries, among all the other issues that we have seen over recent months. In a similar vein, it is estimated that registrations of referees in England dropped by between 20 and 30 per cent in 2021. While this supply of labour has reduced, the demand for referees hasn't. This has already led to thousands of matches so far this season either being postponed or going ahead without a qualified match official in charge, with volunteers or substitutes taking the whistle instead. This shortage is seemingly causing widespread panic up and down the country. I have been a referee for 15 years, taking charge of junior and adult leagues and semi-professional games in the north-west. Every week, my phone is inundated with texts from managers pleading for me to run their game at the weekend. I've been left voicemails from coaches begging me to help them out. League secretaries send multiple emails a week requesting assistance with games.
Buy now to read the full article
Arbroath 1-1 Queen of the South Red Lichties with upward momentum
All through Fife and over the River Tay, he talked about his hangover. The man in the train seat behind mine was apparently telephoning everyone he knew to tell them. "Honestly man," he said as we pulled into Broughty Ferry station, "I feel like a hunted animal." By the time we reached Monifieth, I was convinced I'd caught it from him. Alcohol had been something of a theme earlier in the journey too. A Scotland rugby fan – embarking on the four-minute odyssey between Edinburgh's Waverley and Haymarket stations – had called ahead to a friend who was already inside Murrayfield Stadium. "Did you manage to smuggle port in again?" he'd asked. Nothing, though, could have been quite so intoxicating as the view from the train window as we clatter up the east coast of Scotland and through Carnoustie. Not a cloud tarnishes the sky and a low sun seems to laminate the North Sea. It is a day so autumnal that had a cloud appeared, it would have rained conkers. "Jesus," said the hungover man, "I think my eyes might fall out."
Buy now to read the full article
Micro climate World Cup qualifying debate
Just imagine what it must be like to represent your country at anything. You wear your country's colours, you listen to the national anthem knowing that no one else can do the job. Then, your very existence is questioned by the very people who do what you do. Not only do they decry your abilities, they deem you not even worthy to walk the same ground or breathe the same rarefied air as the gods of the game, lest they be infected with your lesser talent. Such is the life of the international football minnow. For San Marino – more minnow than most, as FIFA's lowest ranked team with one win to their name since 1990 – the post-mortems from their recent 10-0 World Cup qualifying defeat to England were quick to start.
Buy now to read the full article

Brazil nuts When Sócrates starred for Garforth Town
We all know that memories aren't necessarily 100 per cent accurate. Watching football can involve high emotion, intense but fleeting sensations, and perhaps the odd beer. Factor in the passage of time and repeated trips to the same venue, and it's easy to see why mental pictures begin to blur, particularly if an event seems exceptionally unlikely. As unlikely, for instance, as the captain of Brazil's 1982 World Cup side playing in England's ninth tier, 15 years after his retirement. But I know this happened, because I have the T-shirt to prove it. There he is, resplendent in green and yellow: the majestic Sócrates. Formerly of Corinthians and Fiorentina; latterly of Garforth Town, who in November 2004 were playing in Division One of the Northern Counties East League.
Buy now to read the full article

Refereeing illustration by Matt Littler, Arbroath v Queen of the South photo by Colin McPherson/WSC Photos, San Marino v England photo via Getty Images, Sócrates photo via Getty Images
Availability
WSC is the only nationally available independent football magazine in the UK, and you can get it monthly for a very reasonable £3.95. You should be able to find a copy in your local newsagent, otherwise outlets that stock WSC include WH Smith, mainline train stations plus selected Tescos. If you're having trouble finding the magazine, you could do one of the following:
1. Subscribe now and also get access to the complete digital archive
2. Buy the latest issue direct from WSC
3. Sign up for our digital edition and apps for iPhone, iPad and Android
4. Email us
5. Ask your local newsagent to order it for you