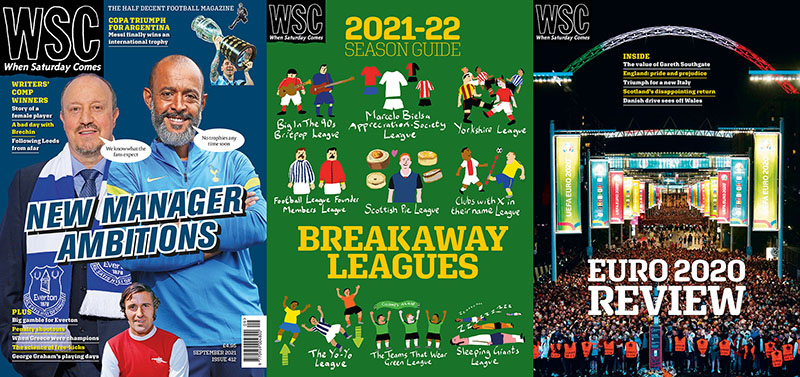 Bumper triple magazine September issue available now online and in store
The new WSC – our biggest ever issue – is out now available from all good newsagents or to order now from the WSC shop with free UK delivery.
2021-22 Season Guide
Premier League • EFL • National League • Scottish Premiership • WSL • Women's Championship
How will your team do? | Best and worst moments of last season? | What are you looking forward to when you can go again? | What breakaway league should each club be in?
Euro 2020 Review
The value of Gareth Southgate
England: pride and prejudice
Triumph for a new Italy
Scotland's disappointing return
Danish drive sees off Wales
BBC v ITV: TV coverage analysed
Plus your regular WSC
Copa triumph for Argentina | Writers' competition winners | Big gamble for Everton | Penalty shootouts | When Greece were champions | England's players under attack | Pre-season betting concerns | The science of free-kicks | Newtown AFC in Europe | Fans in boardrooms | 2021 WSC survey | A special day at Fellows Park | Focus on George Graham | Owls top Division Two in 1958-59
Let England shake A tale of two nations
England's performances in international tournaments can be seen as reflective of wider socio-political tendencies. In 1966 it was a triumph indicative of a confident country fired by white heat, while also reiterating English might in the European theatre. The failures to qualify for the World Cup in 1974 and 1978 were part and parcel of the wider "declinism" of the 1970s, from which 1982 and 1986 represented only partial recovery. In 1990 there was a merry restoration of the game, the giddy figure of Gazza a symbol of End of History euphoria. Graham Taylor's interregnum was as hapless as that of John Major. Euro 2016, meanwhile, saw an England that had just voted to leave the EU cut down to size by Iceland. Generally, these reflections are merely coincidental, the team's fortunes mostly to do with their fluctuating strengths and the internal dynamics of the game. However, sometimes the connections are not so far-fetched.
Buy now to read the full article
Renewed energy Azzurri triumph in style
Italy were on a 27-game unbeaten run going into the Euros but still there were doubters. Not so many in Italy, but overseas few really wanted to believe that things could be turned around quite so quickly, convinced instead that the Azzurri remained a team out of time. Even with the group stage comfortably dealt with, the general view was that Italy would be found wanting in the knockout stages. If the semi-final win against Spain was a showcase for quality and technique, the final against England was a show of strength, of confidence and unity.
Buy now to read the full article

Silent applause Messi stars in Copa América
"The night of the exorcism" was how Argentinian newspaper La Nación defined it. "The national team had lost seven consecutive finals and Brazil were unbeaten in 80 matches at home. A spell was needed to break the curse." That magic ultimately came from the much-maligned Ángel di María, collecting a long pass and masterfully chipping the ball over Ederson to claim the only goal of a tense, fractious Copa América final. In the process Argentina became the first team since Uruguay in 1950 to win a competitive match against Brazil at the Maracanã and gave a generation of Argentinians their first taste of silverware after a 28-year wait.
Buy now to read the full article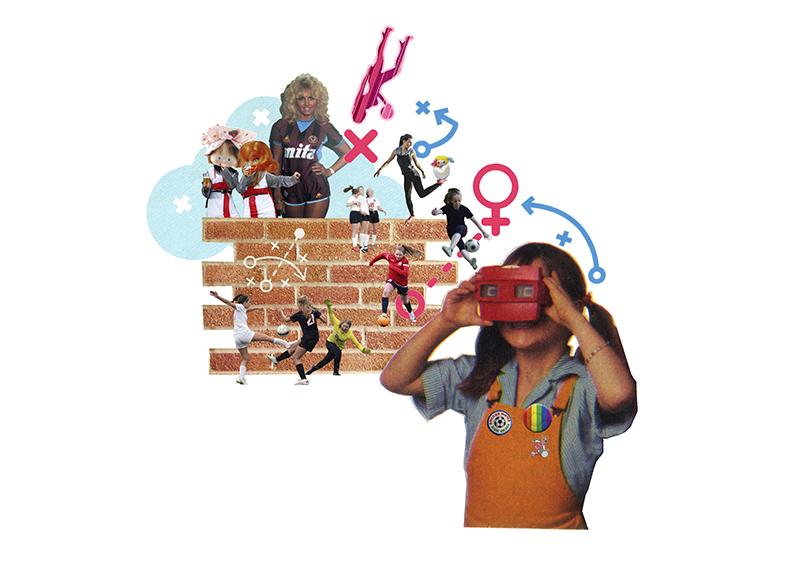 Generation game Writers' competition winner
When I was a child all that came between me and playing football was a five-foot wall. It was easy enough to climb and jump over in order to join in with the local boys having a kickaround in the patch of grass we imaginatively called The Field, at the back of the house I grew up in. I had to work harder than them to earn my right to be there. Run faster. Tackle better. Score more. But I kept up. And while I didn't know it at the time, a future version of me – fatter, less fit, and much older – would remember these times and wonder when I fell out of love with playing this sport.
Buy now to read the full article
England, Italy and Argentina photos via Getty Images, women's football illustration by Matt Littler
Availability
WSC is the only nationally available independent football magazine in the UK, and you can get it monthly for a very reasonable £4.95. You should be able to find a copy in your local newsagent, otherwise outlets that stock WSC include WH Smith, mainline train stations plus selected Tescos. If you're having trouble finding the magazine, you could do one of the following:
1. Subscribe now and also get access to the complete digital archive
2. Buy the latest issue direct from WSC
3. Sign up for our digital edition and apps for iPhone, iPad and Android
4. Email us
5. Ask your local newsagent to order it for you