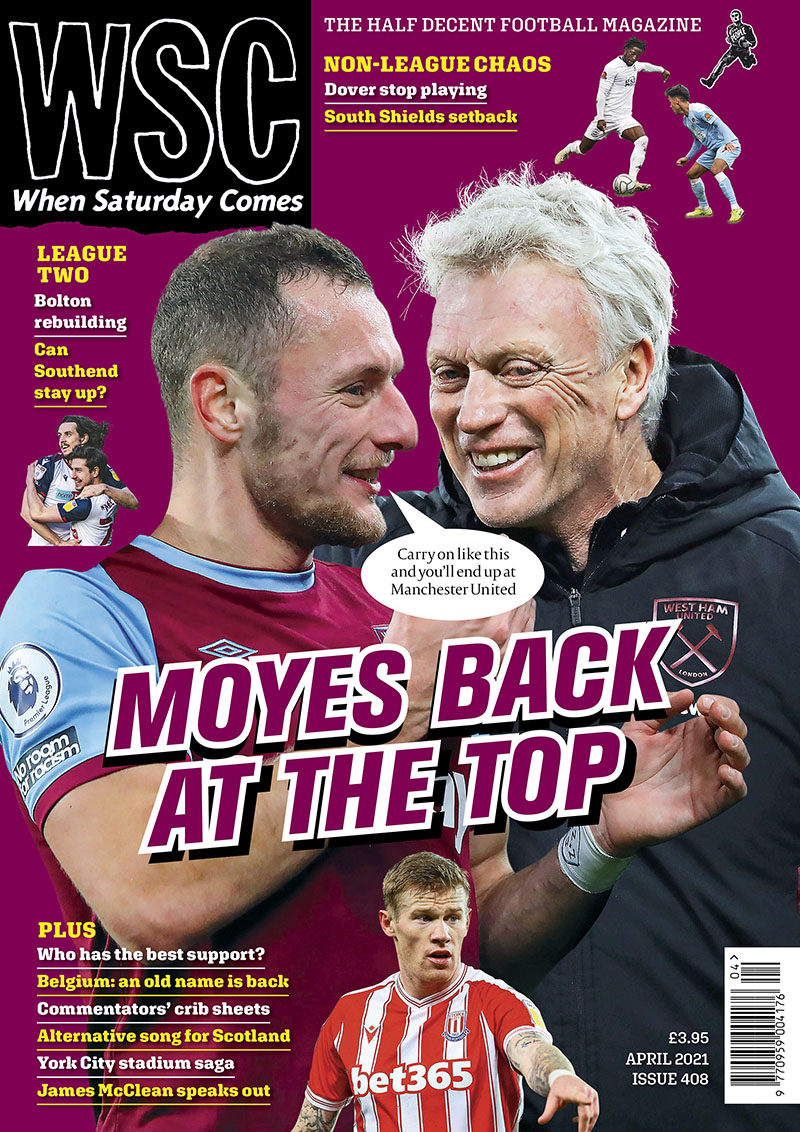 April issue available now online and in store
The new WSC is out now available from all good newsagents or to order now from the WSC shop with free UK delivery.
Inside
Non-League chaos: Dover stop playing | South Shields setback
League Two: Bolton rebuilding | Can Southend stay up?
Plus
Who has the best support? | Belgium: an old name is back | Commentators' crib sheets | Alternative song for Scotland | York City stadium saga | James McClean speaks out | Playing with chronic fatigue | Attacks on referees must stop | WSL's protocols push | Grassroots game suffering | Belarus in the spotlight | Lost grounds legacy | Focus on Bryan "Pop" Robson | 1980s Isthmian regeneration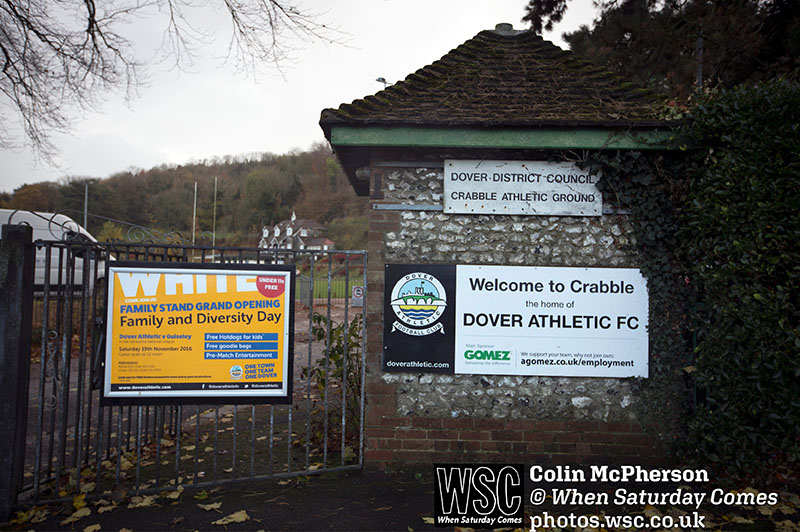 Dover and out National League uncertainty
Dover Athletic chairman Jim Parmenter does not often enjoy 100 per cent support. This is exactly what he's got locally, however, since resigning from the National League board and refusing to play another game until direct government support is reinstated or fans are allowed to return to stadiums. The team made an unexpectedly good start to the 2020-21 National League season, beating Notts County 1-0 with a last-minute goal. I caught about 20 minutes of it via my club's first and spectacularly unsuccessful attempt at live streaming. I'm told that the service has improved immeasurably since but, taking the view that non-League football isn't supposed to be viewed on a laptop, I haven't bothered with it again.
Buy now to read the full article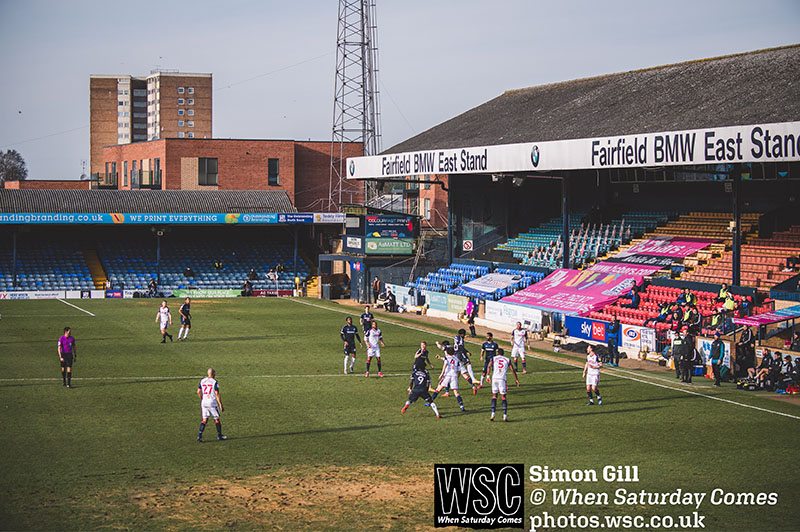 Southend United 0-1 Bolton Wanderers Relegated pair facing opposite directions
"Take a flask," advises a recent visitor to Roots Hall. But snow has given way to winter sun and mild temperatures that might in another year have sent Londoners on their first trek of the year to beach, pier and seaside amusements. Under lockdown, the 12.55 from Liverpool Street to Southend Victoria is all but deserted. The walk from Prittlewell Station is almost as quiet. Pubs routinely thronged on matchday are closed, as is St Mary's church, sunlight glinting off its 15th-century tower. The nearest thing to animation is three men crouched over the remnant, not so much chassis as skeleton, of a mid-century sports car.
Buy now to read the full article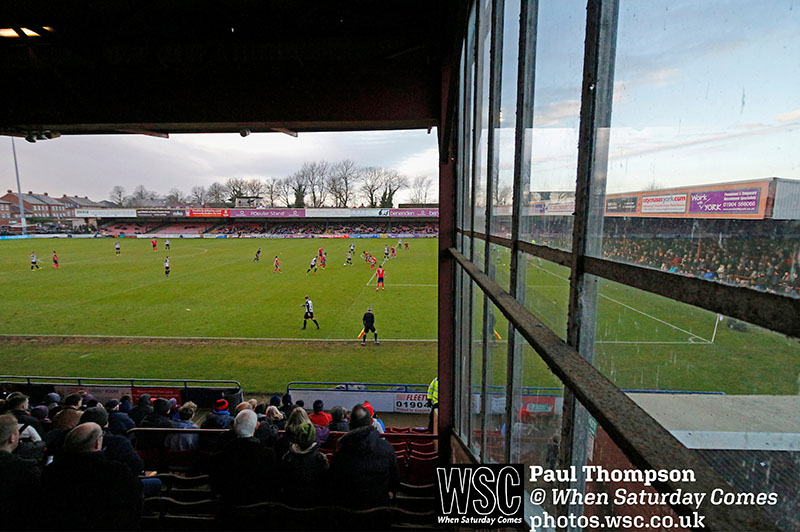 House of York Closure at last for Bootham Crescent
A stadium move first mooted in 2003 was finally completed in January when York City, along with the York City Knights rugby league team, took up residency in the new LNER Community Stadium. The journey to this point has been seemingly endless. It had been one of early optimism, then local council procrastination, stagnation, discontent over capacity and design (mercifully now increased and enhanced to become the much bolder design we now have), and scepticism over whether it would go ahead. Then finally progress, visuals and building work completion. Over the years we've experienced a handsomely paid but anonymous stadium project manager, the obligatory endangered newts discovery, numerous local council cabinet votes, threat of project call-in to the former office of the deputy prime minister, the adjacent site growing into a fully functioning retail park, and latterly some unseemly bickering between club owners and the minority shareholding York City Supporters' Trust.
Buy now to read the full article
Receiving end James McClean abuse
It was a long time since I'd seen such hatred. A few young men charged to the front of the stand to scream abuse at the opposition's left-sided midfielder as the players left the pitch. It was more intense, more visceral than the usual pantomime booing of opponents. They snarled and jabbed their fingers at James McClean while stewards formed a barrier. He looked as though he'd seen it all before. I knew he was a figure of hate but it was striking to see it close up. And then my son and I dashed off to avoid the traffic. Nothing more was said.
Buy now to read the full article
Dover photo by Colin McPherson/WSC Photos, Southend photo by Simon Gill/WSC Photos, York City photo by Paul Thompson/WSC Photos, James McClean photo via Getty Images
Availability
WSC is the only nationally available independent football magazine in the UK, and you can get it monthly for a very reasonable £3.95. You should be able to find a copy in your local newsagent, otherwise outlets that stock WSC include WH Smith, mainline train stations plus selected Tescos. If you're having trouble finding the magazine, you could do one of the following:
1. Subscribe now and also get access to the complete digital archive
2. Buy the latest issue direct from WSC
3. Sign up for our digital edition and apps for iPhone, iPad and Android
4. Email us
5. Ask your local newsagent to order it for you