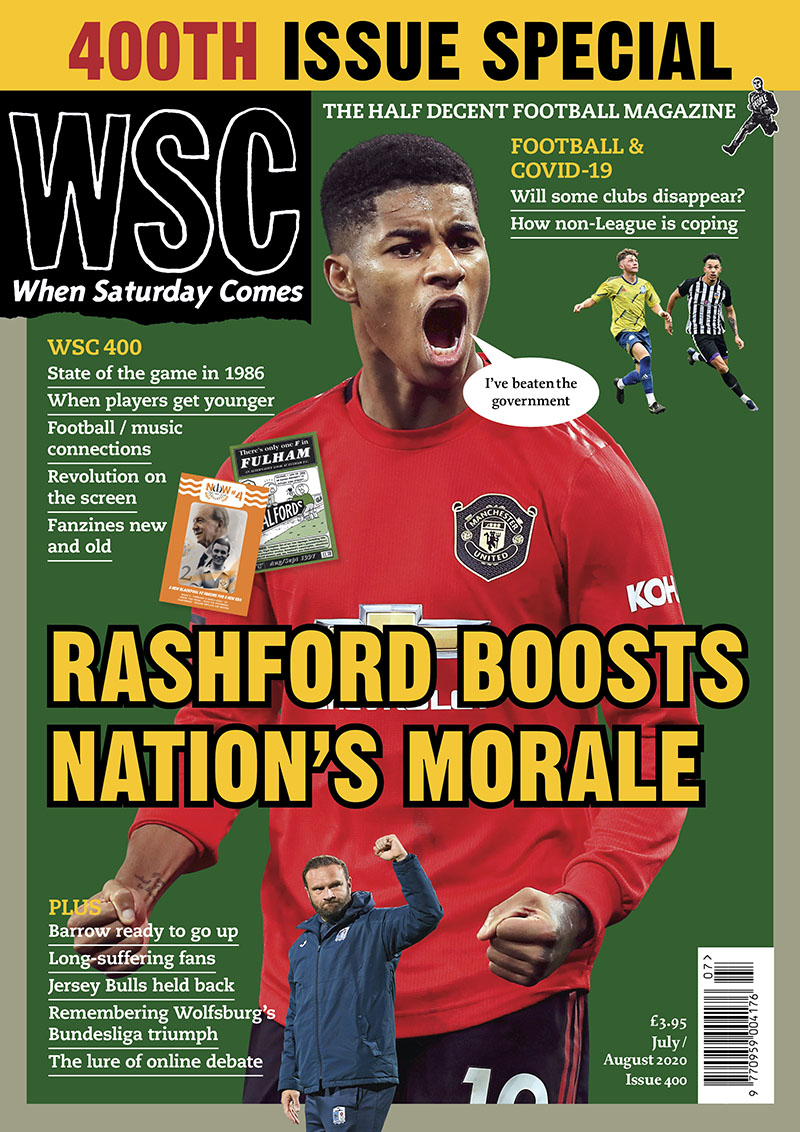 July/August issue available now online and in store
Inside
WSC 400: State of the game in 1986 | When players get younger | Football / music connections | Revolution on the screen | Fanzines new and old
Football & Covid-19: Will some clubs disappear? | How non-League is coping
Plus
Premier League still holding back from tackling systemic racism | Barrow ready to take on the Football League | Who really are the most long-suffering fans? | Jersey Bulls held back | Remembering Wolfsburg's Bundesliga triumph | The lure of online debate | Feeling at home in a new stadium | Lockdown at Prenton Park | A hard-won World Cup souvenir | Fan culture in photos, 1986-95
Eighties fan WSC 400: matchgoing in the 1980s
To look at LS Lowry's majestic Going to the Match is to fall pleasantly backwards towards a Britain of lanky chimneys and baggy shorts. The painting depicts Saturday afternoon outside a northern football ground modelled chiefly on Bolton Wanderers' Burnden Park. Hundreds of flat-capped supporters march crookedly towards the turnstiles. Many more can be seen already perched upon steep terraces. They are waiting, we presume, for kick-off. Beyond the stadium are terraced houses, belching factories and a church spire. The image is evocative, charismatic and romantic. Occasionally as I glance at the postcard of Going to the Match pinned to my office wall, though, an uncharitable thought crosses my mind: in using such an era as his subject, Lowry had it easy. How would the great artist have rendered a modern arena with its barren glassy walls and its luminous batalllion of stewards? Or, a 1990s out-of-town new-build stadium surrounded only by a field of parked cars? Most difficult of all, perhaps, would have been capturing romance outside a mid-1980s football ground. For just as When Saturday Comes launched, going to the match was at its least picturesque in many years.
Buy now to read the full article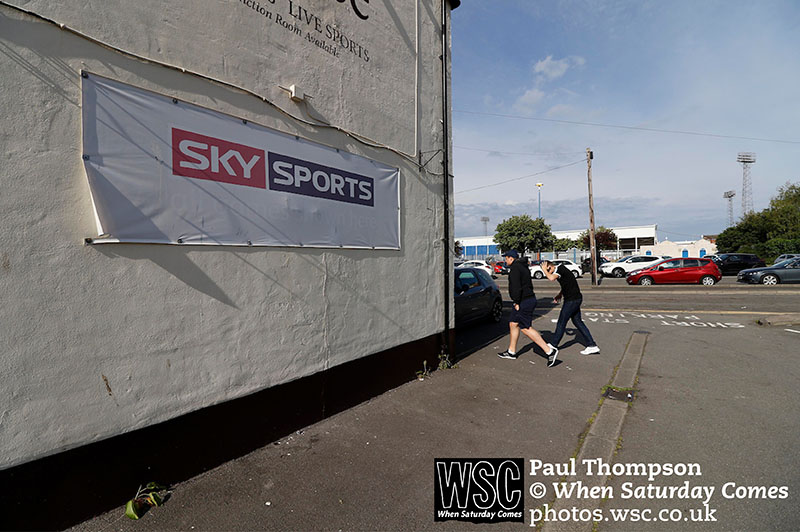 Inside the box WSC 400: football and television
If you said in 1986 that a man would one day stand while talking about a game of football on television and, moreover, walk across to an interactive teleivison screen to do so, you would have been told to go home and shower. In those crude, distant times, only three years since the first broadcast of live league matches, Jimmy Hill was the only football expert in the world. Hill was still presenting Match of the Day – just – as a half-season television blackout resulting from a financial dispute between the BBC, ITV and the Football League had only recently ended. Already the money was showing through the material. It was about this time that the FA realised that television, rather than being a threat to match attendance or, at best, a barely relevant sideshow, was a bringer of substantial revenue. Swiftly, the relationship changed. Before the selling of righs to live games, if the televiison people so much as wanted a camera behind the goal they had to bring in three lawyers and a finger buffet. Nowadays, if Sky want a game at 10am on a Tuesday, everybody else has to sort out the flexitime.
Buy now to read the full article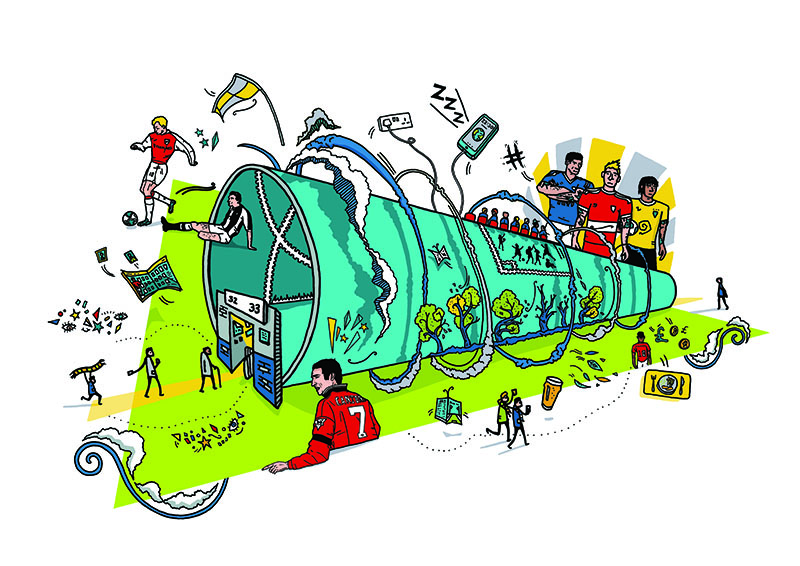 Ageing process WSC 400: the modern player
Footballers used to be older than me, or at worst, about the same age. In a frightening world, this was a reassuring constant. Something must have changed while I was sleeping, or something: suddenly the game is being played by much, much younger men, whose lives and behaviours and preoccupations I can't quite understand. Every morning I squint into the mirror and I ask myself: what the hell happened?
Buy now to read the full article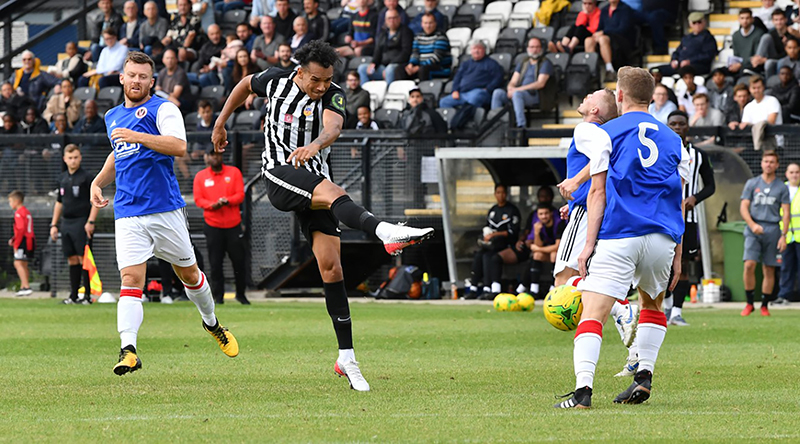 Future shock Non-League and Covid-19
This was meant to be a breakthrough season for Danny Bassett. With 20 goals and 22 assists at the last count, he was top scorer for Tooting & Mitcham United of the Isthmian League South Central Division. With clubs as high as League Two monitoring his progress, he was ready to consider going professional this summer. "Doing well this season pushed me to believe in myself more and there were a few clubs from higher leagues who wanted to speak to me," he says. "Now, it's literally all stopped. It feels like I've done all that hard work for nothing."
Buy now to read the full article
Television photo by Paul Thompson / WSC Photos, ageing illustration by Adam Doughty, Danny Bassett photo by Keith Gillard
Availability
WSC is the only nationally available independent football magazine in the UK, and you can get it monthly for a very reasonable £3.95. You should be able to find a copy in your local newsagent, otherwise outlets that stock WSC include WH Smith, mainline train stations plus selected Tescos. If you're having trouble finding the magazine, you could do one of the following:
1. Subscribe now and also get access to the complete digital archive
2. Buy the latest issue direct from WSC
3. Sign up for our digital edition and apps for iPhone, iPad and Android
4. Email us
5. Ask your local newsagent to order it for you