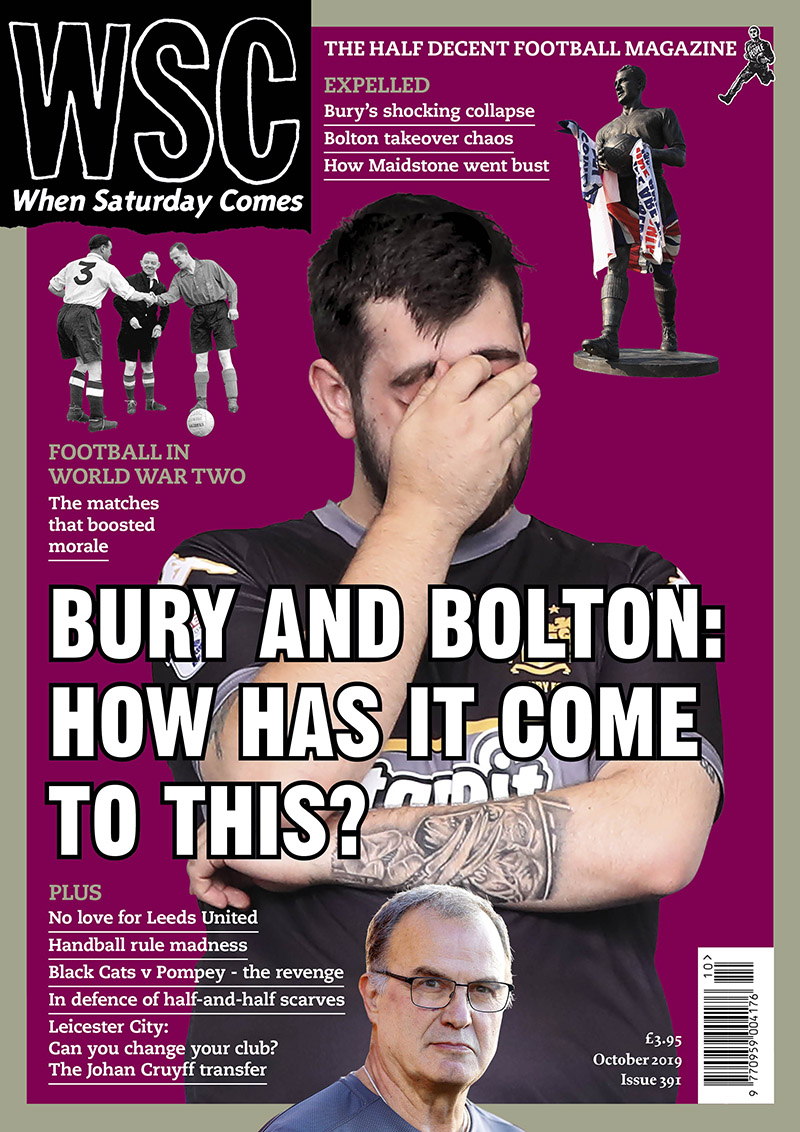 October issue available now online and in store
Inside
Expelled: Bury's shocking collapse | Bolton takeover chaos | How Maidstone went bust
Plus
Football in World War Two: The matches that boosted morale | No love for Leeds United | Handball rule madness | Black Cats v Pompey – the revenge | In defence of half-and-half scarves | Can you change your club? | Leicester's Johan Cruyff transfer | Boots, box-fresh or battered | Focus on Marian Pahars | Tring Athletic host Harefield United | Dinamo Zagreb look to Europe | China expand their horizons | Everton staying rooted | The Athletic takes over | Homeless World Cup
Gigg economy Bury expelled from the Football League
Followers of teams in the lower divisions know from experience that success is elusive and fleeting. Bury fans provide a typical example. While the proportion who travel to away games relative to our home attendance is surprisingly high, we are in absolute terms few in numbers. This meant that Bury were for most of their 134 years a selling club, needing to nurture young talent that will generate transfer fees. But it is consequently one of the reasons Bury, and other clubs like us, play an important part in enriching football as a whole. As such we should be provided with adequate safeguards, protection and, even, finance by the governance of the game.
Buy now to read the full article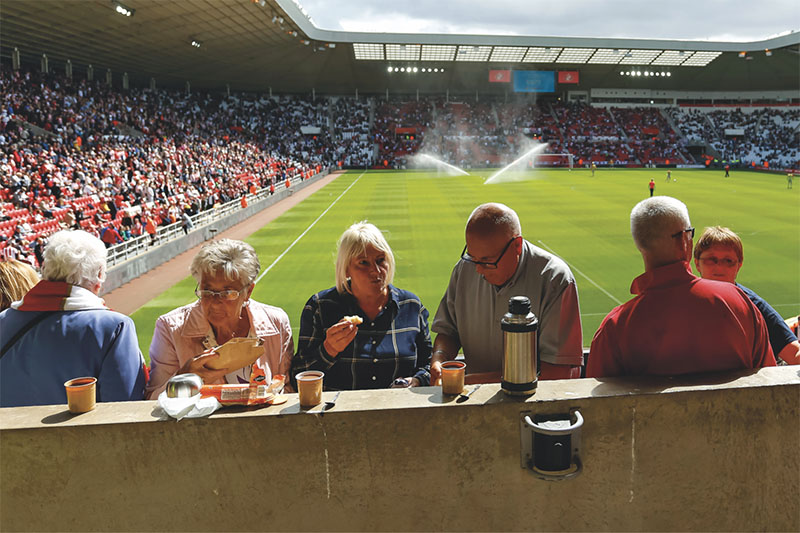 Sunderland 2-1 Portsmouth An early-season chance for revenge
Only two matches into the new season and already in the north-east there is frivolous fun being had betting on which of the region's League clubs will be first to shed a manager. Will it be untried Jonathan Woodgate, unwanted Steve Bruce or unsung Jack Ross? You might think the Sunderland boss would be relatively safe. After all, last summer the 43-year-old Scot took charge of a team whose dizzying disarray had been publicly laid bare in a Netflix documentary, led them to Wembley twice, came within a last-kick goal of promotion and has so far lost just nine matches in 64. Yet despite all that the local rumour mill is churning and pinging with the traditional brother-in-law of a bloke whose best mate's sister services the vending machines at the club's Cleadon training ground reporting that owner Stewart Donald is impatient, that Ross is unhappy.
Buy now to read the full article
Spirit level Football in World War Two
Eighty years ago, on Saturday, September 2, 1939, Blackpool defeated Wolves 2-1 in front of 20,000 fans to move to the top of the Division One table. On the following day, September 3, Britain declared war on Nazi Germany. All places of entertainment and outdoor sporting meetings were closed, and all football was cancelled. "In accordance with the proclamation by His Majesty's Government," the FA announced, "all football under the jurisdiction of the Football Association is entirely suspended until official notice is given to the contrary." There would be no League football for seven years.
Buy now to read the full article
Half baked In defence of half-and-half scarves
In June I was listening to the 5 Live build-up to the Champions League final and, in between discussing the weather (too hot) and if Harry Kane was match sharp (of course not), the reporter took the time to point out that outside the ground they were selling half-and-half scarves. Not news in itself, but an opportunity for him to observe that they were "the worst thing about the modern game". It's good to have that settled. It turns out the worst thing about football in 2019 is the sale of a cheap cash-in, 100 per cent polyester scarf. Worse than the Qatar World Cup. Worse than a spate of lower-league clubs going out of business due to bad ownership. Worse than Neymar.
Buy now to read the full article
Availability
WSC is the only nationally available independent football magazine in the UK, and you can get it monthly for a very reasonable £3.95. You should be able to find a copy in your local newsagent, otherwise outlets that stock WSC include WH Smith, mainline train stations plus selected Tescos. If you're having trouble finding the magazine, you could do one of the following:
1. Subscribe now and also get access to the complete digital archive
2. Buy the latest issue direct from WSC
3. Sign up for our digital edition and apps for iPhone, iPad and Android
4. Email us
5. Ask your local newsagent to order it for you
Sunderland v Portsmouth photo by Paul Thompson