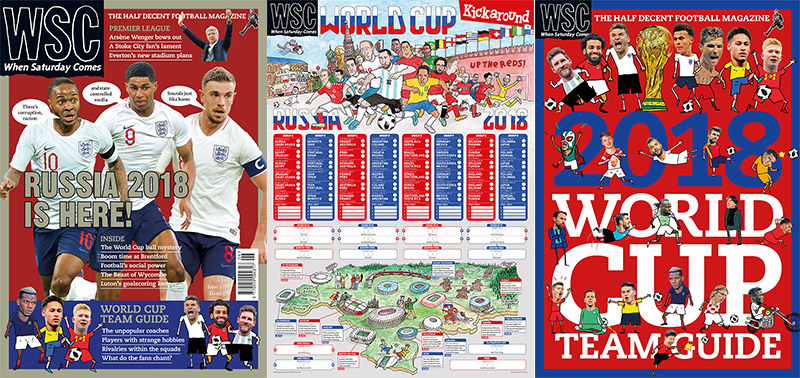 June issue available now online and in stores
The new WSC – including World Cup Team Guide and fixture Wallchart – is out now, available from all good newsagents or to order now from the WSC shop.
World Cup Team Guide & Wallchart
The unpopular coaches | Players with strange hobbies | Rivalries within squads | What do the fans chant?
Track the tournament's progress with our fixture wallchart, including all matches and stadiums.
Inside WSC
Players out of position: Paul Warhurst's sensational transformation | Luton's goalscoring keeper | How Bolton became the Real Madrid of the Premier League
Plus
Arsène Wenger bows out | A Stoke City fan's lament | Everton's new stadium plans | The World Cup ball mystery | Football's social power | The Beast of Wycombe | Leeds' ill-advised tour | Sunday Cup struggling | Mick's blessings at Ipswich | Bucks loses its fix | Focus on Dino Zoff – Italy's ageless keeper | Women's team offers hope for Russia | Japan's globetrotting fan favourite | When Bristol Rovers crushed Brian Clough's Brighton | Defeats that stay with you longer than they should | A sunny day at Queen of the South | Shunning glamour for good times at Brentford | Boston repairing their reputation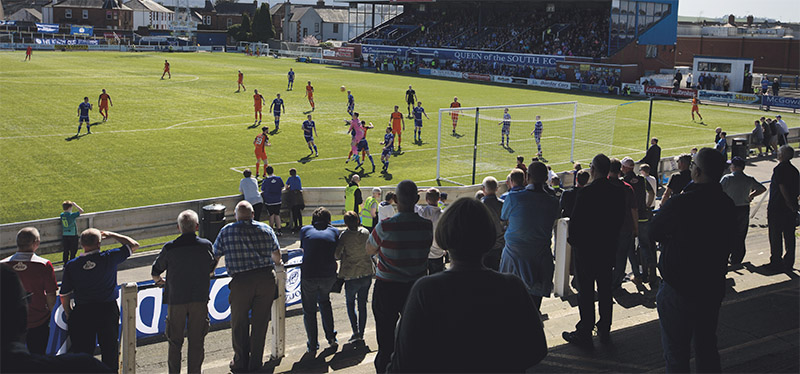 Queen of the South 3 Dundee United 0 A sunny end-of-season day
It's spring in the Anglo-Scottish Borderlands. The sky is as blue and free from malice as a baby's eyes, dew glitters, lambs frolic, fruit trees are topped with a froth of creamy blossom; even the train-spotters who haunt Carlisle station have discarded their anoraks. In the Great Border City the train deposits Luton Town fans and picks up gaggles of adolescent girls brandishing Primark carrier bags who and-she's-went-and-I've-went-and-she's-went all the way to Gretna. The train rattles off through the flat country of the Solway, the scent of celebrity-endorsed perfumes blending with the muckspreading (there's nothing like the sight of people having picnics in the garden to make a farmer feel like showering pigshit everywhere). I busy myself with the Dumfries & Galloway Standard. It's filled with the familiar stuff of rural newspapers: drunken affray, shop closures, grinning councillors and prize sheep.
Buy here to read the full article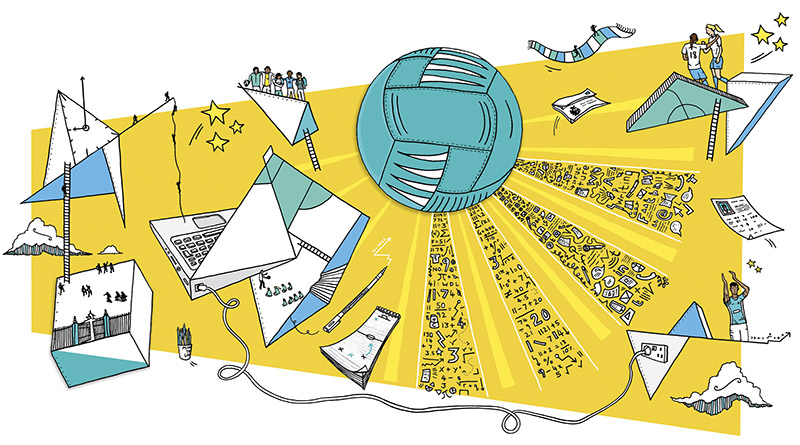 Learning the easy way Football & education
It's nine o'clock on a Thursday morning during February half-term but, in the west London offices of analytics firm Football Radar, a group of secondary school students are taking their seats, notepads ready. The boys, aged between 11 and 16, will spend the morning learning about some of the different career options available in football – data analytics, journalism, social media – from people who work in the industry. They will then head to a local pitch to spend the afternoon playing football. The day has been set up by Football Beyond Borders (FBB), an organisation that uses football to aid struggling students.
Buy here to read the full article
On the war path Players out of position
It was one of English football's unlikeliest purple patches. When Sheffield Wednesday player-manager Trevor Francis converted young centre-back Paul Warhurst into a striker during the second half of the 1992-93 season, his goals propelled the team to two cup finals and earned him a shock England call-up in the process. Warhurst was an unassuming hero, his achievements delighting fans and neutrals alike. But ultimately, it was a story tinged with disappointment at what might have been.
Buy here to read the full article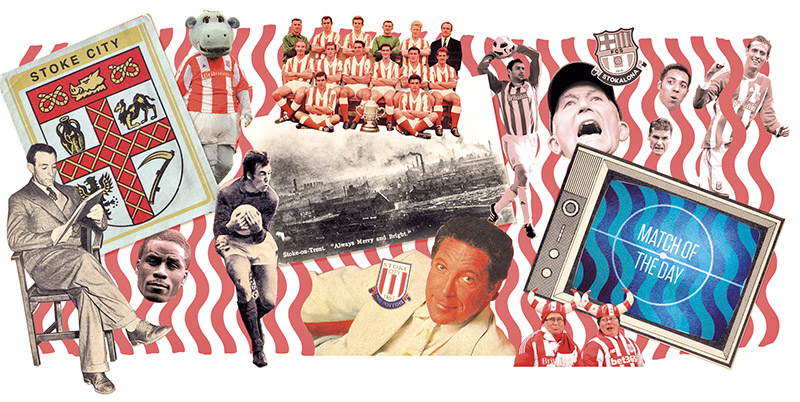 Pottering about Stoke City's relegation
Ten years ago I walked onto the pitch at the Britannia Stadium with my dad after a draw with Leicester guaranteed Stoke City's promotion to the Premier League. Carl Dickinson stood in the directors' box to lead a gloriously aggressive rendition of Tom Jones' Delilah, appropriated as the club's anthem. He sang like he had just stepped out of the raucous crowd. The team toured the city in an open-top bus with "We Are Premier League" bold across the front. Everyone joined the celebrations and the whole city seemed happy. In a place like Stoke-on-Trent that feeling is rare. I drove to Tesco and bought every strange-looking national paper with Stoke splashed on the front or back cover, which was most of them.
Buy here to read the full article
Availability
WSC is the only nationally available independent football magazine in the UK, and you can get it monthly for a very reasonable £3.95. You should be able to find a copy in your local newsagent, otherwise outlets that stock WSC include WH Smith, mainline train stations plus selected Tescos. If you're having trouble finding the magazine, you could do one of the following:
1. Subscribe now and also get access to the complete digital archive
2. Buy the latest issue direct from WSC
3. Sign up for our digital edition and apps for iPhone, iPad and Android
4. Email us
5. Ask your local newsagent to order it for you
Queen of the South photo by Colin McPherson, Education illustration by Adam Doughty, Stoke illustration by Matt Littler