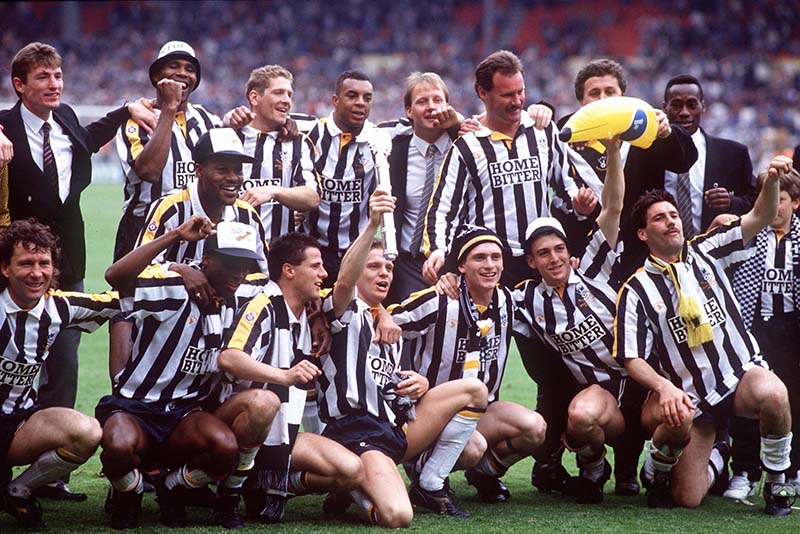 The oldest club in the League have never been in the Premier League and probably never will be, so their last top-flight season is one that Martin Naylor savoured in WSC 216, February 2005
16 April ~ On hearing the words "Neil" and "Warnock" a decent percentage of football fans would grimace and mutter an obscenity. But the current Cardiff City manager is remembered with fondness by Notts County supporters for the back-to-back play-off wins that took us into the top division for what will surely be the last time in our long history.
At Wembley in May 1991 Brighton fans taunted us with chants of "Neil Warnock's Chelsea Army" as it was rumoured that the big-nosed chiropodist was to jump ship to see how best he could turn Joe Allon into Peter Osgood. Notts had the last laugh, however, as a 3-1 victory left us anticipating the First Division fixture list. "We've only got Man U away first game," came the voice down my student-friendly incoming-calls-only phone. "And Forest at home the following Saturday." The excitement came from a friend who had flown back from Germany to spend the season following Notts around, having given up a £30,000-a-year job.
Not even the most partisan Magpie expected much of us that season: having announced that he was staying at Meadow Lane, Warnock insisted he would stick with the same bunch of thrown-together youngsters and journeymen that had been hammered 5-2 in front of 4,625 rain-soaked fans two years previously at Craven Cottage, in Division Three. "We're 250-1 for the title, which is rock bottom, so if we finish fourth from bottom, then it will have been a successful season," he told the local BBC news. The pace and eagerness of the 20-year-old Tommy Johnson and the sublime skills of his best mate Mark Draper would be complemented by the centre-half partnership of self-described "Dolly and Daisy", Craig Short and Dean Yates ("Deano and I would have competitions each game to see who could kick it furthest into the stands," Short would later admit). Former brickie Paul Harding, plucked from non-League football, would add bite to the centre of midfield and, as we rubbed our eyes at Old Trafford on August 17, we looked forward to seeing how Alan Paris would cope with the pace and trickery of Andrei Kanchelskis (for the record, he didn't).
The 2-0 defeat at Old Trafford didn't set alarm bells ringing – that came after a 4-0 home defeat to our neighbours across the Trent. By the end of September Paul Rideout was signed from Southampton for £250,000. When he got a debut goal at what turned out to be our best performance of the season, a 3-1 win at Bramall Lane, and another in the next game (a 2-2 draw with Norwich), the more attacking style of play led us to believe we were on the up. Three successive 1-0 defeats put paid to that. Although we enjoyed a successful Christmas, with a Boxing Day 2-0 win at home to Chelsea (when away fans turned their backs on the pitch as the second half kicked off, preferring to spend 45 minutes staring at an incinerator) and 3-0 against West Ham, a New Year's Day defeat at Selhurst Park proved to be Rideout's last game. With mutterings behind the scenes about the way the deal was done, he was shipped to Rangers for twice his original fee. Warnock spent the rest of the season bemoaning Rideout's loss and three months on used the March transfer deadline to take a swipe at chairman Derek Pavis's decision to sell, saying to the local press: "If I could buy back Paul Rideout from Rangers for half a million quid, then I certainly would."
A club record fee of £750,000 back in November had brought in Tony Agana from Sheffield United, but he hadn't scored until that win over the Hammers (a scuffed shot that trickled over the line after almost getting stuck in the mud) and didn't manage to find the net again all season. No one else was scoring, either: club stalwart Gary Lund and the pacy but limited Kevin Bartlett (runner-up in the Rumbelows Sprint Challenge before that year's League Cup final) failed to set Anfield et al alight, while Johnson was loaned and subsequently sold to Derby County. This transfer freed finance for a £5 million redevelopment of the decrepit Meadow Lane stadium. As Pavis claimed: "We have two pots, one for the players and one for the stadium. You don't mix the sugar with the sand."

The first win of 1992 didn't arrive until mid-April, when a Kenny Sansom own goal in front of just over 6,500 was enough to see off Coventry City, though we had at least scraped a draw at the City Ground where a black-and-white windmill bounced joyously among the Forest faithful ("I lost count of the amount of times I was told to stick it up my arse," admitted the protagonist) and Manchester United fought back to get a draw at Meadow Lane. This was the game where an ineffectual Ryan Giggs retorted: "I doubt that very much," to his marker Chris Short's dig that "you did nowt this afternoon, son, see you next season", as he was substituted. By February, the press had decided that Warnock was the only man fit for the now vacant Sunderland job. "Is Warnock the man to put the roar back into Roker?" they screamed, even after watching David Batty run 80 yards with the ball to score only his third goal in five seasons as Notts crashed 3-0 at Elland Road.
With the transfer deadline looming and Swindon's free-scoring Duncan Shearer having opted for Ewood Park rather than Meadow Lane, there was a flurry of signings, including Kevin Wilson ("It's a difficult move") for £225,000 from Chelsea, future Australia coach Frank Farina on loan from Bari and Rob Matthews, a Loughborough University student. They failed to keep us up, but the fact that Matthews bagged three goals from one start and four substitute appearances at the end did lead me to think that his pace would set Division Two alight the following season (for the record, it didn't).
Luton came down with West Ham and ourselves on the final day of the season and the Premier League arrived over the summer. Warnock moved on from club to club, upsetting all and sundry. But there's still a small pocket in the East Midlands that follow his fortunes with a half smile, remembering a cold January afternoon when the half-time scoreline read "Notts County 1, Manchester United 0".
Would Ken give up a £30,000 job in Germany to do it all again? "Of course I bloody would." Martin Naylor
Photo by Andrew Cowie/Colorsport: Notts County celebrate promotion to Division One after a 3-1 win over Brighton at Wembley in 1991
This article first appeared in WSC 216, February 2005. Subscribers get free access to the complete WSC digital archive – you can find out more details here