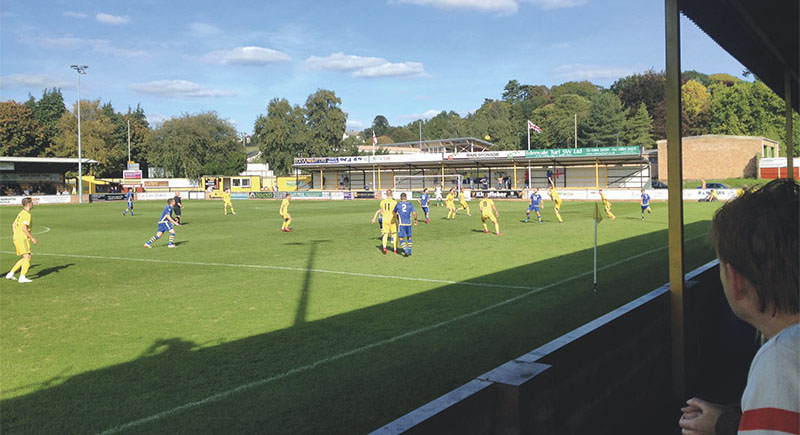 The Devon side's second season back in the top tier of the Southern League has been one of mixed fortunes, but innovative fundraising schemes are providing a boost
28 January ~ Ladysmead is Tiverton Town's neat, freshly painted home on the edge of a town of around 20,000 some 15 miles north of Exeter. What shines through when visiting the ground is that the club are cared for and supported by sections of a proud community.
Cup competitions have played a significant part in the history of the mid-Devon club, although this season's knockout matches seem to have been the catalyst for a dramatic downturn in form. The season began with a run of 13 league and cup games with only one loss. But then defeat away to the Metropolitan Police in an FA Cup replay started a run of only two wins in 17 that included exiting the FA Trophy and the Southern League Cup. The 5-2 defeat at home to county rivals Bideford in the latter competition was a particularly bitter pill to swallow, although the fans have continued to come to the 72-year-old ground, averaging 282 per match.
Many of the regulars will have seen the club at Wembley. A first trip there ended in defeat in the 1993 FA Vase final against Bridlington Town. But the next two visits were to prove victorious, firstly by beating Tow Law Town in 1998 and then retaining the trophy against Bedlington Terriers the following season. All three matches were settled by a single goal and remarkably Scott Rogers, scorer of the winner in 1999, is still playing for the club. These days the 39-year old, whose father Peter also played for Tivvy, is player-coach. The Rogers family connection doesn't end there. Scott's cousin Martyn, a former player with Exeter City and Bristol City, and manager for all three of those trips to Wembley, is in his second spell in charge and his son George is currently on the fringes of the first team.
When reflecting on those glory days supporters seem somewhat divided on what their aspirations for the future should be. The club are now one tier too high to enter the FA Vase but the FA Trophy is undoubtedly a much tougher proposition. Nevertheless having spent six seasons in the Southern League First Division, returning to the Premier Division 18 months ago is seen by many as an achievement to build on. It meant leaving behind traditional rivalries with both Bideford and Barnstaple Town but offered the chance to renew hostilities with Taunton Town a few miles up the M5. A further promotion would take them to the National League South, where the county's leading non-League club Torquay United currently reside, and put them into uncharted waters. Should that promotion be achieved the question of players turning full time would inevitably arise and, as so many other clubs have realised, the financial burden that places on a club of this size can be unsustainable.
Even without facing the full-time or part-time debate, terms of players' employment are a thorny subject. Tiverton's change of fortunes this season coincided with the departure of regular man of the match River Allen, whose last appearance was in the FA Cup at home to the Metropolitan Police in a 3-3 draw. Unfortunately his form was quickly noted by another of his former clubs, National League South side Truro City, and he was enticed back to them. The key question for Tiverton's management had been whether they could afford to put River, or any other player, on a contract. To do so would have ensured he couldn't walk away, but the risk of a contracted player picking up an injury, and therefore becoming a cost with no benefit, was deemed to be too risky.
Even without knowing what the players earn it is fairly obvious that gate money alone couldn't possibly keep the venture going and the efforts of a dedicated group of fans to raise funds in other ways are clearly significant. Press officer Jay Richardson explained how they raised £3,000 to buy an electronic scoreboard which was then gifted to the club, who raised money through sponsorship, this season from the local Samaritans. The club aren't averse to offering sponsorship in other areas of the ground as well and you can have your own crash barrier or even a rubbish bin. Despite the downturn in form, at the time of writing the club sit 14th in the table and will hope to soon be able to start planning for another season at the same level. Tim Manns
This article first appeared in WSC 383, February 2019. Subscribers get free access to the complete WSC digital archive – you can find out more here