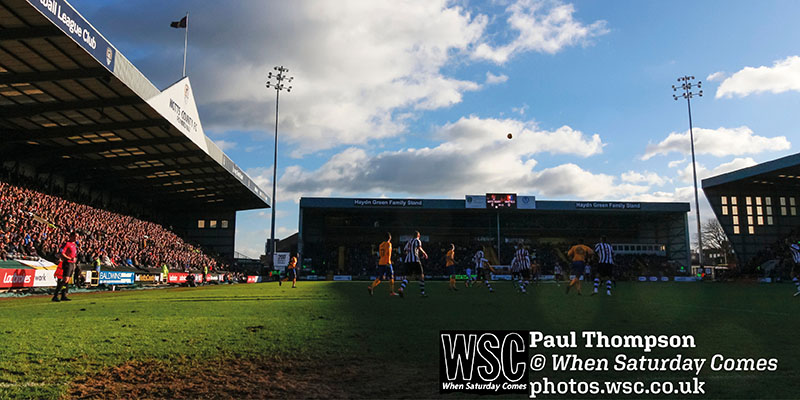 When there's no history of football support in your family, the team you're taken to see as a child can hinge on some unromantic factors
March 3 ~ The road that connects the M1 to my mum's house is called Brian Clough Way. On every trip to Meadow Lane via hers, or these days for "support bubble" visits, I think of what might have been.
My dad was more of a cricket man. I'd been to Trent Bridge before football. It was the 1970s of Liverpool, Derby up the road and Leeds United, the Damned United version. He had a parking space at County Hall, which sits at the end of the bridge. It was within a few minutes' walk of the cricket ground, and Forest and Notts also – the closest grounds to one another in England at 300 yards. I had been asking to go to a match and had no preference for where. This was in 1974-75, when live football was a scarce commodity. We had Match of the Day on Saturday night and Star Soccer on Sunday and both had featured games, the former national and the latter local, so most matches were not televised.
Notts and Forest were both in the Second Division, not much between them, but Forest drew bigger crowds. The County Hall car park was open access for fans and my dad had noticed that it was full when Forest played but not for Notts. There might have been something else, about Tuesday nights being better for him; these are the things of a middle-aged mind and were of no concern to me at the time.
So Meadow Lane it was. After two or three games that season I was hooked. The stadium in those days had all the "romance" you would want and the team were decent. Wooden stands and pipe smoke, sausage rolls and Bovril, floodlights and staying up late on a school night, even a chippy call on the way home sometimes. Manchester United won the division and we finished two places above our car park-filling local rivals. I loved it, still do. I wanted a season ticket and to go to some away games. I got my wish. Then Forest appointed Brian Clough.
There are all kinds of reasons for forming lifelong commitments to teams that, for many of us, make a material as well as psychological difference to the rest of our lives. The domestic calendar clashes, delight at a cup draw being tempered with the realisation that it's going to be a tricky one, but also the daily obsession, checking the website, social media distractions, all of it. Even now, with Covid: "A family walk? But I've paid for the live stream from Dover."
The reasons are, I imagine, most clear-cut when handed down: "We're a Notts family, it's in the blood." Or they might be rational, based on the success of the team, history and tradition, some highbrow philosophy about style of play, political context, religious symbolism. But a parking space, for marginal gains at the time?
Looking at how it played out, if you leave the whole Clough thing aside, it was great. We had Jimmy Sirrel and Don Masson, went up at Stamford Bridge a few years later and then I watched three seasons in Division One. We beat Manchester United, Arsenal – and Forest. Then when I was university age, along came Neil Warnock and back up we went, two Wembley play-off victories, up at half time at White Hart Lane in the FA Cup quarter-final against Paul Gascoigne and Gary Lineker. And it's never been dull. We've had Big Sam; Munto Finance and Sven-Göran Eriksson; club owner Alan Hardy's Twitter infamy when he posted an intimate photo. Apparently we're the most stressful team to support.
And yet, had Dad not been so fussed about parking, or had his reason for Tuesday being better than Wednesday not been there, is there any reason why the City Ground would have offered lesser ambience? Would the Bovril have been lower grade, the swearers less entertaining? Would there have been no thrilling equivalent to "For fucksake Notts"? He wasn't to know, of course. I don't remember Clough arriving even being discussed, although looking back at my first programmes, it looks like events coincided. So if he had thought it through, it could have influenced his decision of what match to take me to.
But I don't think I'd change it. I missed out on two European Cups, a League title and, well, yes, probably the most incredible narrative arc in club football history. But most of my memories of time with my dad, who passed away a while ago, are at Notts matches. Nearly 50 years on, I park in that same space. We're non-League now, so it's rarely taken. Julian McDougall
Photo by Paul Thompson/WSC Photos
This article first appeared in WSC 407, March 2021. Subscribers get free access to the complete WSC digital archive – you can find out more here