You may now be able to print off many tickets at home but a good experience in a club shop can have a lasting effect over people
2 November ~ I have zero Danish blood and Leicester's title win last season was both entertaining and vital for the game. But I want Copenhagen to win tonight's Champions League clash for a deeply personal reason: this summer their ticket office was really nice to me.
I enter most games now via a smart card season ticket. Internet banking tops it up for cup games and friendlies. Rather than mementoes, my stash of old stubs is becoming a museum piece. Likewise the interaction with ticket offices, often the first – perhaps only – direct contact fans make with any club and, as such, potentially affecting how you view them forever more. In 2014, prior to attending Atlético Madrid v Real Sociedad, I printed off our tickets in our living room, days before we'd even flown to Spain.
Lyngby lost 3-0 in Copenhagen this July. The football was pedestrian, the atmosphere muted, the half-empty Parken Stadium a glorified Kilbowie (Clydebank's former home); the standout of the 90 minutes was the copious Carlsberg and schnapps consumed in the stands.
But, five hours earlier, I ambled into the admittedly quiet club shop to enquire about what was just another bit of holiday sight-seeing and the club-shirted staff rolled out a red carpet. All the more remarkable for Copenhagen being a Champions League club, with all the commercial entitlement that connotes.
I was enthusiastically grilled about my own club – the bloke dashing towards the ticket printer establishing my accent was Scottish – then given low-downs on the historic merger which created Copenhagen, key players, recent domestic achievements and what kind of fans and atmosphere I could expect in each stand that evening. The passive aggressive treatment occasionally received at my own club's ticket office isn't even spoken in a second language.
Receiving your ticket is often where the excitement peaks, before the actual game comes along and spoils it. But whenever it deviates from the mundanely administrative, the ticket office experience can get under your skin as effectively as any goal, player or Sky Sports headline: like Copenhagen this year, Union Berlin in 2003 stunned me by issuing a match ticket in the club shop. In Britain, where tat and attendance remain unrelated, we can't believe access to the stadium can be secured over the same counter supplying club mugs and pencil sharpeners.
Munich, 2002: I'm given perfect, fluently English directions from the U-Bahn station to Bayern's Säbener Strasse offices by a ten-year-old pulling up on his BMX the second I unfold my street map. Sparta Prague in 2006: through a window on the street side of the stand I'd soon be inside, the guy cuts across my over-annunciating English by turning his computer screen round, showing nothing but empty seats on his plan of the Letna Stadium, and sighs "anywhere you want". (Front row of that top tier opposite the cameras, dead on the halfway line – freezing, damp and loving my perfect view of Sigma Olomouc losing).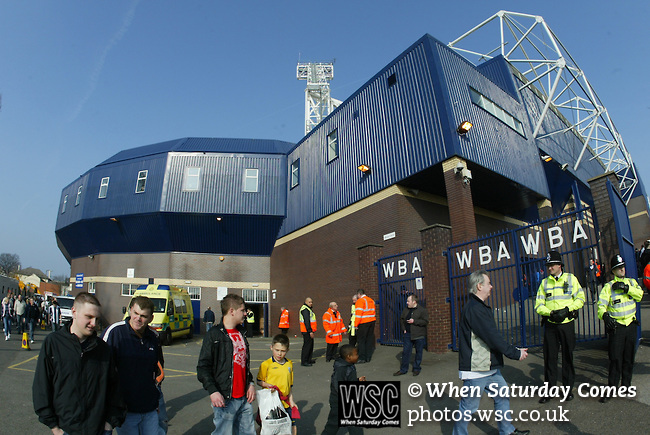 But my all-time favourite ticket office experience came deep inside old Albion – West Bromwich, to be precise. I arrived at The Hawthorns at half time in their November 2006 Championship thrashing of Burnley. Two ladies apologised profusely for having to charge me the full £36.00 despite it being completely my own fault.
Unsolicited, they fetched an official from a back office who I could see mouthing "Don't be daft" and I was given an £18.00 ticket before the head steward was summoned to the inside of my switched-off automated turnstile, almost breaking his neck to stretch his lanyard pass out to override the ticket reader.
I gave him a few quid for a pint but never did write that thank you letter to the ticket office ladies. However, having seen West Brom live for precisely 45 minutes, during which no goals were scored (the damage was done first half), and despite the most rudimentary knowledge of their history, I won't hear a bad word said about the Baggies.
That's how clubs win hearts and minds – not with a line on your bank statement. Gaining entry to a football match is infinitely more than a financial transaction. Consequently, ticket offices are issuing more than mere receipts. Alex Anderson
Bottom photo by Tony Davis/WSC Photography: Outside The Hawthorns before West Brom take on Bolton in 2009