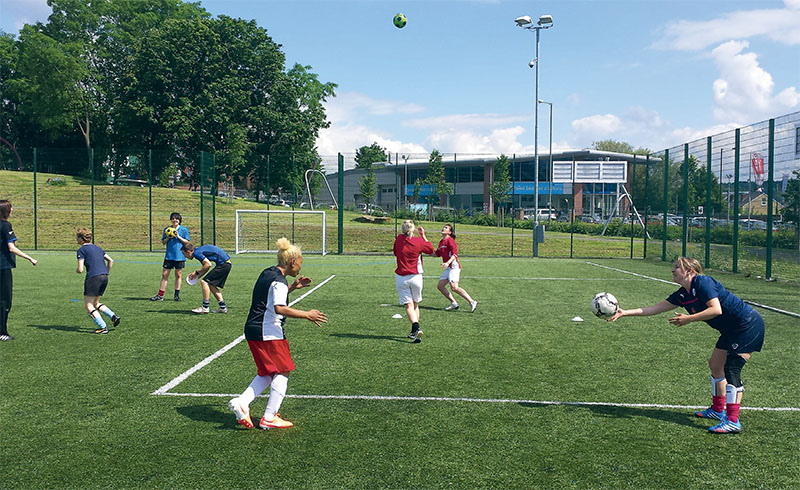 If you did not get a chance to play football when you were young, taking it up later in life can give a new dimension to the game – as SJ Chonara explained in WSC 342, August 2015
6 February ~ A Saturday morning in early April. Sheffield United are at Boundary Park today. I don't get to many away games, mainly cup fixtures if I do, so this morning is free to play football. Most of us knew each other already from Tuesdays and Thursdays – informal but dedicated football sessions with dozens involved, turn up, warm up, a bit of skills training and play. We were mixed ages and abilities, some had played at a decent level in the past, some still playing competitive five-a-side, some others were catching up.
Saturday meets were a follow-on from the few Saturdays we'd had training with AFC Unity, a new team playing their first season in the third division of the Sheffield and Hallamshire League. They run open training sessions so those of us with little chance of first-team club football could get good quality coaching and a workout. When this ended we wanted to keep up the momentum of playing three times a week.
The pitch we arrived at today was semi-level, well drained if a bit rutted and had two sturdy sets of posts but no nets. Playing three-aside we created a smaller pitch across the actual pitch. The first goal resulted in the ball tumbling down the wooded embankment beyond and while it was being retrieved a dog trotted over and pissed on one of the "goalposts": my bag. Change of plan. Play along the real pitch again with not so much of a slope beyond the goal. We played to 3-3 then switched to scoring by stopping the ball dead on the goal-line. More skill needed, close control but more legs in close combat. That kick on the shin will come up nicely and one day I'll consider getting shin pads.
After a drinks break we had a bit of piggy in the middle which I heard Pep Guardiola keenly employed in training at Barcelona and Bayern Munich. Not allowed to pass to the person next to you, got to be across the circle. Pass and move. Pass into space. After that, a game to test your reactions. One person chucking the ball at you and yelling "catch" or "head" and you have to do the reverse of what is yelled. If you get it wrong you are out of the game and sent for press-ups. It came down to two of us but I only triumphed because my competitor had "head" yelled at them just as the ball made contact with their face.
Finally a penalty shootout. Blades legend and radio summariser Keith Edwards recently said of one of our centre-halves going forward: "There's a reason you play at centre-half." It made me laugh because it reminded me of me – I'm happy to restrict myself to donkey work if that is where I'm effective. But surprising myself I made the sudden death "final", eventually conceding defeat to the other finalist who scored three to my two.
Time was getting on. I had Football Heaven on BBC Radio Sheffield to think of, an afternoon of commentary to round off Saturday's football. With Sheffield United playing Bradford at home the following Saturday I said I wouldn't play next weekend but would see them anyway on Tuesday and Thursday, when we'd have some more structured and disciplined football.

We are part of a thriving number of women enjoying regular recreational football, one weekly session of which I helped to get started two years ago. UK-wide statistics are hard to come by but in England women's football is recognised as the fastest-growing participation sport. The FA estimate today that over a million women and girls play regular football in England. Currently the fourth most played team sport after men's football, rugby and cricket, the rate of growth can expect it to have risen to second by 2018.
Our various sessions in Sheffield continue to grow and include some, like me, who never played in youth so are starting from scratch in trying to emulate the skills of the hundreds of footballers we have watched through the decades. We play together across an age range spanning over four decades and across experience ranging from starting out to having played at senior level. Some of us entered this season's FA People's Cup veteran women's fixtures set to be played in Sheffield. When matches were changed to open-age rounds in Leeds, reportedly due to lack of numbers, we knew there were enough here and arranged our own "Sweet FA" veteran women's tournament instead.
My playing days have not only developed my skills and confidence but are a glimpse into the experience I never had, that of the school child playing football week in week out as a rewarding supplement to their life as a fan, and I am grateful to the current growth in women's football for opening this out to me and other women playing today. My football life, formerly enjoying the men's and women's game only as a spectator, has another guise that carries on after the final whistle taking me through to Tuesday, Thursday, Saturday again.
Sheffield United came back from 2-0 down against Oldham to draw 2-2, keeping a foothold in the play-off places with the associated prospect of a pricey trip to London and relentless anxiety before and during the game. In a few more weeks the Blades' season will end in either the relief or fury I sign up for as a fan. But now there are also warm summer evenings ahead with the ball at my feet morphing into wet winter nights as next season takes hold. SJ Chonara
Photo: Women's coaching at AFC Unity in Sheffield
Thanks to AFC Unity afcunity.org
This article first appeared in WSC 342, August 2015. Subscribers get free access to the complete WSC digital archive – you can find out more details here