Dundee United mid-table, Hamilton rock bottom and Ross County in trouble – what WSC contributors got right and wrong from the previous season
4 August ~ "Right at the very top (of the bottom half of the table)," predicted Dundee United fan Ken Gall ahead of the 2015-16 Scottish Premiership season. He wasn't the only one who didn't see their relegation coming – the rest of the division's contributors had United in seventh too. Yet manager Jackie McNamara was sacked by the end of September and they won just two matches before Christmas as they went down for the first time since 1995.
The Tangerines' decline was great for Hamilton, though, who our Scottish writers had picked for bottom-place. Accies supporter Gilbert Mowat, too, had low expectations for his team going into the season, though he did see a glimmer of hope: "As we're by a distance the smallest club in the league, avoiding relegation is the target, but I think we'll be about eighth." They were tenth, but avoided the relegation play-off and 2016-17 will be their third consecutive season at the top level.
Taking part in that play-off were Kilmarnock, who finished one place below their predicted tenth. It won't have come as too much of a surprise to Andy Wilson, who expected "mid-table mediocrity or a relegation battle". Partick, meanwhile, were down to finish in 11th but Paul Climie had higher hopes: "Seventh would be a good result, a top-six finish would be tremendous." They had to settle for ninth.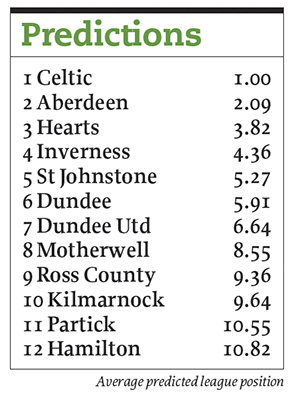 That's where Ross County were expected to finish but supporter John Maxwell disagreed. "We will now see the fruits of longer-term planning," he said and he turned out to be correct as they not only grabbed a top-six place but won the League Cup, their first major trophy.
The top of the table turned out to be an entirely predictable affair, with our contributors getting the top three spot on. "Could finish in the vicinity of first – and reach the latter stages of the Europa League," said Celtic fan Graham McColl. They held off a challenge by Aberdeen to take their fifth League title in a row, as everyone expected, but failed to win a match in the Europa League and went out in the first stage, having finished bottom of Group A.
"The title? No chance, not with the money Celtic have got," said Aberdeen supporter Keith Davidson after predicted second for his team. There were moments where they looked like they could challenge Celtic but a poor run of form in October and just two wins from their final eight matches showed just how far behind the champions the rest of the division were – a mere 15 points in it this time.
Hearts, meanwhile, had a more positive season than even Neil Edgar expected. "With over 13,000 season tickets sold and progression to fan ownership I think we will finish top six," he predicated. "We are getting the infrastructure in place to challenge." While they never really got close to Celtic, third place can be counted as a successful return to the top tier.
Andrew Sutherland suspected it would be "nigh-on impossible" for Inverness to top their 2014-15 season when they finished third and won the Scottish Cup. So it proved, as they ended up seventh.
David Innes expected "a reaction" from the Motherwell players after their relegation struggle the previous season and they duly turned things around to finish fifth. His hope for "any kind of improvement on our woeful cup record" went unanswered though as they went out in the League Cup third round and Scottish Cup fifth round.
Dundee supporter Alan Patullo suggested that anything lower than sixth would be disappointing, so their eighth-place finish won't have pleased him. However, he didn't factor in the possibility of relegating their neighbours, which may have offered some comfort. Meanwhile Archie MacGregor was expecting "somewhere in the mid-region of the bottom six" for St Johnstone, so will have been pleasantly surprised by their fourth place.
The WSC 2016-17 Season Guide is out in shops on Thursday, August 11 but subscribers will have free access to the digital edition from Thursday, August 4 – you can find details about how to register here