Accrington relegated, Luton champions and chaos at Northampton – what WSC contributors got right and wrong about the previous season
3 August ~ "With a takeover saga looming, a half-finished stand and rumours rife about matters financial, it isn't the pre-season preparation Cobblers fans would have hoped for," wrote Northampton Town fan Mark Pacan ahead of the 2015-16 League Two season, before predicting: "Best case scenario, play-offs. Worst case scenario, relegation and oblivion."
Given that all the problems he pointed to continued during the season, including police raids on their stadium, you would expect his worst-case scenario to be more accurate. Yet manager Chris Wilder somehow kept his squad focused on the job on the pitch and Northampton romped to the League Two title with an astounding 99 points. Not too bad for a team predicted to finish tenth overall by the division's contributors.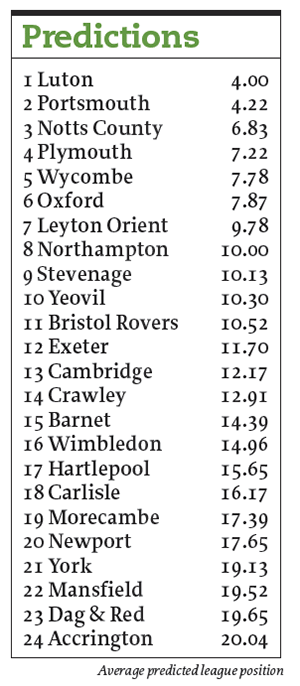 Then again, our writers didn't have too much success when guessing the overall League Two positions generally. Their biggest mistake was with Accrington. While Stanley fan Adam Scarborough said that "Twelfth place seems realistic", his counterparts were not so optimistic for his team, placing them rock bottom. Yet John Coleman's team defied expectation and were on the verge of automatic promotion until Bristol Rovers scored a 92nd-minute winner in their final match of the season against Dagenham, consigning Stanley to the play-offs.
For Rovers fan Jim Gwinnell it was mission accomplished. "There isn't much difference between the Conference and League Two," he wrote. "There is no reason why we can't be in another promotion chase." The rest of the division agreed they should adapt, having them down in 11th, but Rovers' promotion means they will start next season in the third tier for the first time since 2011.
Joining Jim and Rovers in League One next season will be Oxford, who were predicted to finish sixth by the crowd. Even that was a bit optimistic for Piers Pennington: "Any kind of promotion challenge will be a shock under the current regime." In the end they beat Wycombe 3-0 on the final day to secure the runners-up spot.
Wimbledon were the other promoted club, triumphing in the play-offs. It was better than everyone else had them down to do – 16th – but spot on for Dons supporter Shane Simpson. "The general feeling is that… we should be aiming for a top-ten finish this time out, if not the play-offs." Having beaten Accrington in a tense semi-final, Wimbledon dismissed Plymouth with relative ease at Wembley.
That defeat will have been a blow for Steve East, who said he hoped "Derek Adams doesn't need a season before he succeeds" at Argyle. They fell just short and face a sixth consecutive season in the fourth tier. Portsmouth, too, will be frustrated with missing out on the promotion that most expected, though Leon Tricker did have some words of warning before the season began: "Better than last season, but perhaps not as well as the bookies or our fans believe," he said, showing remarkable foresight. "It seems like a big ask to go from mid-table strugglers to promotion certainties in one transfer window."
At the other end of the table, our contributors were spot on when they suggested Dagenham & Redbridge would end up second-bottom. "If the manager works out what his best team is before the clocks go back, if some promising young payers continue to develop and if the apparently ageless Jamie Cureton can maintain his form from last year, top half is possible." That was a few too many ifs in the end, and they were nine points from safety by the end.
Accrington's surprise promotion battle meant the other relegation place was wide open. Jim Waterson expected York to spend the year "slogging out another season in relegation-flirting limbo" and that's just what they did, barely making it out of the bottom two and winning just seven games.
Of the other teams our contributors expected to do well, Luton were perhaps the most disappointing. Predicted to finish top, even their fan Neil Rose suggested that the "top three is within reach" but they struggled for consistency and came in a disappointing 11th. Notts County's expected play-off push never materialised and they didn't even live up to the hopes of Martin Naylor, who went for an "optimistic" tenth after "a whirlwind flurry of signings" in July.
"The aim must be play-offs again," said Wycombe fan Paul Lewis who pointed to raised expectations from his team's 2015 play-off final appearance. Yet after a bright start they fell away and ended up 13th.
The WSC 2016-17 Season Guide is out in shops on Thursday, August 11 but subscribers will have free access to the digital edition from Thursday, August 4 – you can find details about how to register here