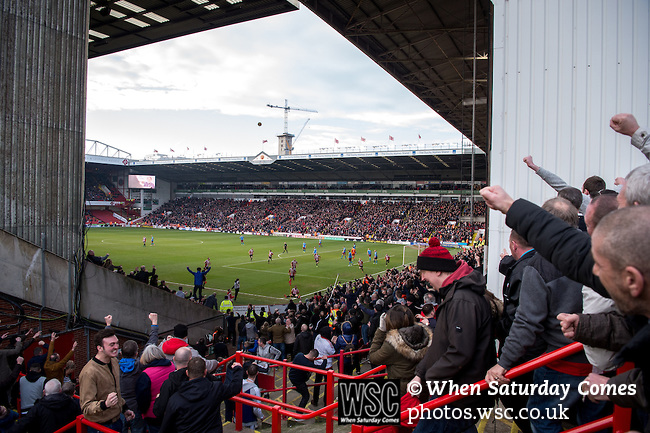 Fleetwood make an impact at the top, while off-field issues hampered some big clubs at the bottom – what WSC contributors got right and wrong last season
26 July ~ While the rest of League One's contributors were confident Sheffield United would finally live up to their tag of favourites and take the title, Ian Rands wasn't quite so sure. "New manager Chris Wilder has a huge task to build his own team," Ian said. "The top six should be targeted, but it may take the January transfer window for him to have the squad he wants. And it might be too late." After one point from the opening four games Wilder's new team clicked and they lost just three more games for the rest of the season, winning the division with 100 points.
Bolton fan Jon Callow suggested that "despite initial scepticism of the new owners, hopes are high we might at least see the season through as a going concern". They managed slightly more than that, exceeding expectations to edge into the second automatic promotion spot.
In the end Bolton overhauled Scunthorpe, who had started well – which was no surprise to Matt Blanchard. "There is a general feeling around the place that this might be our year," he said. "Anything less than the play-offs will be a major disappointment." A woeful period of three points from nine games between February and March blew their shot at the title and, despite winning their final five games, they fell to third and play-off defeat against Millwall.
The Lions made hard work of a division that Lance Bellers said looked "tougher to crack this time with some heavyweight names" but secured their play-off place with a tense 4-3 win over Bristol Rovers on the final day. Once in the play-offs, they dispatched Scunthorpe in the semi-finals before beating Bradford 1-0 at Wembley.
While the rest of the contributors expected both Millwall and Bradford to be comfortably in the play-offs, Jason McKeown didn't quite know what to expect from the Bantams. "With new owners, new manager, new backroom staff and a new set of players, the most precise I can be is that we will finish somewhere between first and 24th. After all those changes they finished in exactly the same position as the previous season, but did at least get a trip to Wembley this time after defeating Fleetwood 1-0 on aggregate in the semi-final.
Alasdair Pal suggested "mid-table would be an achievement" for Fleetwood, citing their owner's business troubles among many reasons they could struggle. Alasdair's peers thought even mid-table was optimistic, having Fleetwood down as relegation fodder. Yet in came Uwe Rösler as manager and, helped largely by an 18-match unbeaten run, the Trawlermen just missed out on a sixth promotion in 13 years.
If Fleetwood were League One's overachievers, it's hard to look beyond Coventry for the division's biggest underachievers. Expected to finish sixth by our contributors, Tom Furnival-Adams was slightly more pessimistic. "Barring some superhuman work in the transfer market," he said, "I expect us to fall short of the play-offs again." Fall short they did, failing to win in their opening ten games, gaining two points from 15 matches between November and February and eventually being relegated to the fourth tier for the first time since 1958. All this to a backdrop of fan protests against the club's owners. There was at least one bright moment, however: winning the much-derided Football League Trophy in front of nearly 75,000 at Wembley.
Also struggling through 2016-17 amid fan unrest were Charlton, who had been tipped for the second automatic promotion place by our League One contributors. Tom Green was also fairly confident: "In Russell Slade we have an experienced League One manager and our signings so far have been good. Let's say fourth." Slade was gone after 16 matches (and sacked again, by Coventry, in February) and Karl Robinson eventually guided them to 13th, though many Charlton supporters were more concerned with removing owner Roland Duchatelet from the club than their league position.
Howard Borrell admitted that most Chesterfield fans "would be happy with mid-table" and acknowledged that most of their new signings "aren't well known at this stage so, at this stage, we'll just have to hope Danny Wilson has got the blend right". He didn't and was sacked in January, although Wilson's replacement, Gary Caldwell, couldn't stop the Spireites' spiral.
Chesterfield will be joined in League Two next season by Swindon and Port Vale. Neither was expected to excel by the rest of the division but Rob Rushton was looking forward to great things from Port Vale: "With a new manager, Bruno Ribeiro, and a batch of new overseas players, expectations are high: the play-offs." The experiment didn't work and Ribeiro resigned on Boxing Day. Michael Brown was put in charge but unable to halt the decline, while Vale chairman Norman Smurthwaite stood down at the end of the season, saying: "In thinking outside the box last summer I have clearly seriously damaged our club, resulting in Sunday's relegation which was never my intention as the club is now a big part of my life."
Swindon fan Craig Gurney suspected "another cheaply assembled squad may struggle" before plumping for 18th in his prediction, though they ended up struggling more than expected. Amazingly the November arrival of Tim Sherwood as director of football failed to steady the ship at the County Ground and they will play League Two football for the first time since 2012.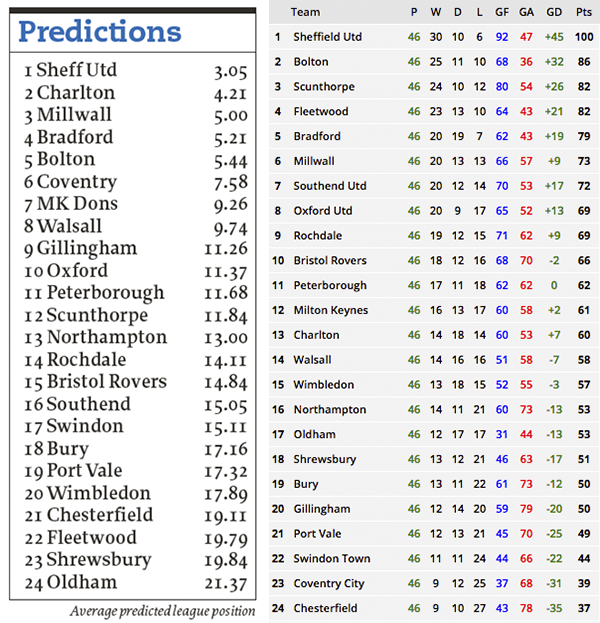 WSC 367 with the 2017-18 season guide is in shops on Thursday, August 3. Subscribe here to get it delivered to your door.
Photo by Simon Gill/WSC Photos: Sheffield United fans and players celebrate a goal against Scunthorpe
Actual table provided by Soccerstats.com