Burton mid-table, Barnsley not doing much and Doncaster troubling the play-offs – what WSC contributors got right and wrong about the previous season
2 August ~ "I'll be pleasantly surprised if we make the play-offs," said Wigan fan Ian Aspinall ahead of the 2015-16 League One season, after pointing to their high turnover of players, untried manager and the League's youngest chairman. Ian must have been amazed, then, when his team were promoted as champions come May, top scorers in the league thanks in large part to the form of Will Grigg. It won't as come as much of a shock to the other League One contributors, however, who had Wigan down as runners-up.
If many saw Wigan coming, few predicted Burton would take the division's second automatic promotion place, instead having them down for a mid-table finish. Brewers supporter Mark Rowe, meanwhile, decided to be bold: "Albion can easily fit into this division, then kick on even further." It turned out they weren't willing to fit in for too long – even manager Jimmy Floyd Hasselbaink leaving to join QPR couldn't stop them, with Nigel Clough returning in his place – and League One's best defence helped them towards a second successive promotion.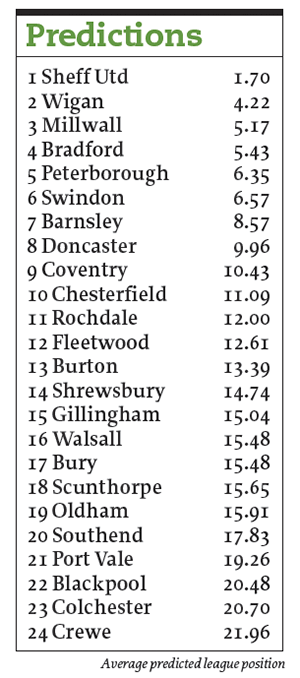 In taking second spot Burton edged out another of League One's surprise packages, Walsall. "We might worry the play-offs but mid-table is more likely," said Tom Lines of the Saddlers' chances. Just three defeats before Christmas, despite losing manager Dean Smith to Brentford, raised hopes that Walsall would take one of the automatic places but they struggled in February and couldn't quite overhaul Burton, missing out by one point. That disappointment fed into the play-offs where they were hammered by perhaps the story of the division.
On November 28 Barnsley were bottom of League One, yet come the final day of the season they were celebrating reaching the play-offs after a magnificent turnaround in form that included just three league defeats in 2016. It went against everything Richard Darn expected: "Mid-table. Can't honestly see us doing much either way this season." In the end they did almost everything – a relegation battle, a climb up the league and two victories at Wembley, one in the Johnstone's Paint Trophy and the other in the play-off final over Millwall.
Lance Bellers had been optimistic about Millwall's season, predicting "a late surge to pinch a play-off spot". His counterparts were expecting even more of Millwall, having them down as finishing third. Yet, while they were ultimately outplayed in the play-off final, Neil Harris had a solid first season in League One.
There was also play-off disappointment for Bradford who, like Millwall, finished just one place below their predicted position before losing to the Lions in the semi-final. They did match the hopes of Jason McKeown, though, who said that "the play-offs look a realistic target".
Of the other teams predicted to do well, Sheffield United again failed to live up to their rivals' expectations, finishing an underwhelming 11th after being predicted as champions. "Another season in League One is unthinkable," said Blades fan Ian Rands, before adding: "Although I said that 12 months ago too." Peterborough also fell short, finishing 13th, which will have upset Andy Mills: "Could be absolutely anything this year. I'll still be disappointed if we don't make the play-offs again."
Meanwhile Swindon ended up in a lowly 16th, ten places below their predicted sixth, though Craig Gurney's hopes weren't quite so high: "Ninth and a long overdue cup run." They went out of both the FA Cup and League Cup in the first round.
Of all the clubs to fall below expectations, though, Doncaster were the most spectacular. Predicted to finish a reasonable eighth by our League One writers, they endured a dismal season and were relegated by four points. The whole thing will have come as quite a shock to Glen Wilson, who said: "Play-offs seems much more likely than a year ago."
In terms of the other relegated clubs, our contributors deserve a pat on the back for predicting the bottom three of Crewe, Colchester and Blackpool. They even got the correct order. It won't have come as a surprise to Crewe fan Charles Morris, who said that "Optimism is drained after two seasons of avoiding relegation on the final day, so another scrap to beat the drop seems realistic." In the end he barely got that and Crewe were relegated 16 points from safety.
Colchester fan Paul Turtill, too, saw a season towards the bottom of the table coming. "Having flirted with relegation heavily the past three seasons, it's going to be the same again," he said. John Secker of Blackpool likewise won't have been surprised by his club's decline. "We could be in any of three divisions come August 2016," he wrote, "and I would say League Two is looking the most likely at the moment." They will be start 2016-17 in the Football League's basement tier just five seasons after competing in the Premier League.
Port Vale were the other team our League One contributors had down as being relegated and fan Rob Rushton agreed: "I expect us to struggle." In fact they ended up comfortably mid-table. Southend, too, did better than expectations. "Hopefully we should at least manage to avoid a swift return to the fourth tier," said Steven Heath. They did that easily, though what looked like it would be a tilt at the play-offs faded to a 14th-place finish.
Both Coventry and Gillingham may have been disappointed by how their seasons turned out. For a time both looked like challenging for the automatic promotion places but withered away to eighth and ninth respectively. Still, Sky Blues fans Tom Furnival-Adams ended up being bang on when he predicted they "might just bother the top ten". Gills supporter Haydn Parry, however, may be disappointed after hoping for sixth under Justin Edinburgh.
Alasdair Pal's expectation of seeing Fleetwood "finish in the top half for the second season running" were missed as they scrapped against relegation, while Shrewsbury fan Jon Matthias admitted his team were "going into a very hard league and it will be difficult to see us trouble the top half". They just about held off Doncaster and will get another shot at League One in 2016-17.
The WSC 2016-17 Season Guide is out in shops on Thursday, August 11 but subscribers will have free access to the digital edition from Thursday, August 4 – you can find details about how to register here