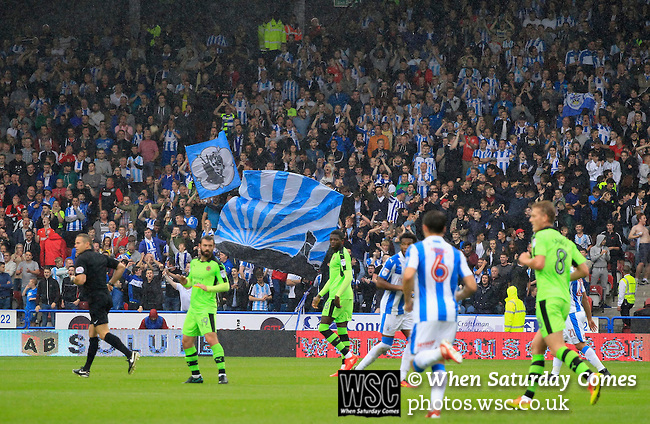 Brighton finally win promotion but Huddersfield steal the headlines, while at the bottom Rotherham have a shocker – what WSC contributors got right and wrong last season
27 July ~ "Simply starting 2016-17 in the Championship is a blow," said Brighton fan Drew Whitworth after watching his team miss out on promotion to the Premier League via the play-offs for the third time in four seasons. "At least we've kept hold of the manager and important players, and all have the ability to mount another promotion challenge. Whether it will be more successful than last time is impossible to predict."
It turned out to be very successful – Brighton swapped places with Newcastle at the top of the table for much of the season before eventually having to settle for the runners-up spot. Still, a return to the top flight for the first time since 1983 was decent consolation.
Newcastle themselves finished just as expected. "For once an air of trying to do things right around the club suggests we might be good enough… to go straight back up," said Mark Brophy. They were made to work hard for the title by Brighton but ultimately secured a quick return to the Premier League, going up as champions by beating Barnsley 3-0 on the final day while Brighton drew with Aston Villa.
While their peers may have had Huddersfield pegged for a relegation battle, Terriers fan Marco Jackson had a different view. "There is a real sense of optimism under new manager David Wagner," he said. "If his signings settle, Town could be looking up the table instead of down. It is hoped 'The Wagner Revolution' that has seen 15,000 season tickets sold does not become 'Last of the Summer Rhine'."
Needless to say it did not, with Wagner's team taking 16 points from their first 18 games before slipping into the play-off places. Despite finishing the season with a negative goal difference they beat Sheffield Wednesday and then Reading, both on penalties, in the play-offs to seal a remarkable return to the top division after a 45-year absence.
Huddersfield were probably the least fancied of the four teams going into the play-offs, and the other three will have mixed feelings about their campaigns. Perhaps the most disappointed will be Sheffield Wednesday, who fell at the play-off stage for the second season in a row – though Owls fan Liam Wilkinson felt that, with the added weight of expectation and even more big-spenders in the division, they "may just fall short" of the play-offs altogether.
Roger Tiford was uncertain what "big new manager Jaap Stam" and his "big new broom" would bring to Reading. "I'll hedge my bets and say halfway," he said. Roger will have been pleasantly surprised, then, to see his team rise up into third place and get past a resurgent Fulham in the play-off semi-finals before their Wembley defeat to Huddersfield.
"Prospects are looking less than enticing," said Fulham fan Neil Hurden. "Something fairly drastic has to be done about our defence, which didn't so much creak last year as self-combust. We ought to have the resources to stave off relegation again but I'm not going to get any more optimistic than that."
In the end Slavisa Jokanovic didn't have to worry too much about his defence, with his team lethal at the other end of the pitch. They put nine past Huddersfield over two matches and beat Reading 5-0 in December, sneaking into the play-offs after winning five of their final six matches. There they fell to a more defensively resilient Reading, but it was a much better season than the 18th place predicted by WSC's Championship contributors.
Fulham's late run saw them leapfrog Leeds, whose two wins from their final 11 matches ended their hopes of a return to the Premier League for the first time since 2004. Still, it wasn't the "tragicomic lurching skid to 14th" that Duncan Young predicted under Garry Monk.
Other promotion favourites among our writers who under performed were Norwich ("We have enviable depth and experience to our squad," said Paul Buller), Derby ("After last season's uncertainty, hopefully the plan is to get promotion with Nigel Pearson, wait until he falls out with the press and then hire Claudio Ranieri," said Peter Gutteridge, who failed to foresee the inglorious and brief return of Steve McClaren coming) and Aston Villa.
The latter's "management team of Roberto di Matteo, Steve Clarke and Kevin Bond is the strongest we've had in years," said Brad Woodhouse – though he clarified that this wasn't saying much, before suggesting he'd "be very happy to take our chances in the pay-offs". Di Matteo lasted until October 3 after just one victory in their opening 11 games, before new manager Steve Bruce helped them rally to mid-table safety.
At the bottom, Rotherham lived up to their tag as relegation candidates. "Unless good-quality arrivals materialise quickly I suspect another relegation struggle is on the cards," said Phil Kyte, though even he could not have predicted the Millers' disastrous season. Just five wins and 98 goals conceded meant that they were officially relegated after their 1-0 defeat to Fulham on April 1. Their season included separate periods of 15 and 17 matches without a win, just two away points and three different managers.
Ian Aspinall was in a positive mood after Wigan's promotion to the Championship, with a top-half finish excepted and "the play-offs would be a massive bonus". Meanwhile Bruce Wilkinson had similar hopes for Blackburn – "Despite the negativity surrounding the way the owners, Venky's, run the club, some signings are a cause for optimism so top-half finish" – which turned out to be similarly unfounded. Both teams were relegated, Wigan by nine points while Blackburn at least took it to the final day, when their 3-1 victory over Brentford was not enough to overhaul Nottingham Forest, who beat Ipswich 3-0.
That Forest found themselves in a relegation fight was of little surprise to Al Needham, who predicted "another season that will tumble from the dog's arse of expectation and thud upon the pavement of disappointment". Still, it was good news for Burton at least. "I think most sensible fans would take one place above relegation," said Colston Crawford. They exceeded expectations by a single place, finishing 20th.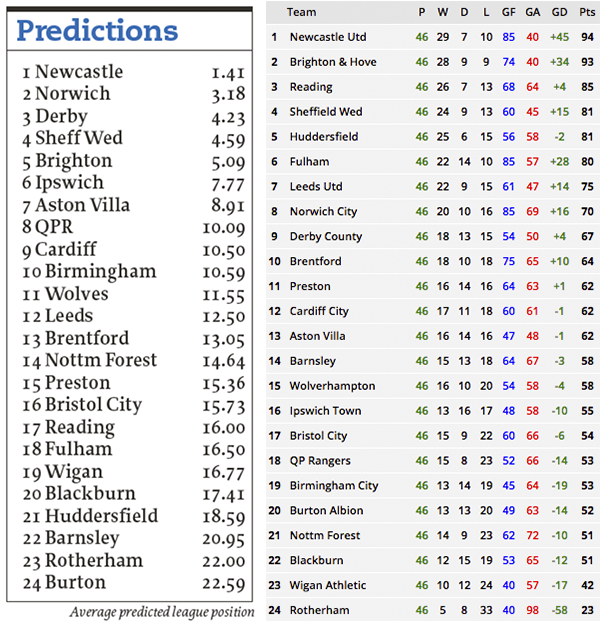 WSC 367 with the 2017-18 season guide is in shops on Thursday, August 3. Subscribe here to get it delivered to your door.
Photo by Paul Thompson/WSC Photos: Huddersfield fans get behind on their team
Actual table provided by Soccerstats.com