Middlesbrough up, Brighton floundering and Charlton safe – what WSC contributors got right and wrong in their predictions for the previous season
1 August ~ "Automatic promotion," asserted Burnley fan Kevin Clarke ahead of the 2015-16 Championship season. "It goes against everything I believe in as a Burnley fan to predict this, but there really is no reason why not." It took them a couple of games to get going but in the end Kevin's confidence was well placed and his team sealed an immediate return to the Premier League, going up as champions by four points.
Burnley's title won't have come as too much of a surprise to the rest of the division's contributors, who had them down to finish third. In their place as champions were predicted to be Middlesbrough – though Boro fan Harry Pearson was "erring on the side of caution" when he suggested his team would make the play-offs. They took automatic promotion on the last day of the campaign with a 1-1 home draw against the Championship's surprise package – Brighton.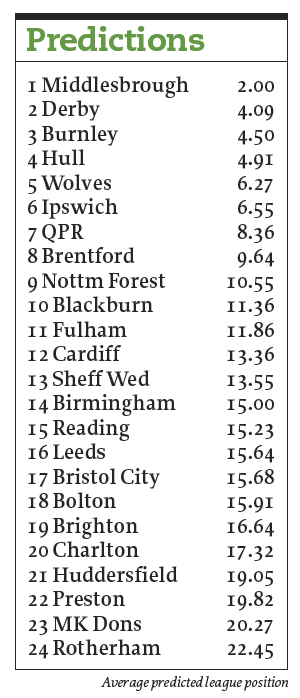 "Unless the investments in the forward line are successful," wrote Brighton supporter Drew Whitworth, "I expect we will be in for a struggle again." His counterparts agreed, with Brighton predicted a lowly 19th-place finish. Yet Chris Hughton's side, built on a solid defence, went 21 games unbeaten from the start of the season. Their run was finally ended by Middlesbrough on December 19 and, having failed to pull away, Brighton ultimately fell just short and went into the play-offs where they came up against another unlikely promotion contender in Sheffield Wednesday.
With a new owner, unknown head coach and plenty of fresh faces, Owls fan Liam Wilkinson was guarded going into the season. "I suspect it will take too long to come together and we'll end up missing out on the play-offs but be comfortably top-half," he wrote, "which would be progress." The rest of the division tended to agree, having Wednesday down as a solid 13th, but after a slow start things did come together and they sneaked into the play-offs, where they defeated a demoralised and injury-ravaged Brighton to set up their first trip to Wembley since 1993.
That's where Wednesday's progress for the season ended, though, as Mohamed Diamé fired in the only goal of the game to send Hull City back to the Premier League at the first time of asking. Our contributors can give themselves a pat on the back for predicting Hull's fourth-place finish, though City fan Matthew Rudd wasn't quite so optimistic. "We won't go up," he said bluntly before turning fire on the club's owners: "The club is beset by egotism and hostility." While they did manage to go up, the problems between Hull's fans and their owners continued throughout the season and will no doubt remain in 2016-17 after their manager, Steve Bruce, quit this summer.
The other team predicted for automatic promotion by the contributors were Derby, having just missed out on the play-offs the previous campaign after late-season capitulation. "We'll do it properly this time," said Rams fan Peter Gutteridge. Yet once again they tailed off, with the sacking of Paul Clement in February not turning their season around. His replacement Darren Wassall did at least guide Derby to the play-offs this time, but they lost to Hull in a thrilling semi-final.
At the bottom, relegation will have come as a shock to Charlton fan Tom Green. "Ninth," he predicted. "For some reason we're one of the bookies' favourites for relegation, but we finished 12th last season and should be able to improve this time." The bookies were right, though few could have predicted the turmoil that followed Charlton's season, with widespread fan protests against the owners throughout the campaign.
Joining Tom and his fellow Charlton fans in League One next season will be Jon Callow and Bolton. "The emergence of youth since Neil Lennon's arrival is genuinely exciting," he said. Lennon was gone by mutual consent on March 15, with the club having been handed a winding-up petition by HM Revenue & Customs a few months earlier and slapped with a transfer embargo during January. They were eventually taken over, but will have to rebuild in League One having managed only 30 points during 2015-16, leaving them 19 adrift of Rotherham.
The Millers themselves managed to pull off a miraculous, Neil Warnock-inspired escape, against the expectations of our contributors – who had them dead last. Phil Kyte had higher expectations, suggesting that "if Matt Derbyshire starts the season as he ended the last one then mid-table is a realistic hope". A little optimistic, Phil, but in the end Rotherham were nine points clear of the relegation zone and just three from 17th.
Preston were widely expected to return to League One but, after just one victory in their first 11 games, went on an excellent run and achieved even beyond the "mid-table obscurity" hoped for by North End fan Martin Atherton. There was one point in late February when they looked like they may even sneak into the play-offs. For Wolves there was "every reason to be optimistic" according to Adam Bate and the rest of the division agreed, having them up in fifth position. Yet they never really got going and stumbled to a disappointing 14th.
Ipswich's "highly enjoyable huff-and-puff heroics" had raised expectations among their fans according to Gavin Barber, who suggested that anything other than automatic promotion may be seen as a failure for Mick McCarthy's team, though Gavin himself predicted the play-offs. After a bright start the Tractor Boys slipped back and ended up fighting for – and missing out on – the final play-off place.
Fulham failed to live up to their mid-table predictions ("I can already sense the majesty of tenth place," said Neil Hurden) and in the end were saved from relegation more by other teams' ineptitude than their own skill. Duncan Young's main hope for his Leeds team was for "owner Massimo Cellino [to accept] that a popular, successful manager isn't a threat". Wishful thinking, Duncan. Uwe Rösler was gone by October and Steve Evans was brought in as his replacement – at least meaning Cellino wouldn't have to worry about his manager becoming too popular.
The WSC 2016-17 Season Guide is out in shops on Thursday, August 11 but subscribers will have free access to the digital edition from Thursday, August 4 – you can find details about how to register here