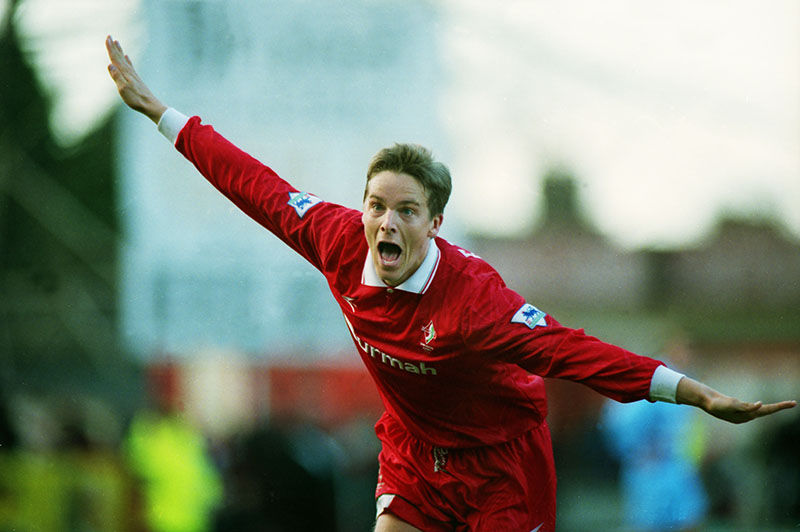 It started badly and got worse, but Swindon's terrible 1993-94 season still gave supporters cherished memories that will last a lifetime
2 January ~ Trivia experts will be well aware that the ten days which Swindon Town spent in the old Division One in June 1990 is a record. So short was this stay at the top in fact that the fixtures hadn't been published before the Football League decided to demote them for irregular, tax-dodging payments after a play-off final win against Sunderland. The forfeited promotion place was given to the losing finalists and so it was Sunderland who faced "local" derbies with Crystal Palace and Southampton over Christmas and New Year.
Three years later, a technically gifted squad drilled by player-manager Glenn Hoddle won Swindon another chance in the top flight, which by this time had been rebranded the Premier League. We went bottom of the table on the second Sunday after conceding five at home against Liverpool (I remember Neil Ruddock looking deep into my soul as I stood behind the goal at the Stratton Bank end as he nodded in the first) and stayed there for the remainder of the season. Leeds also won 5-0 at Swindon's County Ground on the last day, which were goal numbers 96 to 100 in the "against" column.
Key players in the team which had passed their way through the First Division so delightfully the previous season left during the summer. Hoddle went to manage Chelsea and left John Gorman to recruit replacements for captain Colin Calderwood, who went to Spurs (Micky Hazard left to join him there in October), and Dave Mitchell lived up to his maverick Frank Worthingtonesque image by taking up the offer to play three games for Altay Izmir in Turkey before coming back to play for Millwall within a couple of months.
The excitement of seeing Swindon Town's red and green diamond badge in sticker albums and the football weeklies (and on a faux Brazil kit on the first day of the season) was tempered by a nagging dread that the squad and the manager weren't up to the challenge. Two defeats in the opening games against Sheffield United and Oldham Athletic, who were both to be subsequently relegated with Swindon, were followed by the 5-0 against Liverpool.
The pretty passing moves were still there but the defensive errors which saw the team concede three goals against Leicester in the play-off final in May and four against Birmingham City in April, but still manage to win both games, were still there too. Every mistake was being ruthlessly punished and there were no goals going in at the other end. With Ruddock's contorted face just feet away from mine, I stood surrounded by Liverpool-supporting Swindonians in the home end and tried to imagine how and when the recovery might begin. I drew a blank. Similarly, the 0-0 draws with Norwich and West Ham were the best the Town could manage in the first few weeks.
At the time I was a lecturer at Sheffield Hallam University and one of my students, a keen Manchester United fan, told me he could get us both tickets for the September away game from his dad's mate, Gordon. When I met him outside Old Trafford wearing a Swindon shirt he greeted me in a shirt and tie. Puzzled, I followed him to our seats in what was obviously an executive area to a mixture of dismayed and pitying looks. Then I learned that his dad's mate was Gordon Taylor. When Ryan Giggs warmed up there was a roar of excitement around the ground. When Stevie White had to come on for Swindon to replace the stage-struck Jan Age Fjortoft I fancied I'd heard the theme from Steptoe and Son. (We lost 4-2 but it was only 3-2 going into Fergie Time.)
The first win didn't come until November 24 – one of two in the league against QPR. The middle third of the 42-game season was the most successful, 17 points from 14 games was achieved with wins against Spurs (take that Calderwood), Southampton and Coventry. However pale, this was still a decidedly purple patch. Fjortoft finally worked out where the goal was, Brian Kilcline joined from Newcastle to bolster the defence (the club shop started selling hats with a ponytail hanging out the back) and we were only two points from safety by March. If that form had been reproduced across the whole season, we would have finished 15th, just above Spurs. Instead those final 14 games yielded just eight points with a further 38 goals conceded.
I take some pride in the fact that 25 years later I can still recall details of those five wins and 15 draws which made up the final tally of 30 points. Now that I'm in my 50s and Swindon's current owner and players are struggling to keep them out of the National League these memories will, I suppose, be ones that I'll have to cherish. So, there was Andy Mutch's goal and celebratory hand-spring against Newcastle that made it onto the opening sequence of Match of the Day, Fjortoft's arms-outstretched aeroplane goal celebrations, Gorman's increasingly exasperated post-match press conferences, and scoring three goals away at Hillsborough and Loftus Road and two each time at Anfield, Goodison Park and Old Trafford (overlooking, of course, the 16 conceded in those five games). The soundtrack to these flashbacks would be a mash up of Des Lynam and Clive Tyldesley cheerfully observing that "Swindon's football earns them more friends than points" played over Pulp's Do you Remember the First Time? It was both a hopeless and brilliant year. Craig Gurney
Photo by Colorsport: Jan Aage Fjortoft celebrates his goal against West Ham in 1994, aeroplane style
This article first appeared in WSC 381, December 2018. Subscribers get free access to the complete WSC digital archive – you can find out more