The winning entry in our 2022 writers' competition looked back on a memorable season for the east London club. Entries are now open for the 2023 competition
By Chris Evans
29 March 2023
It's about ten past nine on a Tuesday night in late March. I stop scrolling Twitter and calmly tell my other half that I'm going to the pub. Redbridge have just gone ahead against Stansted. This is a big deal in the world of the Essex Senior League. I put on a blue and white bobble hat, despite the clement spring weather, and leave the house.
The pub is only three minutes away but before I even reach my destination, it's 2-0. Massive. I walk into the pub and cheerily wave to Thom. I knew Thom was already here because he hadn't even waited for Redbridge to take the lead before posting a picture of himself alone in the pub in our WhatsApp group. That's confidence for you. Drink bought, I take a seat and we both laugh at the absurdity of it all. A few minutes later Alex joins us, then another Chris. An alliterative trio of Aaron, Andy and Adam follow. Adam, who told us he couldn't possibly come out tonight, but who has been the catalyst for so much around what has happened to our football club over the last few years. His absence tonight would have been felt. Before long there are a dozen of us sitting around a table, mostly wearing bobble hats or scarves, despite their unnecessary ridiculousness, and we are all manically, obsessively refreshing Twitter.
The reason for this impromptu gathering is that Walthamstow FC are on the verge of winning their first league title for 30 years. If Stansted lose then we are champions. Just a few years ago, this was unthinkable. Known previously as Waltham Forest FC, we'd spent years battling relegation while playing in front of nobody. However, a new owner, a new manager and a rebrand under the new name had seen an upturn in our fortunes. In the last season before Covid, while we had narrowly missed out on promotion, what we had achieved was a huge upswing in attendances and engagement with the local community.
Some of this interest was initially a result of fans unable to attend League games due to Covid restrictions starting to visit their local non-League clubs instead. Most of these spectators drifted back to their original clubs as soon as they could, but a fair few didn't. The remainers had found reasons to keep coming back. In Walthamstow's case, a key draw was a small but noisy group of fans, spearheaded by the aforementioned Adam and his friend John, who created a lively, inclusive and most of all fun atmosphere. Other draws were free tickets for NHS and education workers, the introduction of pre-match and half-time music, a new bar and tea stall, an award-winning programme featuring incredible front covers by local artists, and the long-delayed introduction of hot food to the matchday experience. One game in the autumn saw a huge collection of both cash and food for our local foodbank.
The club have an extensive youth network with their partners Ryan FC, which sees hundreds of children training on the 4G pitches next to the ground on a Saturday morning. Most importantly, a likeable and winning team helped create a momentum that saw people come for a game, but more importantly come back to the next one. As for the aforementioned bobble hats, the club have sold hundreds. Even our local MP has been spotted wearing one.
At the heart of everything is the "Rabble"; 30 to 40 fans who are there every game, home and away. A ragtag assortment of individuals who all have a team, whether it be Manchester United, Plymouth Argyle, Birmingham, West Ham, Derby, Cardiff, Arsenal or someone else, but who had somehow ended up in north-east London looking for somewhere to watch football. We had all found a home in the nether regions of the Essex Senior League among this band of fellow footballing travellers. The club have started getting respectable crowds for this level at every home game and decent numbers have also travelled across Essex, north-east London and the occasional foray into Hertfordshire; this in a league where away support is a very rare thing. Some games in the Essex Senior League have recorded attendances fewer than the number we had gathered round a pub table on that Tuesday night.
And what a season it was. Under the new managerial team of Terry Spillane and former Leyton Orient captain John Mackie, we saw a shift up in performance levels which resulted in us going top of the table in November and, a couple of slight wobbles aside, never looking like relinquishing top spot. Unlike in previous seasons, the team didn't suffer from the normal non-League issue of the endless revolving door situation, where players come and go seemingly on a whim. From our outstanding goalkeeper and a stable defence to our midfield linchpins and slightly-past-it-but-still-banging-the-goals-in striker, the core of the team were at the club from the opening day to the last game. All of these factors, on and off the pitch, have contributed to the success.
Back to that evening in March. Three officially neutral but obviously Walthamstow fans have made the 23-mile journey up the M11 to Stansted and are keeping us posted. The home side score with a few minutes to go to make it 2-1, but Redbridge go straight down the other end to restore their two-goal advantage. One of our spies starts live-streaming the game on WhatsApp, resulting in the ridiculous sight of 12 fully grown men sitting transfixed around a mobile phone propped up against an empty pint glass. The final whistle goes, and Walthamstow are Essex Senior League champions. Joy and relief are unconfined, and songs are sung – mainly our reworked theme tune of Spandau Ballet's Gold. The three fans at the match make it back from Stansted in time to join the celebrations, and before long we realise it's past midnight, we are the only ones left in the pub, and we've all got work tomorrow.
Some fans had hoped that Stansted would beat Redbridge so that we could win the league at home on the weekend, but I was never of that opinion. Way too stressful. That following Saturday was another level of celebration anyway. With the pressure off we were free to enjoy an all-day party, complete with a guard of honour, a battalion of our trademark confetti cannons and an irrelevant 0-0 draw. Afterwards, fans and players enjoyed the success as one. Two weeks later at the last game of the season, we lifted the trophy amid yet another party.
While that Tuesday evening was an odd way to celebrate winning a championship, the evening fitted the quirky nature of Walthamstow FC. For many of us who had invested their time and efforts in the club over the last year, it was the perfect way for it to happen. I wouldn't have changed a thing.
This article first appeared in WSC 423, August 2022. Subscribers get free access to the complete WSC digital archive
Want to see your writing published in WSC? Take a look at our pitching guide and get in touch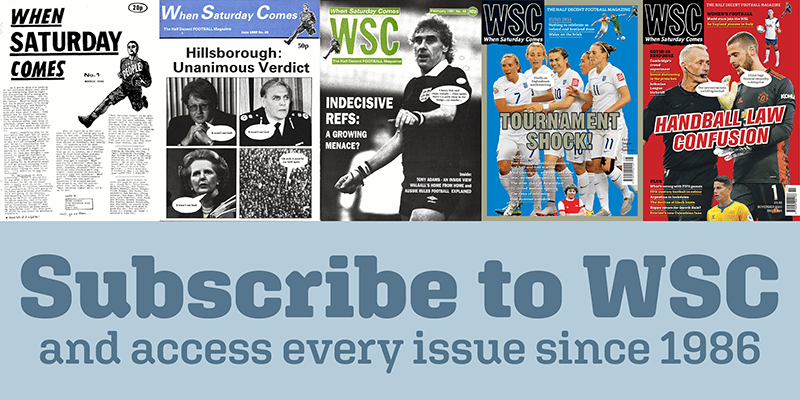 Tags: Non League, Walthamstow