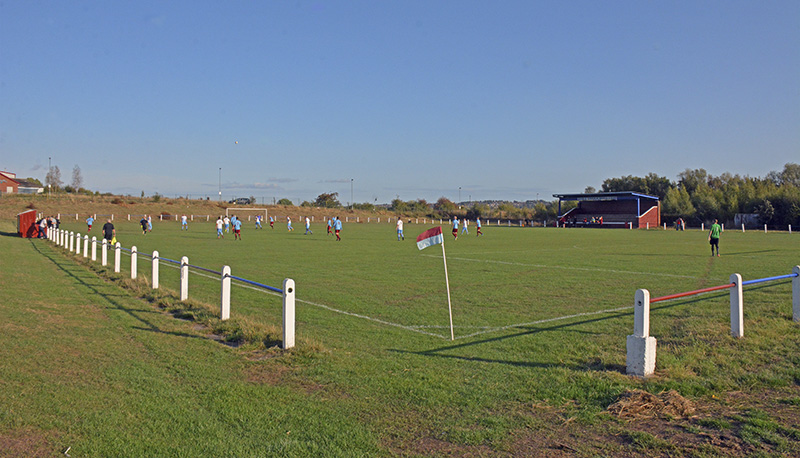 The present-day custodians of clubs with colliery roots feel a strong sense of obligation to preserve their connections with the past
4 June ~ Many of South Yorkshire's towns and villages were literally built on coal. In the late 19th century, there were over 80 collieries in the area employing 60,000 miners, climbing to more than 100,000 by the early 20th century. As recently as the 1980s, the county had around 30 collieries boasting a 50,000 workforce. By 2015, when Hatfield Main closed, it had none. Some of the vast pit sites have been reclaimed as parks, lakes and wildlife reserves. A casual observer contemplating these bucolic scenes could be forgiven for thinking the industry hadn't existed there.
While headstocks and spoil tips have all but vanished, a legacy of South Yorkshire mining can still be found in its non-League football scene, with a number of clubs retaining mining suffixes in their name or playing at historic Welfare grounds. Several of these teams emerged in nascent pit communities, often as recreational arms of the Miners' Welfare Institutes. Funded by miners' wage contributions, the institutes were altruistic in nature, providing educational and leisure facilities for workers and their families. This included construction of multi-sports venues, such as the splendid Mexborough Athletic Ground, currently used by Swinton Athletic. Miners' football clubs not only offered salubrious respite from work but were a hotbed of talent.
To the south-east of Sheffield are Kiveton Park of the Sheffield & Hallamshire County Senior League (SHCSL), formed a decade after the nearby colliery opened in the 1860s. Among their roll call of players who graced the professional leagues is Herbert Chapman. Born and raised in Kiveton Park, Chapman left his colliery apprenticeship to become one of football's most successful and pioneering managers. For club historian Lee Hicklin, this prestigious connection is one of many reasons Kiveton Park remain a valuable local asset. "The club are one of the oldest remaining institutions in the village, providing a recreational outlet for over 135 years. For over a century until 2017, our home ground was Hard Lane, paid for by the colliery and built by the miners. We now have over 250 players of both sexes on our books from under-sevens right through to seniors. We updated our badge a couple of years ago and it was important for me that it retained the colliery winding wheel. Although the pit shut in 1994, people around here are still very proud of their village's mining past."
Last season's SHCSL Premier Division champions were North Gawber Colliery, based in Mapplewell to the north of Barnsley. Since formation in 2011 they have played at Woolley Colliery Road, former home of defunct Northern Counties East League (NCEL) outfit Woolley Miners Welfare. Despite the North Gawber mine in Mapplewell closing over 30 years ago, the relatively new club also feel it incumbent to preserve connection with the past. "Heritage is important and should be celebrated," says secretary Jake Bedford, whose father Nick founded the club. "It was considered essential to keep the term Colliery as part of our name to maintain the link and encourage the junior section to use the nickname Young Colliers."
Higher up the pyramid, Maltby Main of the NCEL Premier Division are another club keen to uphold mining traditions and the principles that underpinned it. Established in 1916, the Miners run junior sides from under-eight to under-18s and are a focal point of the community. Committee members select a different charity to support each season and run ongoing initiatives such as children's winter coat collections. Communications manager Dave Watts believes Maltby Main have a duty to honour the memory and ethos of times gone by. "We must keep the history of mining within the club. You can still see the pit top from near the ground and many sons and grandsons of miners watch and help us. Maltby is there due to the fact it had a working mine, and the houses where these families lived are still around. The way we run the club is in a similar hard-working 'get stuck in' mode. I know and speak to ex-miners in and outside the club who are in their 70s and upwards. They are special people you can learn so much from. If we channel our efforts at representing the town, what it stands for and once stood for, we will get the best of both worlds."
Learning from the past to inform the future has increasing societal relevance. Non-League football is facing an unparalleled crisis. Without financial assistance, there are genuine concerns clubs across Britain will not survive the shutdown. During a period where we are being asked to pull together, it is prudent to ponder the co-operative spirit that created and operates these clubs, often for the benefit of others. Mining clubs in particular arose and endured through collective support, especially in hard times. It is one of the reasons their legacy is so instructive. The game's governing bodies would do well to embrace similar values over the coming months. Mike Bayly
Photo by The Dribbling Code
This article first appeared in WSC 399 (June 2020). Subscribers get free access to the complete WSC digital archive – you can find out more here