England's women have been European champions and are ranked third in the world, but neither they nor the men get support beyond being able to wear the kit
By Sean Cole
21 November 2022
Aaron Clarke is one of the best players in the world, with a record of more than 150 international goals, but his achievements often go unnoticed back home. As the captain and coach of England's beach soccer team, he's leading their fight for more funding and recognition.
A former semi-professional footballer, Clarke had never tried beach soccer until he was invited to an England trial ten years ago by the team's then manager Terry Bowes, who spotted his potential. Most players are recruited in a similarly ad hoc fashion.
After that first day on the beach in Bournemouth, Clarke was hooked. Due to a lack of facilities, he trained with Bowes as often as he could in the sandpit at Shoreditch Park, honing his skills around other commitments like coaching in Arsenal's academy and running a personal training business.
"That's where I learned my craft of being able to dribble, control, shoot and run on sand," says Clarke. "Unfortunately, in England we haven't got that many beach soccer pitches. Most of the sand is used for volleyball and they're not really willing to take the nets down and put up a football pitch because the demand isn't there."
Beach soccer's rules were formalised in 1992, a tournament scene developed and 12 years later it became part of FIFA. There are a few key differences from traditional football aside from the unique playing surface, much smaller goals and pitch – typically 40 yards by 30 yards. It's played by teams of five, with unlimited substitutions, and no footwear is allowed.
Games are 36 minutes and split into three periods, with the clock stopped when the ball is out of play. There's no offside and direct free-kicks are awarded for every foul. If scores are level at full time, three minutes of extra time and then penalties follow.
Spectacular and acrobatic goals are common. As a cunning and skilful player, Clarke had an immediate impact and was soon one of the sport's top players. He has represented clubs in Switzerland, Italy and Spain, including Barcelona.
But the England team are far from that level, largely due to a lack of investment and infrastructure. The men's team are 51st in the FIFA rankings, far behind traditional powerhouses like Portugal and Brazil. Russia have spent heavily and now lead the way, having won the World Cup three times, including last summer.
"The FA support us from the point of view that we're allowed to wear the three lions badge and the kit, but we aren't supported financially and that holds us back. We have to find sponsorship ourselves. It's difficult," says Clarke. "England have an amazing women's beach soccer team and they deserve support more than the men. They're the third-best team in the world and won the Euros but there was no media coverage. The FA only see it as a participation sport; they don't see it as an elite sport. I think, for young children, if we could combine beach soccer, futsal and football, you're only going to make better football players. Only one percent make it as professionals, so it gives them a different avenue if they don't."
Regardless of the challenges that Clarke and his team-mates face, representing England has given him experiences he never would have imagined, travelling as far afield as El Salvador, Nigeria and Tahiti to showcase his talent. "Every time I put on the England shirt, and every time I listen to the national anthem before a game, it still gives me goosebumps. To be able to do that and say I'm England's all-time top goalscorer is incredible," says the 31-year-old. "My motivation for the next ten years is to try to open up an avenue for the younger generation to be able to do this, hopefully as a profession."
Clarke believes the FA want to see greater participation and interest before offering financial support, but without their backing that's less likely to happen. For now, word of mouth will have to do.
"I just ask people to come down and try it, because most people who do really enjoy it. It's fast and exciting and there are lots of goals. I've not met anyone yet who doesn't like scoring an overhead kick. Beach soccer has more to give than it has already. England just hasn't quite tapped into it yet."
This article first appeared in WSC 426, November/December 2022. Subscribers get free access to the complete WSC digital archive
Want to see your writing published in WSC? Take a look at our pitching guide and get in touch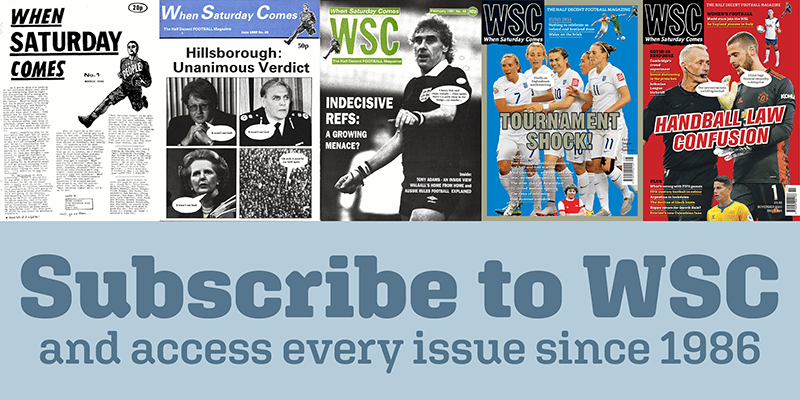 Tags: Beach Soccer