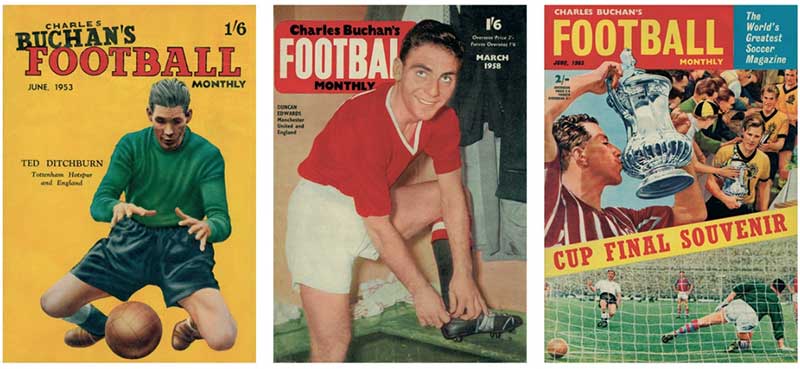 In WSC 237, November 2006, Simon Inglis traced the life of the first half-decent football magazine and the player and broadcaster who brought it into existence
22 January ~ Truly, the monthly magazine is the prince of periodicals. A friend, a fashion statement, an always invited guest, the monthly mag need never fade before reaching its final resting place, be it the doctor's waiting room, the loft, or that pile in the downstairs loo.
In the past quarter-century, especially since Gazza's tears, football monthlies have come and gone as quickly as Nicolas Anelka. But when I was growing up in the 1960s there was only one title in town. Charles Buchan's Football Monthly was the greatest soccer magazine in the world. It said so occasionally on the cover and Charlie Buchan was hardly the sort to peddle cheap hyperbole.
Launched in September 1951 – at a time when all British males, players included, still had to complete national service – Charlie's brainchild was football's first ever glossy. Its arrival, just as the Festival of Britain exhibition was winding down on London's South Bank, coincided neatly with the nation's transition from post-war austerity to a bolder, brighter future. The only mystery is why such a publication took so long to appear.
If football's popularity is measured purely in attendances, rather than by grassroots participation or piles of dosh, the postwar period witnessed the game's zenith. At their peak in 1948-49, attendances topped an astonishing 41 million. Yet despite this popularity, something was missing.
Not since the closure in 1931 of Athletic News – the weekly "bible of the game", established in 1875 – had any national journal been devoted exclusively to football. "Surely," argued Buchan, "the game is popular enough to be worthy of the attention of our present leading writers?"
Plenty of publications in post-war Britain did try to exploit the nation's football frenzy. No doubt stimulated by London's staging of the 1948 Olympics, by 1950 some 80 sports-related periodicals were on sale. But their football content was either results-led or aimed mainly at pools punters. Also, because quality paper was in short supply and few publishers had sufficient backing, sports magazines invariably appeared washed out before they left the bookstands, particularly when compared with mass-circulation women's titles. For a nation that, if the proponents of the Festival of Britain were to be believed, was bursting with energy and invention, this was simply not good enough.
What fans craved was colour. Other sports magazines had toyed with single colour, crudely applied to front covers. But none turned it into full colour, high art, as did Football Monthly.
Buchan's involvement helped, too. Nowadays, a straight-laced 60-year-old radio broadcaster might not seem the obvious choice to endorse a new title. But Charlie's feats as a loping inside-forward were still fondly remembered by the pre-war generation: 224 goals in 413 games for Sunderland, followed by three years as a wily veteran for Herbert Chapman's emerging Arsenal. Since retiring in 1928, Buchan had concentrated on journalism.
Brian Glanville, who emerged as a young freelance in 1952, later described Buchan's prose as "plodding" and his broadcasting as "pedestrian". Yet Glanville admits that a whole generation of fans, hungry for any media coverage at all, hung on to his every utterance. Buchan's watchword was "grand". Matches were grand. The players were grand. Soccer itself – always with a capital S – was forever grand.
Pipe-smoking, neatly attired Charlie apart, the magazine's contributors were a rakish bunch. Staffmen John Thompson and Joe Sarl were ex-Daily Mirror. Leslie Yates was a "para man" – that is, he served up an endless diet of short paragraphs on players and managers. Norman Ackland was amateur correspondent. One imagines a blazered gent in an old school tie. Instead, Ackland was a feckless, if amiable rogue. (One of his offspring is the actor Joss Ackland.) Diminutive columnist John Macadam, who had worked his way up from the shipyards of Greenock, was a hard-drinking D-Day veteran who never travelled without his ukelele.
Another contributor, of surprisingly doleful short stories, was Ray Sonin, a Jewish East Ender who edited Melody Maker. After a pools win he became chairman of the National Federation of Football Supporters' Clubs. Also contributing during the 1960s was Lesley Vernon, a Hungarian refugee who once appeared in Dad's Army.
Johnny Foreigner was a regular source of fun. An image of a heavily guarded stadium in Buenos Aires prompted John Thompson to write: "If some jackbooted policeman turned up with a carbine and a chestful of gas bombs at Goodison Park… the paying customers would not do him the honour even of being angry. They would laugh…" The December 1954 cover showed a Uruguayan receiving treatment after fainting. It was, read the caption, "an indication of the consuming fervour which fills so many foreign players… Who has ever heard of an English player being so overcome with excitement at a goal that he needed smelling salts?"
Many a luminary earned his first byline thanks to Football Monthly. John Motson made his debut on the letters page in 1959, aged 13. Sebastian Faulks, of Malvern College, bagged three guineas for his star letter in 1967. Nick Owen's effort yielded a mere guinea two years later. Jim Rosenthal, the son of an antiquarian bookseller, advertised in 1963 for fixtures for his team. Barry Fry, a teenage autograph hunter from a Bedford prefab, advertised for swaps in 1958. The poet John Hegley, whose paean to Luton Town appeared in 1969, was similarly motivated. "I never really read the magazine," John now admits. "I only bought it for the pictures."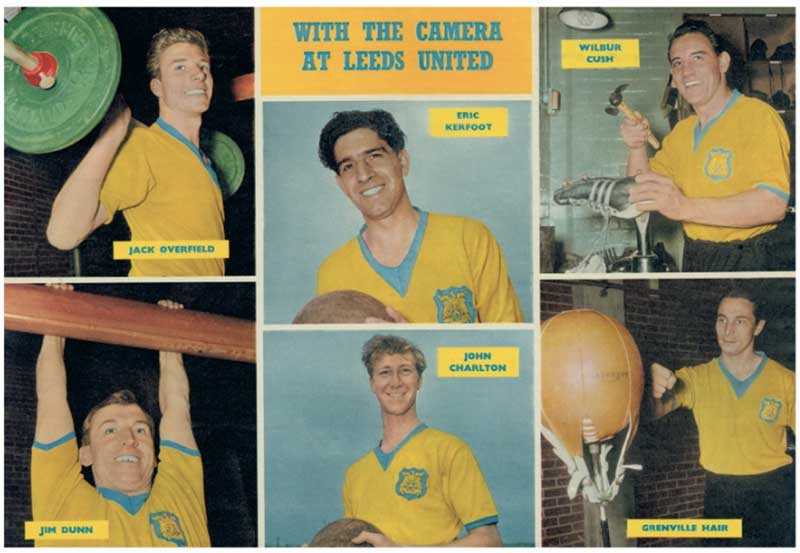 Hegley was not alone. A common memory is of autograph hunters surrounding a player, each holding copies of Football Monthly, open on the appropriate page. Thus was the prey confronted with multiple images of himself. But not for long, despite circulation reaching a peak of 254,000 in 1969. Two years later Charles Buchan's name was dropped from the masthead at a time when sales were being hit more and more by the new weeklies, Goal and Shoot!. Circulation slumped and the title was eventually sold off.
And yet, rereading the magazine to select The Best of Charles Buchan's Football Monthly, I was repeatedly reminded of how, three decades on, the magazine continues to be held in deep affection. Hundreds of attics and garages, it would seem, are filled with copies. Also striking was how many of the iconic portraits had lodged in people's memories. I might struggle to remember what I did last Tuesday, but shall never forget that double-page spread of Derek Dougan from 1963.
As a result, filtering a total of 240 issues from 1951 to 1971 proved a painful process. Old Doog failed to make the cut, as did dozens of other stunning images, all reluctantly shelved to provide what I hope will be seen as a balanced selection.
Generally, heritage is thought to reside in historic buildings, in places and landscapes. But I would argue that there is heritage in ephemera, too. Today's monthly will definitely not be tomorrow's chip paper. But if I am wrong, keep it anyway. If Charlie Buchan's archive is anything to go by, in 20 years or more, the small ads won't half make you laugh. Simon Inglis
This article first appeared in WSC 237, November 2006. Subscribers get free access to the complete WSC digital archive – you can find out more details here
The Best of Charles Buchan's Football Monthly by Simon Inglis is still available here