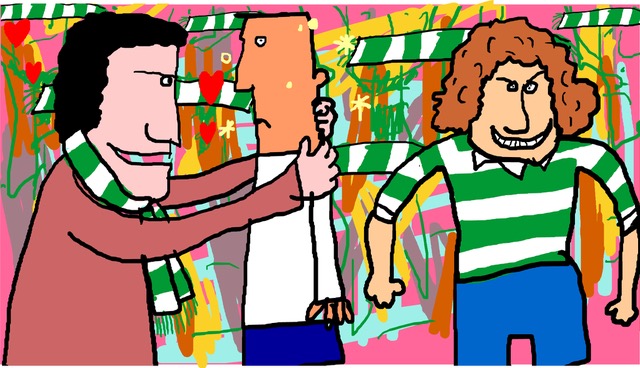 This weekend Celtic and Aberdeen meet in the Scottish Cup final. In an extract from his next book, The Quiet Fan, Ian Plenderleith recalls the 1984 final, a hangover and a right-wing Celtic fan
26 May ~ The only team my Dad's ever really supported is Rangers. I remember his boisterous mood one morning as he came out the bathroom singing "Follow Follow" after the previous night's victory over Dynamo Moscow in the final of the 1972 European Cup-Winners Cup. I'd never heard of such a competition, but success is a quick sell for a six-year-old. Rangers, conquerors of Europe – thanks, that'll do nicely as my Scottish Team.
There was no obligation to have a Scottish Team in Lincolnshire, where we lived. None of my friends had such a thing, and ignored my Monday morning crowing if Rangers had just won yet another Scottish League Cup. In my teenage years, when my dad moved back to Scotland, we'd go and watch Rangers a lot, but we weren't fussy. If they were away and there was a game on at Airdrie, Motherwell, Hamilton, Hearts or Hibs, we'd go there too. Or to Parkhead. Maybe that was why I wasn't fazed by the idea of going to see the Scottish Cup final between Aberdeen and Celtic with the friend of a friend.
This friend of a friend was a Celtic fan called Kevin. I'd only briefly met him once before. I took the overnight bus to Glasgow from Birmingham, where I was in the middle of studying for my first year exams at university. I was also hungover as hell, because in the lead-up to catching the bus at midnight I'd spent several hours in the pub, drinking heavily. I spent most of the night staggering up and down the coach going to the bog to piss it all out, and barely nodded off for more than a couple of minutes at a time.
During the course of a lard-based Scottish breakfast that did nothing to help my health, I discovered that Kevin was a right-wing nutjob with a ton of views about the miners' strike, women and non-white people. Normally, we'd have had a massive row after about five minutes and then I'd have taken the next bus back to Birmingham. But I was too knackered and hungover to speak, let alone argue. Plus, he was a friend of my oldest school friend. Surely he wasn't really such a dickhead (in the long term it turned out that first impressions were accurate – he was).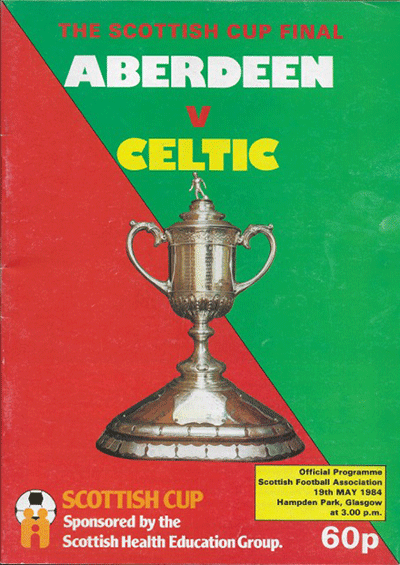 We walked to the Scottish FA to get tickets, Kevin telling me all the things he'd theoretically do with any number of passing women, given the chance. We met the Scottish FA secretary, Ernie Walker, but that also did nothing for my hangover. Kevin got me to take a picture of him smiling with Ernie on the steps of the building. We went to a pub which my companion said had topless barmaids, but he was disappointed – they were only wearing white negligees that could have done with a wash at a very high temperature. Kevin's verdict: "Shabby."
I experienced all this in a wordless haze. Kevin must have thought I was a complete washout. We walked to Hampden and stood on the terraces in the Celtic section. When Kevin had called me 36 hours earlier this had seemed to my 18-year-old wannabe beatnik soul like a nigh-on Kerouacian idea. Now it had turned into a dreary inner mantra: "What the hell are you doing here? What the hell are you doing here?"
The match programme didn't help. Stanley Mitchell, the director of the Scottish Health Education Group, had a message for fans: "One of the most useful areas in which we can all recognise scope for achievement lies in the setting of our own personal health goals. In other words, in looking to make sure that we live, eat and exercise sensibly. It may take a little effort and training. And it will mean tackling regular exercise, refereeing your alcohol intake and blowing the whistle on cigarettes."
I don't recall many fans around me muttering "Aye, yon Stanley makes a gid point there" and being inspired to stamp out their tab-ends and pour away their cans of Tennent's Extra-Strength Lager, vowing to put more effort and training into their lives. But then I can barely recall the game itself, and I may have spent large parts of it asleep while standing up. Until, that is – with Aberdeen leading 1-0 thanks to a first-half goal from Eric Black, and Celtic down to ten men because of Roy Aitken's ordering off – Paul McStay scored the equaliser for Celtic with four minutes to go…
Before I could decide how to react, the complete stranger standing next to me picked me up in his arms, whooping deliriously. We both began to jump madly up and down on the Hampden terraces, one arm each pumping the air. I hope that I sounded convincing. I hope that I felt convincing, and that my body wasn't giving off the limp vibe of a reluctant lover fulfilling their partner's conjugal needs. Even though I felt like I'd been forced at gunpoint to dance the Can Can on my mother's grave.
If the replica-kit wearing Celtic fan had got suspicious – because I had nothing green and white on, I was probably wearing jeans and a T-shirt, and while I was shouting "Wahaaaaaaaaay!" in spurious delight at the Celtic goal he might have noticed that I yelled it with the tinge of an English accent – he could have opened up my bag at my feet and discovered a toothbrush, a spare T-shirt, a bus ticket to Birmingham and a book called A Short History of the German Language.
He could have waved it around at his fellow Celt fans and said: "Look lads, this yin here's a ****in' stoodent frae England!" And I could have helpfully added in my best university Queen's English: "And not just a student, but a lifelong follow follow follower of the good old Rangers Football Club too, your Protestant-oriented rivals from across the city, I believe. What do you make of that, my fellow men of Glasgow? An English-born bluenose right here in your midst!"
Eventually my new friend dropped me, apparently oblivious to my alien accent, student status and secret loyalties, and we went back to watching the game. I stood silently willing Aberdeen to score the winner. Not just because I was a Rangers fan, but also because I didn't want to fake my way through another song and dance routine. In extra time, Mark McGhee obliged and Aberdeen went on to win 2-1. My lingering hangover allowed me to look suitably wan and disappointed.
That night we stayed in Falkirk with Kevin's Gran. While we were watching reports on the news of the miners' strike, Kevin started spouting off about Arthur Scargill, but his Gran told him to shut up and stop talking shite. In a huff, he went out on the town drinking with his cousin. I took Stanley Mitchell's health advice and went to bed very early, where I fell asleep reading A Short History of the German Language. Ian Plenderleith
The Quiet Fan is a crowdfunded book. To help ensure its publication, you can pledge to buy a limited edition, hardback copy here. WSC illustrator Tim Bradford is also producing a limited set of ten postcards depicting scenes from the book, also available to pre-order here
Illustration by Tim Bradford