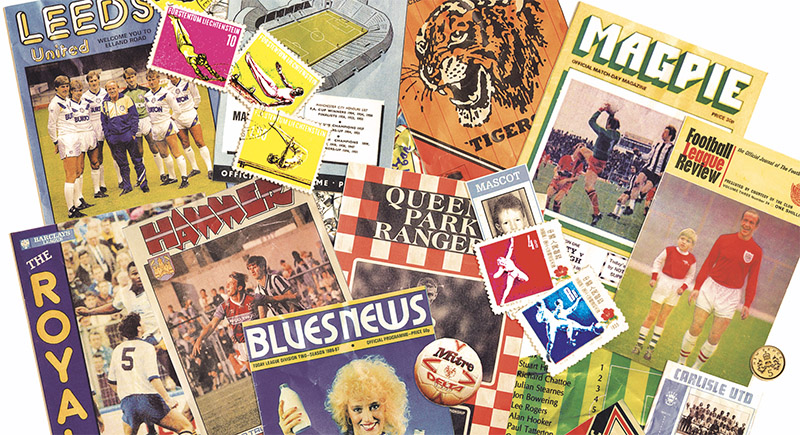 When the Football League suggested scraping the rules that make programmes mandatory to produce they proved uproar, but the modern "matchday magazine" is an unrecognisable beast
30 July ~ There was a frisson of horror among traditionalists last month when the media speculated on the forthcoming demise of the matchday programme. In fact, all that happened was a suggestion by the Football League that they amend their rules to allow a club not to produce a programme. The obligation exists to provide a vehicle to carry centralised advertising content. If the change happens the official programme thus becomes optional, which may suit a few clubs where it has become seriously uneconomic.
It's a far cry from 50 years ago when the League trumpeted the record sales of programmes in its weekly Football League Review, itself a factor in the growth. In 1968 it was reckoned half a million programmes were sold every Saturday and at best (at QPR) 90 per cent of spectators bought a copy. Now many clubs would love to reach a quarter of that figure. The 1960s saw clubs at last make an effort to engage with supporters through better photography and design, more personal player features, greater use of stats and a more informal tone. In 1968 80 of the 92 League clubs (plus a few in Scotland) carried the Football League Review as an insert in their programmes. The Review was an effectively free 20-page full-colour magazine packed with facts, opinion, reader contributions and photos of teams and players great and small; York City were treated with as much reverence as Manchester United.
A substantial mail order industry grew up to recycle bulk programmes while supporters' club shops and the League itself got in on the act. The Programme Exchange Centre was set up by the League to circulate programmes at face value but some fans could do even better simply by writing to clubs themselves and asking for free stuff, enclosing the necessary stamped-addressed envelope. The quality, or quantity, of clubs' responses sometimes determined lifelong affections that persist today. For young fans other clubs' programmes were curiously fascinating and often belied the status of the club: top of the tree Leeds United's was terrible, Second Division Hull City's was great. They offered insight into how progressive or positive or simply different life was elsewhere. It was ground-hopping without leaving your hallway for thousands of young British teenagers. It was cheap too, with pre-decimal cover prices in 1968 at the equivalent of 4p or 5p – roughly 50-60p today. Programmes now cost five times as much in real terms. Collecting all those programmes made me the kind of football fan I am today and, to my family's regret, I've still got most of them and still add, almost involuntarily, to my collection of "homes" on a match-by-match basis. But a few years ago I stopped buying "aways" at matches I attended and therein lies a clue to the demise of the whole shebang.
I've lost the taste and I haven't got the space. And I'm not alone. As the heritage officer of a supporters' trust I can see the tidal wave of redundant programme collections coming our way. Too sentimentally precious to put in a skip and too weighty to bring back unsold from a car boot sale, where does a burdened older fan turn? This season the Trust has taken in half a dozen large collections and we've finally, after a decade's delay, had to sort out our programme store.
Just dragging the crates out took over half an hour. There was a rawness about the physical bulk of it all – and a futility too, about the excess of modern matchday magazines. Boxes of 50 "aways" chucked in the team kit skip, chucked out again back in Reading and hidden uselessly in a dark place for a decade. Fifty Notts County away 1999, what am I bid? Cover price for the lot £75, it'd be impossible to get 75p now. Likewise slabs of dismal third-tier "homes" all shiny, untouched, unopened – and unwanted now. Some celebration games, and you needed to know your club history to spot them, we fished out and saved in the hope that over the next 50 years there might be 50 happy buyers for them.
More interesting were the collections donated by individuals, some thrust carelessly into split plastic bags, others properly ordered and curated by season and date. Occasional rarities popped up: we haven't played Carlisle for about 35 years but here was one. By contrast there's a Bristol City programme that positively haunted us, appearing in every pile and in bulk too. Inevitably every so often a programme in your hand jabbed a shard of memory alive; broke down on the M40 on my way to this, that one was abandoned, played football on the beach before that. The collectors among us are stunned by the size of the cull. We must have chucked away 5,000 programmes, with tinges of regret and guilt. It's a mass grave for all those lost afternoons. But they'd be even more lost without a programme to remind you.
For me programmes went awry sometime in the early to mid 1990s when design, production and colour printing became relatively cheap and easy. From this glut of advantages programmes soon became matchday magazines: too glossy, too bulky, too self-conscious and ultimately too expensive and too alienating for the majority. Twenty-five years on the reasons for today's sales crisis are many and obvious. Before kick-off now fans are drinking, eating or parking rather than waiting on terraces and reading. Free digital content rather than paid-for print is the medium of choice for the younger fan. Programmes contain very little that is both exclusive and interesting.
There is a need for every programme to nod ingratiatingly to every stakeholder, of which modern football has so, so many, and offend none. The overall effect is a bloated, corporate blandness that flops in a much more competitive and independent media environment. Just as in stamp-collecting, when the producers made their purpose too commercially obvious the nerds went elsewhere. For football collectors now it's teamsheets and ticket stubs as the important physical proof of having attended a match. Will the football programme die? In some places as a matchday magazine, yes. But, just as at the end of the 19th century, there will always be a teamsheet. Even if it's digital. Roger Titford
Illustration by Matt Littler
This article first appeared in WSC 377, July/August 2018. Subscribers get free access to the complete WSC digital archive – you can find out more here