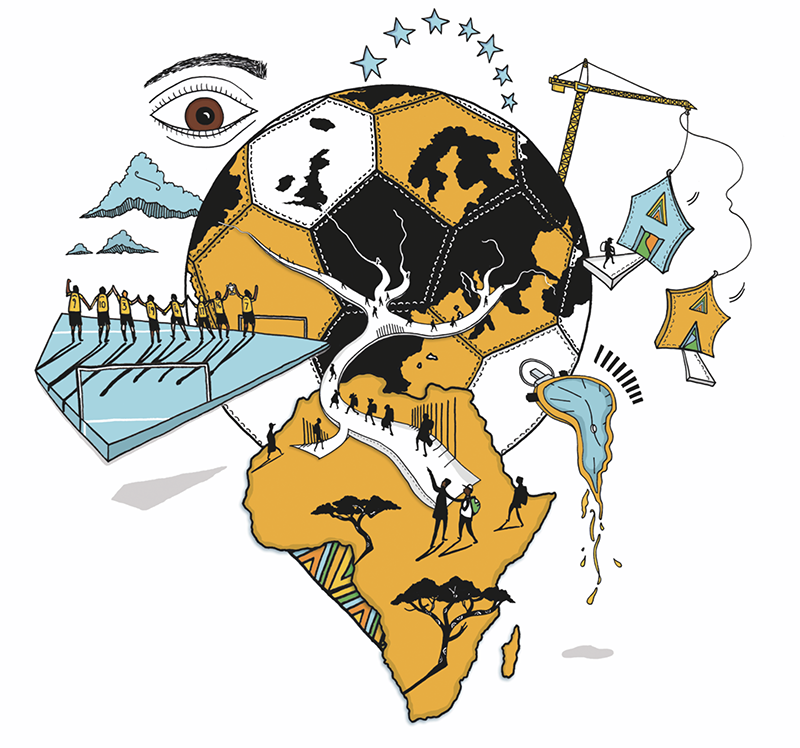 The issue remains a huge problem for professional football yet goes largely ignored by those with the power to stop it happening
4 May ~ The stories follow a familiar pattern. A group of talented young footballers are invited to join a team with a promise of travel from Africa to Europe. There, they will play in trial matches that will lead to professional contracts. For this life-changing opportunity the player must pay the coach, agent or scout (the recruiter is often the only variable in this equation) around $5,000 (£3,500), sometimes more. It's a significant sum – but with a professional deal in Europe at the other end, who wouldn't get on board?
Except it is all a scam. When the players arrive in Europe, there are no scouts from professional teams waiting to watch and there are no trials to lead to a contract. There is also no hotel when the coach or agent disappears with all the money, leaving his players abandoned and alone far, far from home.
Stories like this have been told by Matthew Edafe, a Nigerian player whose experience was laid out in WSC 339 – abandoned before his team even made it to Spain and dumped in Cape Verde, where he was stuck for a year before he finally found his way home – and documented by American photographer Jason Andrew, who spent time with Nigerians in Turkey marooned in a rogue recruitment scheme.
Hakim, a player befriended by Andrew, was stranded in Istanbul. Luckily, he found a community of west Africans in similar situations which opened a door to some form of survival. By night, the group played pick-up games in parks. During the day they tried to find work – any work they could do without the necessary documentation.
"Their choice was to either stay [undocumented] or go back home and tell their families who they had borrowed all the money from that it was a scam and nothing had happened," explains Andrew. "Some went back home but most stayed. Turkey certainly wasn't where they wanted to be."
According to Lerina Bright, founder of Mission 89, the trafficking of players from Africa to Europe – and often Asia as well – is football's dirty secret. Its existence is widely known but little discussed and less understood. The movement of young players from Africa by rogue coaches and agents – often piggybacking on academies of varying legitimacy – is at worst trafficking and at best a form of exploitation that preys on economic and social vulnerability.
"I found it incredible that the issue of child trafficking hadn't been given more consideration by the powers that be, given how widespread this activity is and how long it's been going on for," says Bright, who has previously worked in football administration around the world. "Everybody in the game knows on some level about the illegal movement of players from Africa to Europe."
Mission 89 was founded in 2017 with its "mission" based on the 1989 United Nations Convention on the Rights of the Child, a document that aims to "combat the illicit transfer and non-return of children abroad". Mission 89 also flags enforcement of FIFA's Article 19 that states the international transfer of players is only permitted if the player is over the age of 18 (with some caveats).

But there are rules and guidelines and then there is a challenging reality – especially when ambition, aspiration, globalism and money are involved. Still, Mission 89 is co-ordinating and developing research projects into the issue and collaborating with leading universities around the world to deliver a better understanding of the problem. It is also running advocacy and awareness programmes that include educational apps for kids in Africa and has engaged with the African Union to establish a programme that will result in continent-wide regulations for academies.
Run by an all-volunteer staff located around the world – Europe, Africa, Australia, and the US – key to Mission 89's work is addressing exploitation at the source of the problem rather than offering triage once a player is abandoned in Europe.
Many young players are unaware of the legitimate – and difficult – pathways to a career in Europe. It is often not realised that in most cases only elite players who have already represented their country at international level are eligible for work permits in Europe – even if a club does identify raw talent.
"How players move from Africa to Europe is often overlooked and there are many opportunities for young athletes to be exploited," says Menaye Donkor, a supporter of Mission 89 who brings a unique perspective.
Born in Canada, Donkor grew up in Ghana and lived in Europe, where she established businesses and ran an educational charity for underprivileged children. She was 2004's Miss Universe Ghana and is married to Sulley Muntari, the Ghana midfielder who played for Portsmouth, Inter and AC Milan.
"Mission 89's work in offering credible research, advocating for young footballers and looking to establish legitimate pathways for the players, should be applauded – not just by the public but the wider football industry," Donkor says.
According to Mission 89, a pathway to addressing the issues involves co-ordinating sports governing bodies – including FIFA, UEFA and CAF – with government and non-government bodies, and law enforcement. Mission 89 sees a role in matchmaking these stakeholders and highlighting a compelling reason to bring everyone to the table: the player trade rarely results in a Champions League star and there are broad consequential gaps to fall through when many people chase that dream.
"Trafficking in persons remains the fastest growing crime in the world," Bright says. "The pretence of a professional career in Europe's leagues is often used to recruit young men into an underworld that benefits no one except those who want to exploit others. Creating pathways for the safe development and movement of young players searching for an opportunity in professional football is important – for the sport and our society." Matthew Hall
Find out more about Mission 89 at mission89.org; Jason Andrew's Black Diamonds project can be found at jasonandrewphotography.com
Illustration by Adam Doughty
This article first appeared in WSC 374, April 2018. Subscribers get free access to the complete WSC digital archive – you can find out more details here