Bolton Wanderers' Kenny Davenport was revealed to have scored the historic goal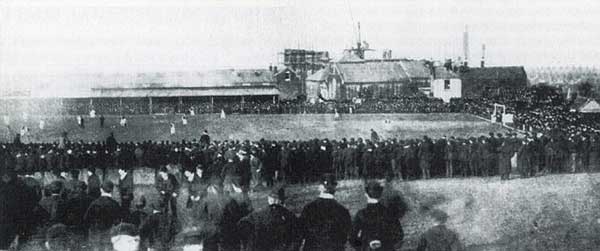 30 August ~ A plaque commemorating the scorer of the first League goal in world football has been made but now needs a home. It was originally thought that the first Football League goal had been an own goal by Aston Villa's Gershom Cox but research a few years ago by sports writer Mark Metcalf and Robert Boyling revealed that kick-off in that match had been delayed, meaning the accolade actually belonged to former Bolton Wanderers player Kenny Davenport, who scored the opening goal in his team's 6-3 loss to Derby County.
Now Metcalf is campaigning for the permanent marker, created by the Bolton Wanderers Community Trust, to be placed in Pikes Lane, where Bolton played when the historic goal was scored. Metcalf and Wanderers fan Martin McMulkin have so far failed to find anyone in the Pikes Lane area willing to house the plaque, and are now planning to hold an event on September 8 to encourage residents to embrace the project. More information can be found on the campaign on the Bolton News website here.
Photo from Wikipedia: Pike's Lane, home to Bolton Wanderers when Kenny Davenport scored the first Football League goal on September 8, 1888