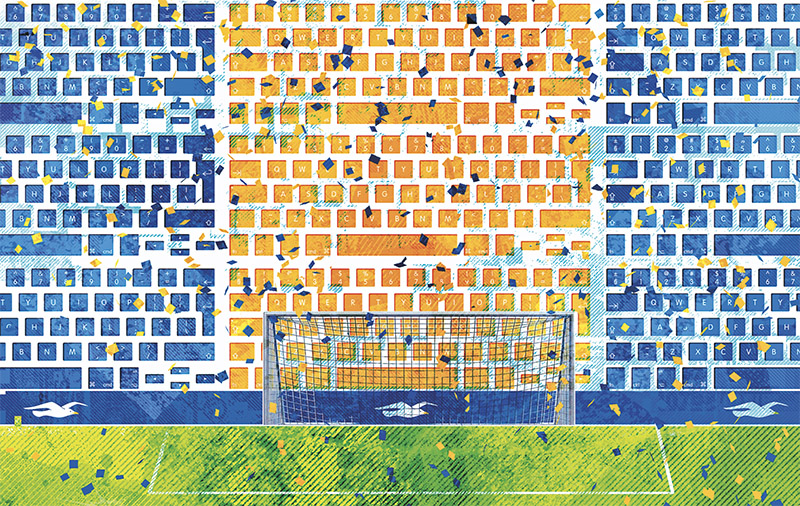 Twitter and Facebook should have killed off forums but the community feel of sites like Brighton's North Stand Chat gives supporters a valuable personal outlet
26 April ~ A few weeks after Christmas, a Brighton fan who uses the pseudonym Last Summer posted to the web forum North Stand Chat (NSC). One of the 50 new discussions started on there by supporters every day, and one of hundreds of posts he'd contributed himself over the last decade, he felt the need to preface it: "Apologies for the Mumsnet type thread." He calmly explained he was "hurting like hell" and wanted help from fellow users having split up with his wife after 14 years. He added: "There's loads of advice and stuff online that I could Google – but they ain't Brighton."
And he was right. Through the evening and the next few days, dozens of men, and it was all men, took the opportunity to publish at length, and in many private messages to Last Summer, about how they'd coped after going through a divorce. Some posters, as you'd expect, shared practical financial advice, tips on maintaining relationships with their children and how to avoid conflict with your ex-partner. But most, perhaps encouraged by the support that was forthcoming and the friendly environment, were confident enough to share intimate and honest details about how they felt and their mental health then and now. Eventually Last Summer came back online to thank the contributors to the thread.
Online football forums seemingly had their day a decade ago. The BBC's now forgotten 6.06, a spin-off from the weekly radio show, was at one point the biggest football website in the UK. It provided millions with their first introduction to the universal chatroom tropes: text-fuelled delusion, half-full/half-empty attitudes, a relentless and often hilarious baiting of rivals and enemies, and terrible transfer rumours. But over time the firm grip of abuse, legal threats and apathy killed most of them off.
Gradually fans migrated to the more powerful yet sanitised tools of Facebook to organise protests and amplify dissent. Twitter provided a new home for humour and, more often, anger – this time directed personally at naive players. Cheap tech such as smartphones combined with YouTube's reach meant that the swearfests of fan TV and vlogs attracted younger fans.
Brighton too have a thriving fan-powered media ecosystem of podcasts, blogs and zines. Yet North Stand Chat is still standing. A largely text-based forum, it remains part of the daily online routine for thousands of, mostly older now, Albion fans. Its authenticity helps – it emerged out of the fanzine culture and pre-broadband email lists of the late 1990s, and many of the veteran posters were a presence throughout the Seagulls' "war years".
It's also well run. Lifelong Albion fan Darren Mckay has been in charge for 15 years. Known to NSC users as Bozza, he organises a group of volunteer moderators who strive to keep it safe and free from legal interference. Well-trafficked websites are expensive to maintain and NSC racks up thousands per year in hosting costs which it funds through minimal non-intrusive advertising. Any profits go to a range of Albion charities.
But what makes NSC is its users: lawyers, police officers, teachers, car mechanics, plumbers and even a football finance academic make up some of the day jobs. Brighton & Hove Albion CEO Paul Barber can't quite be persuaded to register on the site, but is prone to writing numerous 1,000-word emails in response to any manner of issues about ticketing, transport and transfers raised by fans on NSC, that then end up being published in full for all to read. Their frequent arrival and patient deconstructing of arguments is met with typical NSC humour – the use of the tag #BarberOut to describe any minor petty issue with the club. But Barber acknowledges the role NSC gives him as a platform to communicate directly with fans.
In short it's still there because it has become vital to Albion fans for talking about what affects them. Increasingly these days that involves the worries of middle age such as diets, depression and, sadly, paying tribute to NSC users who have passed away, rather than merely football or Brighton & Hove Albion.
Journalist and NSC regular Nick Szczepanik sums it up: "It's the go-to resource for everything. If I want to know what the roads are like before setting off on a journey, I'll check NSC rather than the AA website, because if there's a hold-up between Lancing and Worthing, NSC will tell me exactly where, how long it's been going on, alternative routes, whose fault it is and whether the underlying cause is Corbyn, Brexit or Palace."
Last summer's "FAO Divorced of NSC" thread eventually faded off the site's front page and was replaced by the more mundane discussions about buying treadmill machines, sharing what you're drinking on a Friday night and even the odd row about Chris Hughton's defensive tactics. One of the last users to post, reflecting on the depth and quality of advice and painful anecdotes shared to help the recently divorced user, urged him to stay positive: "You'd be surprised by the love you get from unexpected places." Jem Stone
Illustration by Gary Neill
This article first appeared in WSC 374, April 2018. Subscribers get free access to the complete WSC digital archive – you can find out more details here