The players, managers and fans quick to jump to conclusions about the integrity of referees and their assistants are contributing to declining standards
By Sean Cole
10 October, 2022
It can be hard to comprehend when you feel so personally invested in their fortunes, but most people just don't care that much about your club. Anthony Taylor might be desperate to see Chelsea drop two points, and willing to risk his professional reputation in pursuit of that rather limited aim, but I doubt it.
August's highly charged clash between Chelsea and Tottenham Hotspur had a bit of everything – goals, drama, grudges and controversy. It was wildly entertaining fare, but many Blues fans were left feeling cheated by incidents overlooked in the lead-up to both of Spurs' goals, including Harry Kane's injury-time equaliser.
The specific details of what happened, and why, don't really matter. They never do. Suffice to say that a petition calling for Taylor to be banned from officiating Chelsea games collected more than 140,000 signatures inside two days. It claimed that the referee has "an agenda" against the club, citing examples of previous decisions that had supposedly cost them.
Although this was an extreme example, it feels entirely in keeping with the atmosphere of paranoia and recrimination that now surrounds all high-profile matches. For a certain strain of supporter, often ludicrously partisan and terminally online, there's no such thing as a simple difference of opinion or a mistake made under pressure. All questionable decisions are taken as further evidence of a deliberate and longstanding vendetta against their club.
In this instance it happened to be Chelsea supporters making an undignified scene, but others are just as culpable. It's a universal issue, but the biggest clubs develop such vast fanbases that the fixation on officials, and the outcry about their perceived failings, is amplified to an absurd degree.
Some officials even manage to be seen as biased against multiple teams at once, in contradictory ways. When he was chosen to referee Manchester City v Liverpool at the end of last season, Taylor was somehow the target for both sets of supporters. Coming from Wythenshawe, there was speculation that he would favour the home side. But City fans suspect that an undisclosed loyalty to Manchester United means he doesn't want them to succeed. That makes at least three of the "big six" he's actively conspiring against.
Ahead of that game, further debate centred on the video assistant referee Paul Tierney, whose Salford background was cited as another issue by Liverpool fans. While VAR was partially introduced to appease the kind of supporter who couldn't trust on-field officials to make big decisions, it has simply introduced another area of concern for conspiracists.
Worryingly, some fans seem to actively keep records of prior grievances with officials and are permanently on the lookout for poor decisions to justify their obsession. Every single one is tallied up as yet more incontrovertible proof of bias. Players can make mistakes, officials must be doing so out of calculated spite.
In post-match interviews, managers routinely find fault with officials. Sometimes their complaints may be justified, but often they're about deflecting attention. Regardless, this feeds the idea that officials are incompetent, making them fair game for excessive criticism. Thomas Tuchel was charged with "improper conduct" by the FA for comments he made in the wake of the draw with Tottenham. "I cannot understand how the first goal is not offside, and I cannot understand since when players can be pulled by their hair," he said. "This is, for me, without any explanation. I don't want to accept it; I have no words for it."
When asked about the perception that Taylor has a track record of giving bad decisions against Chelsea, Tuchel replied: "Not only the fans. Of course, the players know what's going on. They're on the pitch and they know it." He added that his players were worried when Taylor was assigned to their games and agreed that it might be better if that didn't happen in future.
That same week, Bristol City manager Nigel Pearson railed against the standard of officiating, which he said was at "an all-time low". "They're consistently poor. People like me have jobs that are in jeopardy. It's alright if we play badly every week, I can take losing my job because of that, but, for me, it's just a worry for the game."
People often bemoan the quality of officials, while overlooking the conditions in which they're forced to work. The hostility they face is replicated from Premier League to Sunday league, making it even harder to do an already difficult job. Many give up.
This instinctive desire to blame officials when something goes wrong is nothing new, but the complete loss of perspective seems to have been exacerbated by the overheated nature of online fandom. A level of frustration with officials is inevitable when people care so much, but it can't keep spilling over into public hounding and bizarre conspiracy theories. Those who constantly put themselves in the line of fire deserve our respect for doing so.
This article first appeared in WSC 425, October 2022. Subscribers get free access to the complete WSC digital archive
Want to see your writing published in WSC? Take a look at our pitching guide and get in touch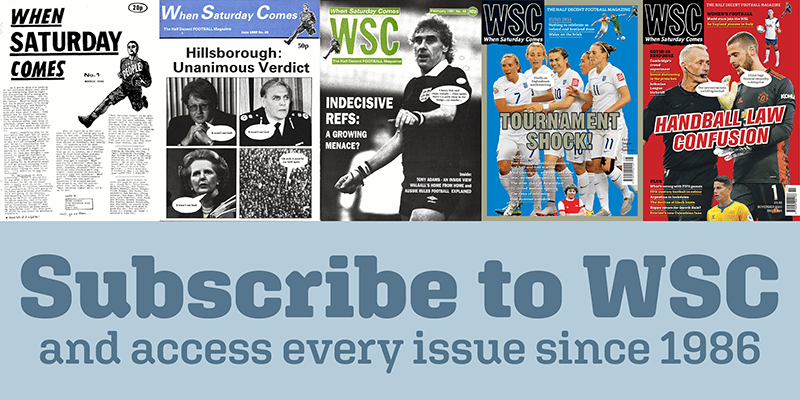 Tags: Chelsea, Liverpool, Manchester City, Nigel Pearson, Referees, Thomas Tuchel