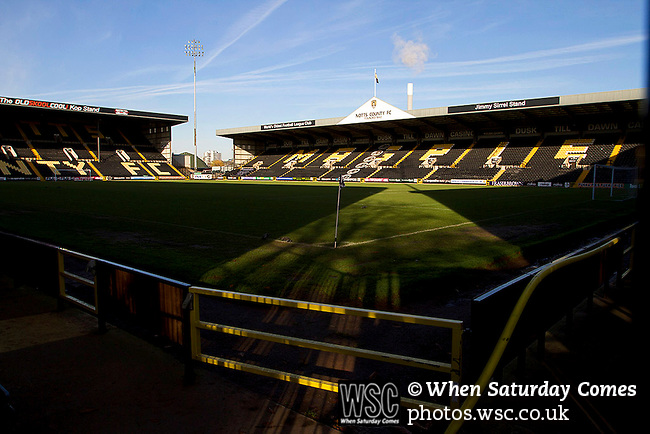 Businessman Alan Hardy has made positive changes at Meadow Lane but it may not be enough to save the oldest League club in the world's status
25 January ~ My boss, a Stoke City supporter who I am reliably informed only started going to watch them when they were promoted to the Premier League, said something cruel to me recently. "I hope you get relegated, then we'll be the oldest League team in the world."
It was a flippant, off-the-cuff, bon mot which I am sure he doesn't really mean. But the reality is that there is a very real prospect that my club, Notts County, could drop through the so-called "trap door" and into the National League at the end of this season.
As I write this, we are second to bottom in League Two, having take just one point for our last 12 games. The unpopular former owner, Ray Trew, has just sold the club to local businessman, Alan Hardy, whose first move was to install Kevin Nolan as the new player-manager. However, Nolan, whose well-known desire and fight is something the side desperately needs right now, isn't currently allowed to play because we are also under a transfer embargo due to monies owed to HM Revenue & Customs.
And for those of us who went to most of those ten, life-sapping straight losses between November and January, it is that final point that is the major problem. Put simply, with one or two exceptions, we have no quality on the pitch. During the run, I spied a former player sitting in the same row as us at Meadow Lane during a Tuesday night loss to Morecambe. "Not great is it?" I said while shuffling past him to visit the toilet. "It's abysmal," he replied, "the worst Notts side I have ever seen. The problem here is that there are something like 38 players on the books, only two of them are any good and the manager isn't starting with one of them."
The players he was referring to, he told me, were striker Jon Stead and winger Adam Campbell, whose goals saved us from another humiliating FA Cup loss to a non-League side back in November when we drew 2-2 after being 2-0 down at Boreham Wood.
When I made my initial comment to said player, who I won't name, but who works as a pundit locally and who went on to tell me he even has to pay for a match ticket, despite playing more than 200 matches for us during better days, I thought he would stare at me as though I was some deranged lunatic, answer me with a sultry "No, son, it's rubbish" and I would be on my way. But instead he engaged me for so long during the half-time break, I missed the start of the second half after having to dash to the loo as the referee blew his whistle for the restart.
Still, I found his insight into what was, and remains, wrong at Meadow Lane fascinating as this is someone who knows the game, has played at a good level, under a number of managers and also went on to manage himself. It was almost an antidote to the post-match pub autopsy that I usually engage in with my friends. He went on to tell me: "Getting promoted from this division requires four to five players through the middle of the park who are any good and the rest of the team fits in around them. It's that simple."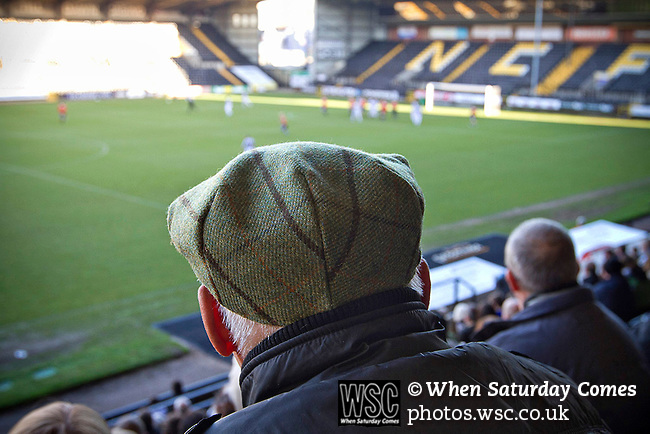 Our new owner has made money from setting up and building Paragon Interiors Group which was named Sunday Times Best Company To Work For 2016 in the category for firms employing fewer than 250 staff. I am told by a friend of a friend, who knows him, that he is someone who is high-risk and is prepared to take gambles to make money, which appears to be perfect for anyone willing to buy a football club. The day after he took over at Notts, he installed Nolan as manager then announced that the first 2,000 fans through the doors for our clash with Mansfield just a few days later could claim a free pie.
He also reduced ticket prices for home fans and then said that any season ticket holder of rivals Nottingham Forest who attended the Mansfield game in mid-January (a 0-0 draw) would get a free ticket to the next home match against Crawley Town. As such, he immediately endeared himself to his audience and that proved to be a masterstroke in marketing as 11,328 attended the game, compared to a paltry 3,825 who watched our New Year's Eve 3-2 loss at home to Carlisle.
Until the transfer embargo is lifted allowing Nolan to shift some players on and bring in some quality, the fans are under no illusions we are facing the most serious relegation battle in our 155-year history. If we do go down it will be because we are simply not good enough and, whether he was joking or not, my boss will no doubt pipe up again. Martin Naylor
Photos by Colin McPherson/WSC Photos: Images from Notts County's 150th anniversary celebrations in 2012