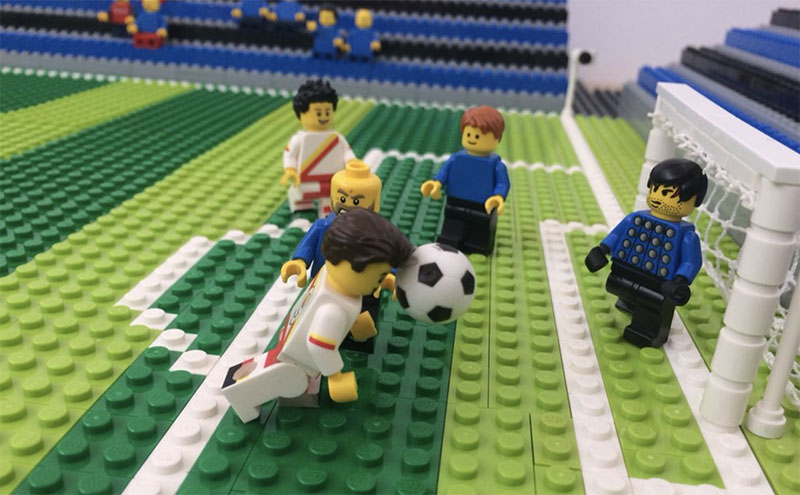 From matches against Blockport County and Plastic Thistle to a fan-designed kit and a stadium compete with safe standing, FC Brickstand are bringing some fun to the season
10 September ~ During February's so-called Beast from the East and the havoc it wreaked upon the footballing calendar, Chris Smith tweeted a photo of some Lego Minifigures clearing Lego snow from a Lego pitch. Among those hard at work were R2-D2, a knight and, aptly, the Simpsons' Groundskeeper Willie. The Altrincham-based Crystal Palace fan didn't quite know it then, but he had just come up with a great idea.
Already known for his project to build all 92 English League grounds out of Lego, Brickstand, Smith had just conceived what is steadily becoming a fully fledged Lego football club. With the new season now underway, FC Brickstand are competing in their maiden campaign in the Diorama Conference, where they will come up against the likes of Blockport County, Makersfield Town and Plastic Thistle. Their ground (Brick Lane, of course), kit (a slick-looking sash-bearing number) and manager (determined, sharply dressed character Felix Schmidt) are all in place, all having been voted for by the fans. In fact, when it came to deciding upon a strip, followers were invited to get creative and submit their own designs. Through the Builders, as they are naturally nicknamed, Smith is showing how democratic football might be in an ideal world.
While Brickstand – which has now reached more or less the halfway mark – has proved very popular as a creative exhibit, FC Brickstand takes that combination of Lego and football to a new level of fun. Competing in a 24-team league, they play 46 fixtures over the course of the real season – albeit most likely on Sunday evenings, Smith explains, "just to detach it from anyone watching their teams in real life". From tweeting in-play updates, to recording stop-motion footage of the goals, the plan is to make the whole world of FC Brickstand as immersive as possible. Much of the beauty of Lego lies in the remarkable creations that can arise from its intrinsic simplicity, and Smith is making the most of that. He even floats the possibility of an "open day where people can come along and [meet] the players, and maybe try and get involved in a bit of the building, just to make it an interactive thing."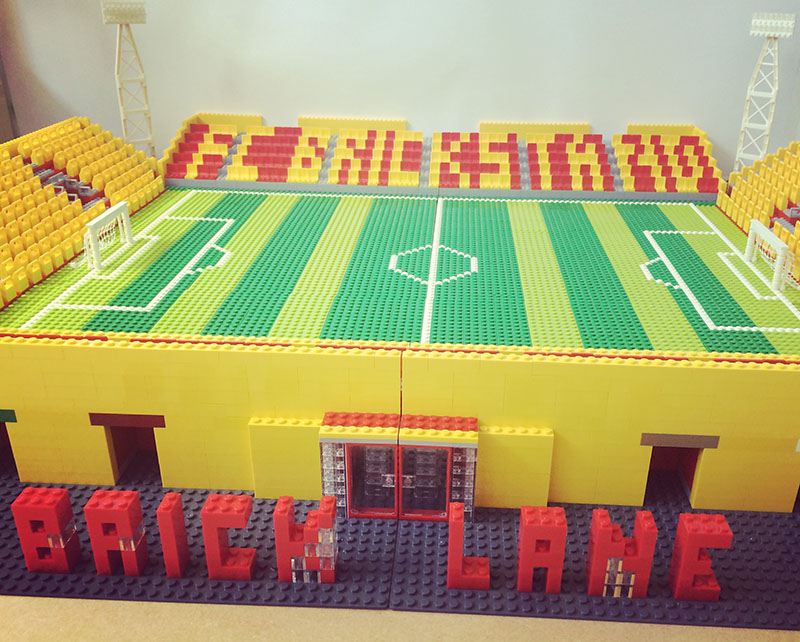 The construction of the aforementioned Brick Lane was regularly shared on social media for fans to see. From a small Lego construction crew "breaking ground" on the site, to the installation of rail seating for safe standing areas – the level of detail really is superb – it's been a thoroughly enjoyable and intriguing process to follow so far. The finished product has an impressive capacity of around 2,000 (Lego) spectators, and Smith is already thinking about how to pull in the punters, so to speak. "People could maybe send in a figure that they have lying around at home," he suggests, "and that could be their season ticket." Look out for astronauts, Harry Potter characters and members of the emergency services watching on intently from the stands.
As non-League as the general feel of FC Brickstand is intended to be, it's not without its commercial side, perhaps expectedly. "I'll try and sell advertising boards around the perimeter of the pitch," says Smith. "I'll be able to take people's company logos and get them printed onto the Lego." It's another rather inspired idea, and one he hopes will generate at least "a couple of extra pounds" to go towards infrastructure. A membership pack featuring physical club merchandise is also being planned for the future, while being an official affiliate partner of Lego means FC Brickstand receive a small cut from Lego Shop purchases made by anyone who clicks through adverts on the club website.
As the club took shape, a prestigious friendly with Olymbrick de Marseille marked the opening of Brick Lane. Now a few matches into the season, with some thrilling matches so far, the project has really come to life and piqued the curiosity of would-be supporters. FC Brickstand might only be in its infancy, but in a sport so often all too divided and detached, it already seems more than capable of providing some united, involved and, most importantly of all, lighthearted relief. Tom Hancock
This article first appeared in WSC 378, September 2018. Subscribers get free access to the complete WSC digital archive – you can find out more here