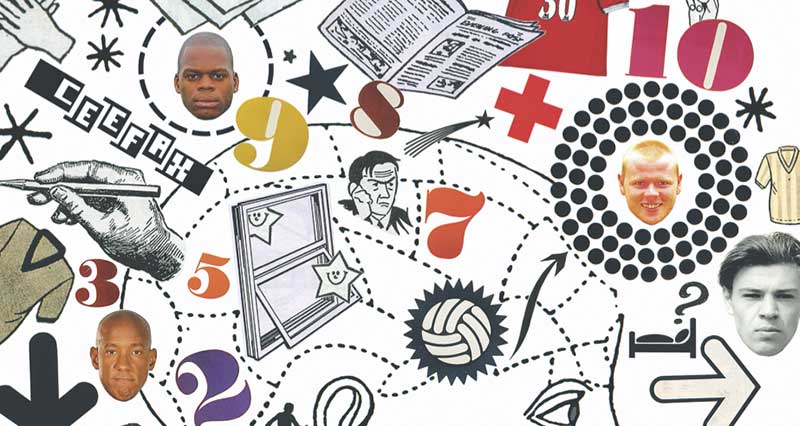 It may have a misleading name but fantasy football can be an addictive hobby, with complex selection issues coming to dominate your thinking
15 March ~ I've always loved statistics. By the time I was five years old, I knew the length and termination points of Britain's major motorways and would earnestly regale this information to indifferent classmates. A few years later I discovered football.
Living in the West Midlands, the Sports Argus was our local sports paper, containing fixtures, results, goalscorers, line-ups, attendances and league tables from Division One to the Banks's Brewery League. I spent hours poring over the information in those pink pages. In my teens, I graduated from consuming data to creating my own. Dice leagues, for example, offered unlimited possibilities to complete entire divisions and cup competitions on the roll of a die.
By the time Fantasy Football was popularised in the early 1990s, I was well primed. Initially, I played Dream Team, moving to the web-based fantasyleague.com by the end of the decade. However, while I liked the concept, the scale was a problem. Being ranked halfway down a list of 75,000 strangers felt desperately anonymous. Having run school Subbuteo leagues and five-a-side teams, the fun came from competing against friends and recording the minutiae of our endeavours.
So, prior to the 2000-01 season, a few of us decided to start our own Sheffield-based competition, VMS Fantasy League, an acronym of the popular football idiom, Very Much So. Scoring was based on goals, assists and clean sheets with budgets and player prices similar to those in other competitions. There was no weekly squad rotation and transfers were limited to three per campaign. Rules were kept simple to encourage entrants and aid administrators.
The idea caught on quickly with 30 entries in the first season. Tactics and selection process started dominating talk in the pub. Because the rivalries were real – housemates, work colleagues, university friends – and everyone considered themselves pre-eminent in football matters, decisions were taken seriously and consequences keenly felt.
On the opening Saturday of 2000-01, I agonised over whether to select Hassan Kachloul and eventually opted for a deadline inclusion of Niclas Alexandersson. Later that afternoon, rather than feign interest in my then girlfriend's Top Shop purchases, I slinked off to Dixons to watch Ceefax with a printed copy of everyone's team.
Much to my chagrin, Kachloul scored twice against Derby County as Southampton drew 2-2. I emitted a clearly audible "bollocks" that alerted the sales assistant standing a good ten yards away. Given I had been loitering in front of a TV for the last ten minutes, catatonically staring at pages of text with a piece of paper in my hand, he looked increasingly uncomfortable. It was a cue to leave.
VMS Fantasy League is now in its 16th consecutive season. We regularly have 50 to 60 participants and have evolved to include cups, head-to-head leagues and presentation evenings. All records are stored in Excel format on a master spreadsheet and are a binary source of pride and embarrassment. Though mostly embarrassment. Looking back at early team selections is like wincing at sartorial crimes in old photos: "Titus Bramble alongside Stanislav Varga? What was I thinking?" That such players would grace any starting XI reveals the big lie of "fantasy" football. In reality, it is anything but.
For a start, there is the misleading terminology. I have picked Phil Stamp but never fantasised about him. And whereas "dream team" implies a galácticos-style orgy of recruitment, strict budgets dictate lesser lights have to be purchased to offset more expensive indulgences. One could hardly imagine the president of Real Madrid saying "We've blown all our cash on two strikers. How much is Bradford City's cheapest defender?" but it's a scenario fantasy leaguers across the country have been forced to face. Most people end up with teams that include a handful of talented players supplemented with journeymen and rash foreign imports, effectively recreating the thrills of managing Middlesbrough after Bryan Robson has departed.
In recent years, my enthusiasm for fantasy football has waned, partly because of detachment from the real game. Other regulars have fallen by the wayside completely. Most of the managers in our league are approaching 40 and have young children – their biggest fantasy now is getting a good night's sleep. I'll no doubt continue to enter out of a sense of duty, but it remains a half-hearted effort. Besides, when you win a league against your peers with Marlon Harewood spearheading the attack, as I inexplicably did in 2006, there is nothing in this world left to achieve. Mike Bayly
This article first appeared in WSC 361, March 2017 – available here
Illustration by Matt Littler