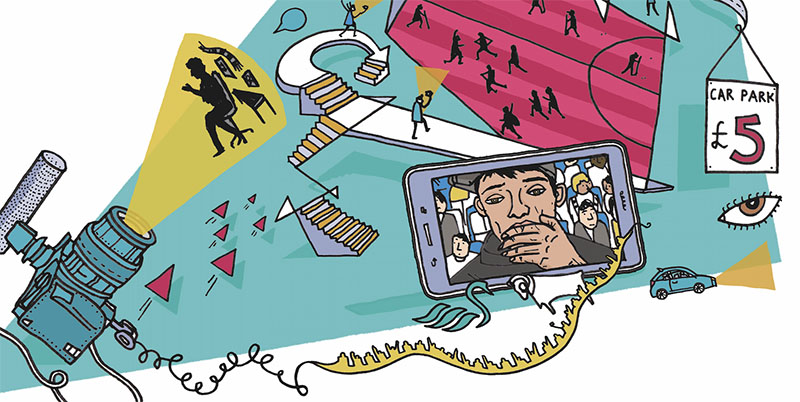 It may be an alien concept to some, but a keen cohort of content creators are sharing their experiences online in a phenomenon grounded in the joy – and despair – of attending live games
25 February ~ There was a time when one witnessed an event, such as the storming of the Winter Palace or your baby sneezing, you told your family about it at the dinner table and then proceeded with the daily grind. In the 21st century, while we wait for wealth, land and high-quality education to be distributed equally, ordinary experience has become the one thing that everyone will share. Football vloggers are among those at the forefront of the amateur reportage movement, filming themselves on their smart phones, anticipating, watching and leaving the game. Their work falls into two main genres – groundhopping and superfan – with the former generally covered by middle-aged men in command of a certain income, the latter dominated by enthusiastic teenagers and 20-somethings of both sexes.
Alex Allen's vlog falls into the superfan category, as he follows Derby County from game to game with a keenness and intensity very impressive in someone stone cold sober. Alex complies with vlog standard practice, introducing each game from a quiet room in the house with a summary of recent form and a prediction for today's result. This acts as a prologue to a title sequence filmed from the car on the way to the game. Shots of motorway signs are overused in vloggers' pre-match footage, but play a role in giving the sense of travelling in hope to new lands like Rotherham. Alex films key moments from the seats, then turns the phone on himself for a scrupulously fair résumé of the state of play. On Derby scoring, caught in a whirlpool of shaven-headed middle-aged men, he remembers his public and maintains a laudable level of club reporter professionalism as he describes the goal, albeit interspersed with his own clenched-fisted calls of "Come onnnnn!". He seems, understandably, a little torn between his twin roles of cultural witness and fan, and allows himself one "Oh my fucking God!" when Derby score the winner in a seven-goal game at Carrow Road. While Alex might well be someone who could, in just a few years' time, use the word "vibey" at a sit-down dinner, his poise and commitment to delivering an honest and accurate account of each game is admirable.
StuntPegg is a Bolton fan but she also vlogs about other clubs and her recent trip to the Etihad reveals that fans right at the top of the Premier League still exhibit most of the anxieties of every other team's supporters. These films benefit more from post-production work, introducing Manchester City and Liverpool through the music of the two cities, with a few wobbly special effects and goal replays added to the live footage. The camera is more still, as is our vlogger, as she stands coolly amid some boiling tempers behind the goal. During the Manchester City game, the fan to her right displays the tell-tale reactions of a man who has invested far too much in the performance of a sporting team – the setback of a goal conceded is lived as hollow-eyed despair, a missed chance appears on his face as gulping revulsion, the joy at a goal scored merely looks like relief. Our presenter, though, never loses focus, despite the angry profanities aimed at the opposition that pepper the soundtrack of her quiet, considered contributions.
Olivia Bantams shows even more composure when talking through Sunderland's goal against her team, Bradford City. Her assessment – "That goal could change the game to be honest, it was quite 50-50" – is cut exactly in half by the man next to her bellowing: "You're a fucking disgrace!" Clearly she, like all the vloggers, is learning her craft on the frontline, one of the first lessons being that it is impossible to edit out impotent male rage from live analysis of a goal conceded. Olivia's title sequence, ominous scales behind close-ups of her asking her father desperately what's happening, is the most cinematic. It turns out that this drama was played out to the contentious ruling out of Bradford's equaliser at Sunderland. The heady confusion all around her is enhanced by the strangled individual voices from within the writhing throng. In her epilogue piece to camera, walking away from the ground, she cannot hide her anger and upset at the injustice of the result. This is where vlogs will show you more than the BBC, Sky or BT Sport ever can – the living human evidence of a weekend ruined, right in front of your eyes.
The groundhopping genre can be divided into Home and Abroad. The GroundHopper gives matter-of-fact build-ups from outside grounds such as Racing Santander's in the Spanish third tier and is content, once inside the stadium, to let the atmosphere speak for itself. Before and during the match, he never tries to upstage his footage. In Russia for the Brazil v Belgium World Cup quarter-final, he memorably picks out the world's press as they are herded by leper ropes along the touchline to take their photographs of the teams as they run out. No kind of commentary could improve on this picture. Alex Craig's vlog, Groundhop, is similarly keen to keep the match and the crowd at the forefront of the affair. As with StuntPegg, it is often hard to hear his comments, so aware is he of remaining unobtrusive. Contrastingly, Joe, the presenter of Groundhopping FC (it is hard to leave "groundhop" out of your title if you are groundhopping), has the unselfconscious approach of your Reporter of Tomorrow. On Boxing Day, he films himself at two games, the first between Wivenhoe Town and Halstead Town, kicking off at 11am. Marching into the ground and straight into his first piece to phone-camera, Joe is unaware of the white-haired man behind him, shaking his head, raising his eyebrows to heaven and walking away. The undiluted tristesse in the old-timer's face when exposed to today's young fan – it was as if he had been permitted one full day of time-travel and forced to spend two hours of it in Freeman, Hardy and Willis. Seconds later, Joe is filming his touchline report, taking us, and indeed many of those at the ground, solidly through both teams' form going into the match.
One of the most accomplished vloggers is Smiv, with his On The Road series. Rooted in the Danny Baker school of culture commentary, Smiv's delivery and editing is as quick as his wit. Nothing is too minor to escape observation – the little mass of chocolate powder remaining in his polystyrene cup after the drink has gone, the Grays Athletic factotum's gilet – and his obvious love of the game is to be found in this detail. Smiv, like most vloggers, is not doing this as a vanity project – the game and the people walking up to it come first. And this is much easier to see through a mobile telephone than a vast plasma television screen on Super Sunday. Cameron Carter
Illustration by Adam Doughty
This article first appeared in WSC 384, March 2019. Subscribers get free access to the complete WSC digital archive – you can find out more here