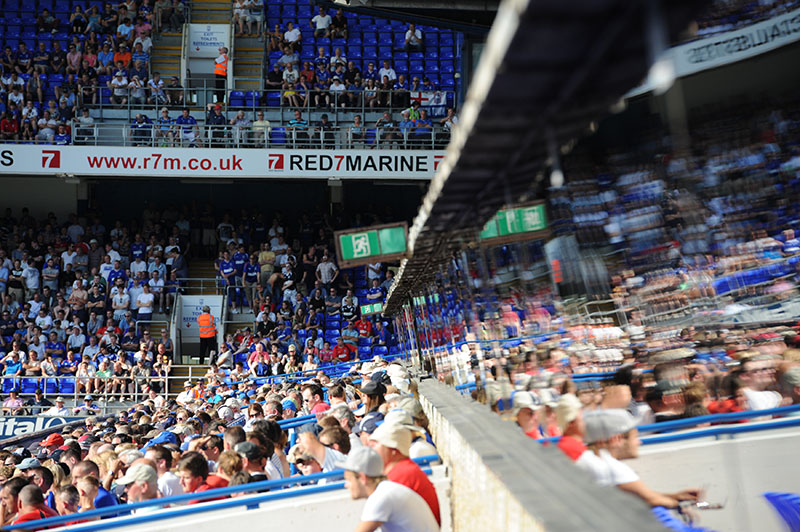 A managerial misstep last summer sent the Suffolk club into a tailspin, but as they prepare for life in League One there's a sense of optimism around Portman Road
22 May ~ Ipswich's drop into League One was mathematically confirmed on April 13, but many fans were quick to point out that relegation hadn't actually happened that day: it had been taking place, agonisingly and inevitably, over several preceding months. Some said it was losing at home to Millwall on New Year's Day that had confirmed it, others suggested that the untested and lopsided squad which had been assembled for 2018-19 had effectively sealed our fate in August.
Manager Paul Lambert went even further back, however. "Your season starts in July," he told reporters when asked about when things had started to go wrong. Without explicitly criticising any players, or his predecessor Paul Hurst – whose tenure had lasted just 149 days – Lambert made it clear that the team he inherited in November 2018 had been ill-prepared for a Championship season. Nobody would disagree.
Hurst had been appointed last summer to succeed Mick McCarthy, whose six seasons in charge had ended among much bitterness. Having enjoyed success at Grimsby and Shrewsbury, Hurst's arrival was largely welcomed by Ipswich fans, who had called on owner Marcus Evans to make an appointment in the club's tradition of finding young, talented managers with fresh ideas. Hurst, however, did not prove to be the new Bobby Robson or George Burley. Hampered by the summer sales of defender Adam Webster and strikers Martyn Waghorn and Joe Garner, which effectively shattered the spine of the team, Hurst sought to replace them, and to reinvent the squad, with recruits from the lower leagues: players arrived from teams such as Accrington, Crawley and Bristol Rovers.
To say that Hurst's gamble on players untested at Championship level failed to pay off is something of an understatement. Town failed to win for the first two months of the season, and by mid-October it was clear that the side were way below the standard required for a division which wasn't even particularly good. Ordinary opponents were beating Ipswich with ease; rumours abounded that Hurst and his assistant Chris Doig had alienated experienced members of the squad with their approach to training and management. Hurst was swiftly replaced by the more experienced Lambert.
As an ex-Norwich manager, Lambert's appointment wasn't without risk, but he immediately set about engaging positively with the club and their supporters. Results didn't improve, but public relations did. Lambert was unable to prevent Ipswich from sliding into the third tier of English football for the first time in 62 years, and has his critics among the support, but, given his association with Town's local rivals, and achieving just three wins in his first 30 games, he's been remarkably successful in convincing a large proportion of fans that he can lead Ipswich to a brighter future.
Relegation to League One represents the nadir of Evans' 11-year ownership of the club. The era has been characterised by uncertainty and neglect: Evans' refusal (until recently) to appear in public, his ongoing lack of direct engagement with supporters, the depressingly run-down state of Portman Road and the lack of any effective strategy on or off the pitch have all contributed to a general air of apathy.
Allied to Lambert's personal efforts, the club have recently embarked on long-overdue attempts to generate a sense of unity and community, but it's hard to avoid the suspicion that this has only come about at a time of crisis because it's the last card that Evans has to play if he wants to avoid the sort of public animosity which could damage his business reputation. There are rumours that Evans is increasingly keen to dispose of ITFC, but that isn't simple: the football club are almost £100 million in hock to Evans, and one of his companies owns the training ground. Any potential new owner would have all of that to sort out before they even considered how much they wanted to run a League One club on a downward trajectory.
With all of that in mind, the fact that there is, perversely, something approaching a "feelgood factor" about the club at the end of the worst season in living memory, is all the more remarkable. That sense of a potential new beginning is largely down to Lambert, and to the actions of supporters who have sought to generate a more positive atmosphere at Portman Road. Whether it can survive anything other than a blisteringly successful start to life in League One (something far from inevitable, judging by recent performances) remains to be seen. Gavin Barber
Photo by Simon Gill/WSC Photos: Fans in the sunshine at Portman Road
This article first appeared in WSC 387, June 2019. Subscribers get free access to the complete WSC digital archive – you can find out more here