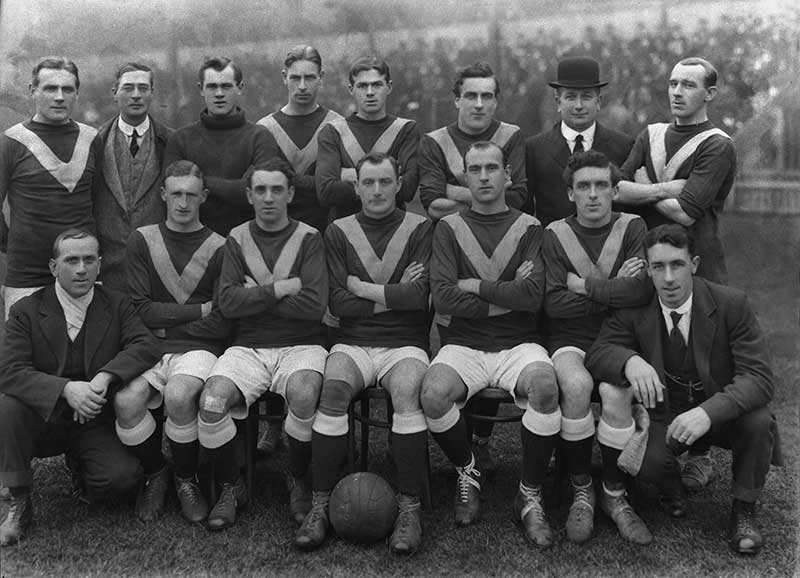 Before Leeds United proved that the city can support a top-flight football club, Leeds City showed exactly how not to do it in 15 years of chaos
3 July ~ Illegal payments, whistleblowers, alleged blackmail, crippling debt, and a large dollop of hypocrisy; Leeds City's demise in 1919 demonstrates that several of the demons which stalk the modern game were also lurking around the time of the First World War.
The maelstrom surrounding the Peacocks' financial upheaval almost threatened to destroy the burgeoning career of general manager Herbert Chapman; a more stringent FA hearing might have seen him facing a life ban, the ramifications of which could have radically altered the development of the sport.
City's finances had always been precarious. Formed in 1904 and League members a year later, the club had always faced difficulties drawing crowds into the ramshackle Elland Road, with the lure of the more successful rugby side simply too strong.
Despite the construction of the Scratching Shed, which stood for over 70 years and which was clearly a statement of intent (the manager Gilbert Gillies claimed "The extra seats will enable us to garner extra revenue and invest in a higher standard of player"), City continued to labour in the nether regions of Division Two and a raft of bargain basement purchases lived down to expectations.
With the club facing re-election in 1912, the bankers decided to call in the club's £7,000 overdraft. But for chairman Norris Hepworth's intervention – he invested £15,000 to keep the club afloat – the Peacocks would have died there and then. The extent of Hepworth's philanthropy was revealed during an extraordinary meeting at the Grand Central Hotel. It wouldn't be the last time that City's dirty linen was aired at one of the town's premier hotels.
Chapman swept into Elland Road and campaigned vigorously to keep City in the League. On June 4, Leeds were duly re-elected and the new manager's team finished a promising sixth in Division Two, with rampaging centre-forward Billy McLeod netting 27 League goals. Chapman's innovations included salt baths and golf breaks, which became de rigueur for his title-winning teams at Huddersfield and Arsenal.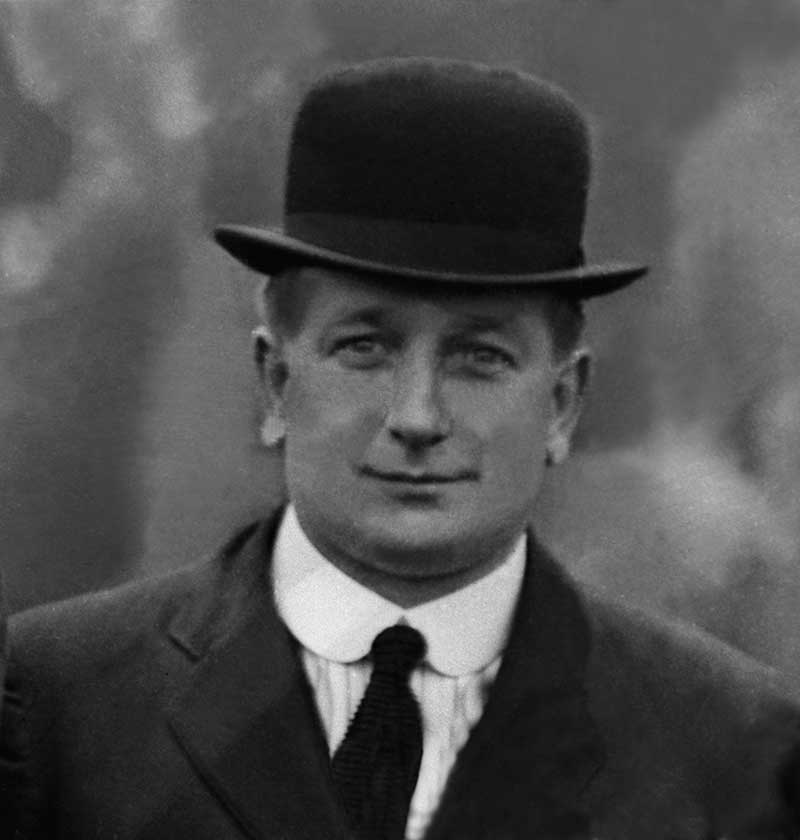 During the summer, Chapman signed three players, and agreed to pay them the full £208 year's wage to the following April. An FA enquiry ruled that three Leeds players were receiving more than their permitted £4 a week; the £125 fine dished out to City amounted to little more than a slap on the wrist, but it was an indication that financial problems lingered beneath the surface.
Leeds missed promotion to Division One by just two points in the 1913-14 season. At Elland Road, Nottingham Forest were crushed 8-0; winger Ivan Sharpe and McLeod, who scored 27 goals once again, continued to receive rave reviews. Finally, Leeds were in the black, generating a £400 profit, after crowds crept up to around the 30,000 mark.
In 1914, a syndicate of Leeds sportsmen, headed by Joseph Connor, paid £1,000 for the club and an annual £250 rent for Elland Road. But the onset of the First World War set into motion a chain of events which would spell the club's doom.
Chapman vacated his post as manager to take charge of the nearby Barnbow munitions factory and his absence brought simmering personality clashes to the fore. In 1914, he had recommended that assistant manager George Cripps take control of administration while he was away, while team selection became the responsibility of new chairman Joseph Connor.
Cripps and Connor loathed each other, and Connor threatened to resign unless the board investigated Cripps's handling of City's finances. The board sided with Connor and appointed an accountant's clerk to look after the team's books but, bizarrely, decided to let the increasingly fragile Cripps pick the team.
Ironically, Chapman's return in 1918 worsened matters. Cripps responded to being demoted back to assistant by suing the club for wrongful dismissal and informing his solicitor James Bromley that the club made illegal payments to staff – England internationals Charlie Buchan of Sunderland and Spurs' Fanny Walden had guested for City – throughout the war years. Connor brokered a deal, with Cripps given a payoff and (according to his chairman) providing a written undertaking not to disclose any information relating to the club's affairs.
The denouement arrived before the 1919-20 season. Journeyman full-back Charlie Copeland was offered £3 10s for playing in the reserves and £4 for first team appearances. A furious Copeland demanded £6 a week and, despite being shipped out to Coventry, decided to reveal the extent of City's illegal wartime payments to the authorities. Copeland's solicitor happened to be James Bromley, accused by Connor of leaking sensitive information to his client.
On September 26, 1919, a joint Football League and FA Committee ordered City to produce the relevant documents for inspection by October 6 or face expulsion from the Football League. At London's Russell Hotel, League chairman John McKenna ("We will have no nonsense. The football stable must be cleaned") announced that Leeds City's place in Division Two would be taken by Burslem Port Vale, as City's ultimate failure to produce the paperwork was deemed to be an admission of guilt.
Five City officials – including Connor and Chapman – were banned for life, although Chapman later earned a reprieve after he proved he was working at the factory when the payments were allegedly made. The final act of the Leeds saga was acted out at the city's plush Metropole Hotel, where over 30 representatives from League clubs haggled over City's players (the Daily Mail's headline read Going, Going, Gone), with the entire squad fetching around £10,000. Moves were soon afoot to create Leeds United, who joined the League a year later, and would eventually validate Herbert Chapman's 1914 claim: "This city is built to support top flight football. It has to happen at some point soon."
In the Yorkshire League, nine levels below where the original club once played, there is now another incarnation of Leeds City. Formed in 2006, they are far removed from the intrigue which destroyed their namesakes 90 years ago. Jon Spurling
This article first appeared in WSC 275, January 2010. Subscribers get free access to the complete WSC digital archive – you can find out more details here
Photos from Colorsport: Leeds City line up in 1914-15; Herbert Chapman, Leeds City manager