Almost half a century ago, a touring Santos side met their match in a feisty friendly in front of a capacity crowd at Home Park
By Jonathan Harding
29 December 2022
There are not many friendlies worth revisiting almost 50 years later but Plymouth Argyle's defeat of Pelé's Santos on March 14, 1973 fits into that category. After all, it is not every day a team from the Third Division welcomes a Brazilian touring side at the last minute, let alone one with 1970 World Cup winners Edu, Carlos Alberto, Clodoaldo and Pelé.
Argyle's hard-fought 3-2 victory was watched by almost 40,000, but the match almost did not take place after a payment dispute. Santos had just played Fulham, when their contract entitled them to half the gate money, and they had agreed a set figure of £2,500 with Argyle for a game arranged at a week's notice. After seeing the size of the crowd at Home Park they demanded more money, refusing to play unless they were paid an additional £2,500.
"The match was organised quickly and we were excited to play against those stars," says defender John Hore, who later managed Argyle and Exeter City. "The whole thing was like a carnival and the place was rocking. There was a delay to kick-off and the chairman came ranting and raving into the changing room as Santos demanded more money. Our secretary, Graham Little, had to rush around collecting £1 notes from the gates."
Following a nerve-racking 15 minutes off the pitch, Argyle made the perfect start on it through 20-year-old midfielder Mike Dowling, who opened the scoring in the early stages of the match with a thunderous strike from range. "I have two sons and one of them is dead keen on football," says Dowling, who admits he is not yet tired of speaking about his finish nearly half a century on. "We talk about that goal every so often and you can actually watch the highlights online. I robbed someone in midfield, knocked it forward a few paces as Santos backed off and took a shot on goal. I decided to hit it from 30 yards and next thing it was in the back of the net before the keeper could move."
Argyle took the game to Santos and doubled their lead courtesy of Derek Rickard, who latched on to a cross from left-back Colin Sullivan and directed a glancing header past Cláudio. Jimmy Hinch scored to make it 3-0 before half time, much to the chagrin of the Santos players, many of whom were said to have been shocked by the physicality of the home side.
"We were probably more physical than them and they didn't like some of the tackles that were going in as they thought it was a friendly but to me it felt like a cup final," adds Howling. "It was a culture shock coming to Home Park. We went off at half time and there was nearly a fight down the tunnel."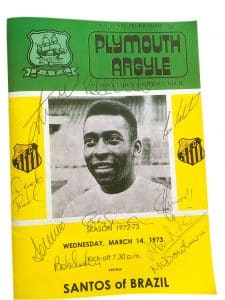 Pelé, who was swamped by children hoping for an autograph at half time, coolly pulled one back from the penalty spot in the second half, before playing an inch-perfect ball through for left-winger Edu to make it 3-2. "The match got a bit feisty and they didn't like it," recalls Hore. "They upped their game in the second half and the tackles flew in. I was tasked with marking Pelé. I looked at him and he gestured to say he didn't want to get involved in the physical stuff, so I gestured back to say 'no way'. There was no chance I was going to think about clobbering Pelé, even if I could get close to him. I was struck by the way the whole team looked after the ball but they were all superstars. Pelé nutmegged me at one point at full speed and then knocked the ball 40 yards. I believe he gave me his shirt out of respect at the end of the game. I've still got it and it's invaluable. He was the perfect gentleman and has been a wonderful ambassador for the sport."
Pelé's powers may have been waning but he was far from finished when he walked out at Home Park. "We were aware of him," remembers Dowling, who went on to play for Bath and then his local team Bodmin. "He was clever and good on his feet, even as he came towards the end of his career. They were all good at receiving the ball and they played a modern style of football. They kept the ball with five- or ten-yard passes, like Manchester City. There's logic in that as the other team gets tired but it can be boring. Pelé was still agile and could beat people, but the player who most stood out was Edu. I've passed on his shirt to my son and I've got a programme filled with autographs. It's almost 50 years ago but I remember it well."
Argyle's win did not prove to be a catalyst for a promotion push; they finished eighth, but spent two seasons in the Second Division after going up in 1975. That same year Pelé joined New York Cosmos and became the first footballer to achieve real fame in the US before retiring in 1977.
This article first appeared in WSC 420, May 2022. Subscribers get free access to the complete WSC digital archive
Want to see your writing published in WSC? Take a look at our pitching guide and get in touch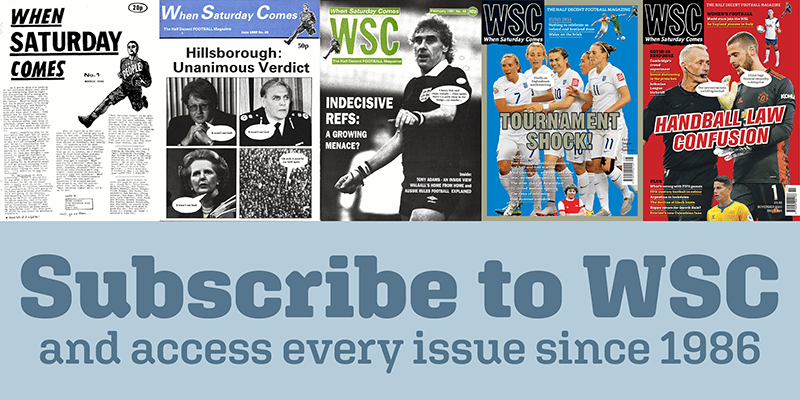 Tags: Pele, Plymouth Argyle