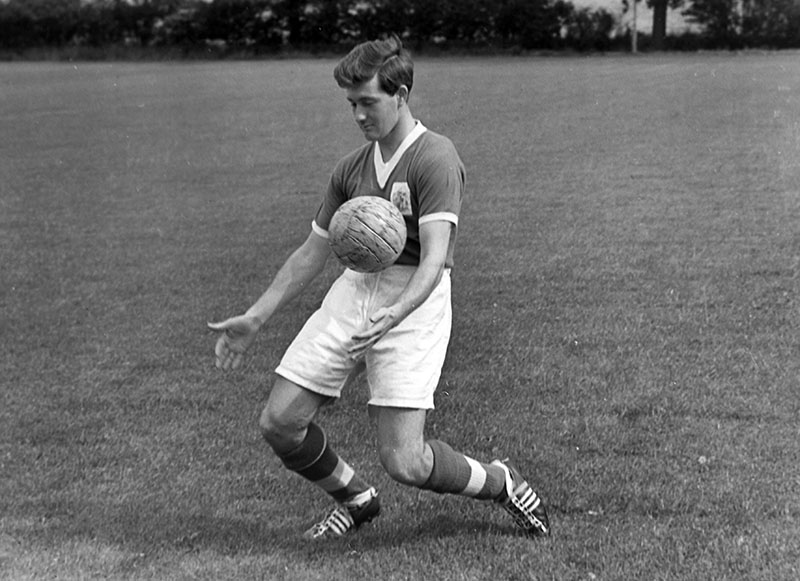 The 29-year-old full-back's sudden and avoidable death from polio in 1959 sparked a national clamour for inoculations and a dramatic fall in the number of cases of the disease
February 26 ~ Birmingham fans take great pride in our somewhat underwhelming history. The late 1950s was perhaps our greatest era, with Blues winning the Second Division in 1955 and finishing the next season in sixth place – still our highest league finish. Blues spent the following nine years in the top flight, with teams featuring internationals such as Gil Merrick, Trevor Smith and Noel Kinsey. But the true star was Jeff Hall, a player whose influence and stature is increasingly fading as the generations who saw him play recede into memory.
Hall was brought up in Wilsden and spotted as a 21-year-old during his national service. Modest and likeable – he tried to convince the Blues scout that he wasn't good enough to play professionally – Hall made his debut in 1951 and within two years was a first-team regular. He made his international debut in 1955 and over the course of 17 internationals was only on the losing side once for England. However, within a fortnight of making his 227th league appearance in early 1959, Hall was dead from polio.
Polio is a highly infectious virus which spreads from the intestines, attacks the brain and spinal cord and can cause paralysis, muscle wastage and death. During the 1950s, it was a serious public health risk with over 45,000 cases recorded throughout the decade. Summers being punctuated with a "polio season" that resulted in thousands of cases and epidemics were common, with one outbreak in Coventry in 1957 infecting more than 100 people. A vaccine had been available since 1952 but take-up was slow. By 1958 only half of all eligible children in England and Wales had been vaccinated.
Physical exertion can hasten the impact of the disease, so given how commonplace polio was, it is somewhat surprising that no club had thought it prudent to vaccinate their players.
How or where Hall was infected will never be known, but he had complained of problems swallowing the day before Blues' game at Portsmouth on March 21, 1959. Doctors diagnosed a cold and Hall played out a 1-1 draw. However, the Sports Argus reported that Hall "looked terrible" after the game and had begged a lift back to get him home sooner than the team coach. Hall was coach to a youth team that was due to play in a televised five-a-side tournament the following day, so was also keen to get back to support them.
While seeming fine at the tournament, Hall was rushed to hospital the day after and immediately diagnosed with polio. Blues and Portsmouth players were quarantined and players from other clubs who had played Blues the previous weeks, as well as a broadcast crew who had filmed an FA cup semi-final at St Andrew's a few weeks before, were ordered to visit their doctors. Hall went through extensive surgery but, despite newspapers reporting him "putting up a good fight", he died on April 4, 1959. He was 29.
Jeff Hall's death was tragic and avoidable. However, he left an astonishing legacy. Soon after reports of his illness appeared, local public health departments reported a significant increase in demand for the vaccine. The Saturday following Hall's death, a message from the Ministry of Health was read out at 400 clubs across the country and after Hall's widow Dawn bravely appeared on national TV, demand for the vaccine soon exceeded available supplies. By April 22 the BBC reported that inoculations had been suspended at various locations across the country due to "unprecedented demand".
Hall's legacy was clear. There had been 3,712 cases of polio in 1955 but by 1963 this had fallen to 39. There hasn't been a confirmed case of polio in the UK since 1984.
As the Daily Express put it: "It took the death of one footballer to get the typists and secretaries, clerks, schoolboys and the rock and roll generation pouring into the clinics." Today Hall is still remembered at St Andrew's in the form of a clock between the Gil Merrick and Main Stands. It is a modest but meaningful tribute not only to one of Blues' greats but to someone who, however inadvertently, helped prevent hundreds of such tragedies from ever happening again. Chris Sanderson
Image by Colorsport – Jeff Hall in August 1958
This article first appeared in WSC 396, March 2020. Subscribers get free access to the complete WSC digital archive – you can find out more here