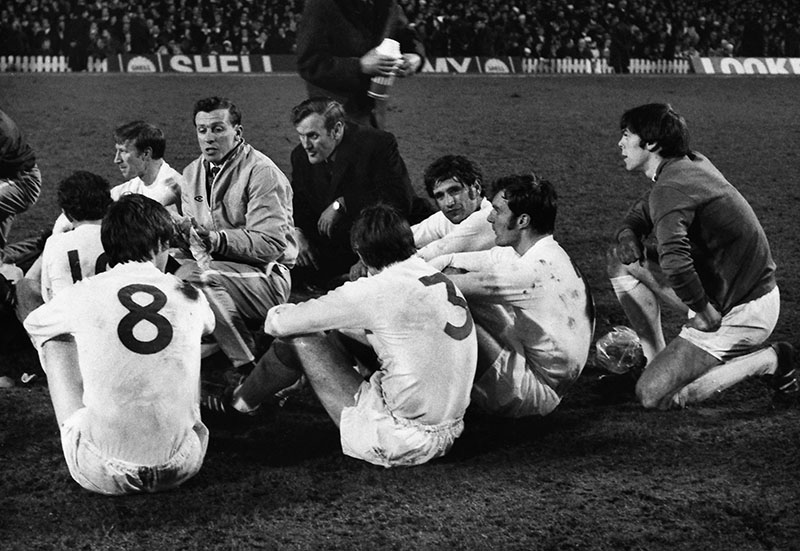 Don Revie's side were challenging for three trophies as the season neared its end, but 15 games in 46 days proved too much for his stretched squad
17 April ~ Jürgen Klopp and Mauricio Pochettino recently bemoaned playing their Champions League ties 72 hours after a Premier League fixture. However, nothing can compare to the unbelievable schedule that Don Revie's Leeds United side were forced to endure between March 14 and April 29, 1970. Even now, it defies belief.
At the start of 1969-70 Revie set his side a target of winning the European Cup, the League and FA Cup. On the morning of March 14, 1970, they were top of Division One with seven games remaining, the European Cup and FA Cup still within their grasp. Leeds played Manchester United in the FA Cup semi-final that afternoon. The tie at Hillsborough finished in a 0-0 draw after extra time. It was a complication that Revie hoped to avoid.
Four days later, Leeds overcame Standard Liege 1-0 at Elland Road, ensuring qualification for a European Cup semi-final against Celtic. However, key defender Norman Hunter was injured and now unavailable for three weeks. Nevertheless, a 2-1 win at Wolves on Saturday March 21 ensured that ambitions of retaining the title remained. Just 48 hours later, the semi-final replay at Villa Park ended goalless. On Thursday March 26, at Burnden Park, Billy Bremner scored the only goal in the second replay to guarantee a Wembley appearance. The players had little time to celebrate, as two days later Southampton arrived at Elland Road for a league fixture. Revie's medical team advised that several key players were close to breaking point, so he fielded an understrength side and lost 3-1. This meant title rivals Everton now led the table by five points. Two days later, Leeds travelled to Derby and lost 4-1, which was their seventh game in 16 days. Revie reinstated some first teamers for the European Cup semi against Celtic on April 1 but to no avail, as the visitors emerged with a 1-0 advantage. That same evening Everton clinched the title.
The Football League secretary, Alan Hardaker, displayed scant sympathy with Leeds' requests for postponements, stating: "The League can forbid clubs to take part in European competitions… if they cannot fulfil commitments at home." Leeds were fined £5,000 for "fielding an understrength side". Due to Hardaker's dogmatic stance, Leeds journeyed to West Ham, just 24 hours later, for a league fixture. Revie, anxious to avoid further sanctions, fielded his strongest side. The decision backfired as full-back Paul Reaney broke his leg in a 2-2 draw. Revie's plans were starting to disintegrate.
He now gambled by selecting some reserves for the home game against Burnley two days later but fortuitously a 2-1 victory ensured that the League could take no action. In the first four days of April, Leeds participated in three matches. They now had a week to recover before the FA Cup final against Chelsea but, on an energy-sapping quagmire of a pitch, it ended 2-2 after extra time, necessitating the first replay since 1912.
Four days later, on April 15, they encountered Celtic in the second leg of the European Cup semi at Hampden Park. It finished in a 2-1 defeat with keeper Gary Sprake being stretchered off after a collision. The inexperienced David Harvey was now the last line of defence. In the following six days a weary Leeds side suffered defeats in their remaining two league games.
Until March 28, Leeds had only lost three games but as injuries mounted, in the subsequent 24 days they suffered six defeats. Leeds' 62nd and ultimate game of the season took place on Wednesday April 29 at Old Trafford, where Chelsea ended their last hope of a trophy with a 2-1 win after extra time in the FA Cup final replay.
In the space of 46 days, Leeds played 15 fixtures, an average of three per week. These included two FA Cup finals, three semi-finals, two European Cup semis, one quarter-final and seven league games. To assist England's preparations for the 1970 World Cup, the League insisted all fixtures be completed by April 30. As Bill Shankly noted: "They would have done that treble had it been a normal season." Revie remained convinced until his death that Hardaker's intransigence had thwarted their hopes. Paul McParlan
Photo by Colorsport: Don Revie talks to his players before extra time in the FA Cup final replay at Old Trafford
This article first appeared in WSC 386, May 2019. Subscribers get free access to the complete WSC digital archive – you can find out more here