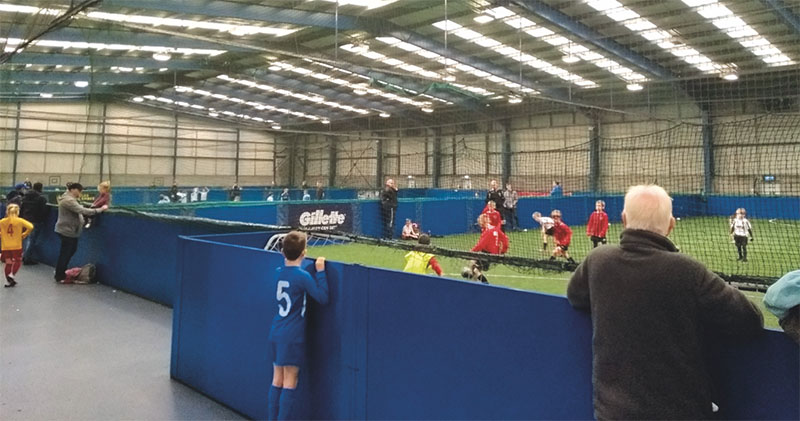 The deadline is approaching to decide the future of a scruffy but well-used sports centre, the closure of which could leave hundreds of children without football pitches to play on
23 January ~ As the Trafford Soccer Dome's fate was being finalised over Christmas, hundreds of amateur footballers hoped for the best. Some professionals too, perhaps; Paul Pogba and Marcus Rashford kicked a ball around its indoor pitches in their formative years, while Wayne Rooney, Rio Ferdinand and Phil Neville have taken their children to play there.
A giant warehouse-type building beside the M60, to the west of Manchester, the Soccer Dome has been a big part of Greater Manchester's football culture since opening in 1987. So a lot of people were shocked to learn, in early November, that the venue was scheduled to close on January 31 and be turned into an indoor adventure centre.
Around 650 children play on the Dome's 13 indoor pitches every Saturday morning, in sessions organised by the Timperley Junior Football League, which has led a campaign to save the venue, believing nowhere else could accommodate such numbers. Over a typical week, around 300 junior and adult teams play there in five- and seven-a-side leagues, until 11pm on week nights. The loss of the site would be significant to the community.
The Dome, though, is not a community-owned venture, but a commercial one, and here lies the problem. Powerleague, the venue operator, has suffered financial difficulties after three years of falling income, which left it struggling to pay for leases at its 50 sites across the UK and Ireland. In September, it announced the closure of 13 venues, having entered a company voluntary arrangement to avoid administration.
That, however, is not the full story. Trafford was not on the initial list of venues to be shut; indeed, it was making a profit, so something else was going on, and it was not immediately clear who was to blame. That was because Powerleague sub-leases the venue from DW Sports, which in turn leases it from landlord Peel Holdings, a real estate company that used to own the neighbouring Trafford Centre shopping complex, and still owns Media City at nearby Salford Quays.
Many blamed Peel for the planned closure, believing the landlord had priced out Powerleague in favour of a more lucrative tenant. An online petition attracted more than 7,000 signatures, while the Daily Telegraph and ESPN ran lengthy features on the Dome's troubles.
Yet while Peel has taken the brunt of criticism from angry parents and amateur footballers, DW Sports, Powerleague and Trafford Council have not escaped censure. With bad publicity reaching toxic levels, the four accused parties put their public relations teams to work, issuing statements that implicitly tried to shift blame elsewhere.
Peel insisted it was likely to renew its lease with DW Sports, and was keen to keep football at the Dome. DW claimed that Powerleague had decided against extending its sub-lease. Powerleague chief executive Christian Rose then told BBC Radio Manchester that the company was in talks to extend its agreement and was hopeful of success. Trafford Council, meanwhile, stressed that it had nothing to do with the decision to shut a privately owned site, but was speaking to Peel to see what could be done to save it.
Whoever prompted it, the closure would have serious consequences, not just for local amateur football, but also for the professional clubs who send scouts to those Saturday morning sessions seeking the next Rashford. Representatives from the academies of Manchester City and Liverpool have sent letters of support to the Timperley Junior Football League, which is hoping for more concrete help from the region's Premier League clubs.
No one is pretending that the Dome is perfect as the building gets cold in winter and the facilities are poorly maintained. However, it is well used, and not just for football, having hosted softball and karate events, as well as being home to British Basketball League team Manchester Giants, who have had to bring forward a planned move to Urmston, a couple of miles away, to secure a home court for the second half of their season.
The success of the Dome over the past three decades has been its flexibility; it can host games at all times and in all weathers. The decline of outdoor Sunday league football in the Greater Manchester area over that period is probably no coincidence. Why get up on a Sunday morning to be kicked around a filthy pitch when you can play indoors on a Tuesday after work?
If the Trafford Soccer Dome is to escape being turned into a rock climbing venue, though, its operator needs to acknowledge increasing competition. Schools and colleges – or at least those who manage their sites – have cottoned on to the financial benefits of building artificial pitches for hiring out, and people who fancy a kickaround are now more likely to be able to find a space closer to home for less than the £49.50 an hour it costs at Trafford. The Dome has history, but money talks louder. Mike Whalley
Update: Since this article was published in the magazine Peel Holdings have released a statement confirming they are "working closely with all parties to secure a football operator for the long term".
This article first appeared in WSC 383, February 2019. Subscribers get free access to the complete WSC digital archive – you can find out more here