When Britain joined the European Economic Community a celebratory game was held at Wembley, revealing split opinions on the move
18 August ~ Two days after Britain formally joined the European Economic Community (EEC) on January 1, 1973, a Wembley crowd of 36,500 watched an international friendly. The teams were "The Three", comprising the home nations and fellow Common Market newcomers Ireland and Denmark, and "The Six", from existing EEC nations Belgium, the Netherlands, Luxembourg, Italy, West Germany and France.
It was part of the week-long "Fanfare For Europe" – a cultural festival that would allow Britain to share what Prime Minister Edward Heath called his "heart full of joy" at the prospect of their country forging closer ties with Western Europe.
The Wembley clash was the most notable and successful element of an often underwhelming government initiative. Heath's plan to borrow the Bayeux Tapestry and display it in Westminster Hall was dropped after critics pointed out that images of Saxons being butchered by Normans was hardly a symbol of European co-operation.
As the British Museum had recently refused France the loan of the Rosetta Stone, the Mona Lisa never appeared in a proposed V&A exhibition either. But there was a display of European sweets, food festivals, concerts at Covent Garden and European art exhibitions at various London hotels.
And of course, there was the Wembley match. The minister of sport – the notoriously dour Eldon Griffiths – expressed a wish that "some good footballers play in the game, otherwise it could be a huge damp squib". In fact, The Three were laden with home nations stars, including Bobby Moore and Bobby Charlton, Scotland's Peter Lorimer and Pat Jennings from Northern Ireland.
The Republic of Ireland seem under-represented with Leeds' Johnny Giles the only call-up while Denmark provided Mönchengladbach striker Henning Jensen and Utrecht midfielder John Olsen, who was the team's other substitute; no Welsh internationals were picked at all. For The Six, there were eight players from West Germany and Holland including six who were to play in the following year's World Cup final.
In the build-up to the match, the visitors' coach Helmut Schön described it as "heralding a new era for Europe", while Alf Ramsey – in charge of The Three for the evening – was rather less gushing and sidestepped the issue of European integration. "All big Wembley occasions should be cherished," was his typically clipped response.
The players' reactions to the expansion of the Common Market were hugely varied. "I'm really not interested in the whole thing," said Jennings while Alan Ball, a substitute on the evening, joked: "The only thing that interests me about joining the Common Market is whether or not it will make my family's summer holidays cheaper." Giles was far more knowledgeable, explaining: "A small country like Ireland need close business and trade links with other European nations, so I'm certainly in favour."
Of The Six team, Franz Beckenbauer was the most Euro-friendly: "The Common Market is vital to us, as it encourages us to work more closely together, and that will hopefully mean that Europe will remain peaceful."
At times the match itself was almost too friendly for its own good. Charlton went close with a couple of raking long shots and Jennings blocked Gerd Müller's efforts. Dutch star Johan Neeskens later recalled: "I gained a great understanding of Müller during that match; his unerring ability to get himself into the right position, and the precision of runs. He was a master at work."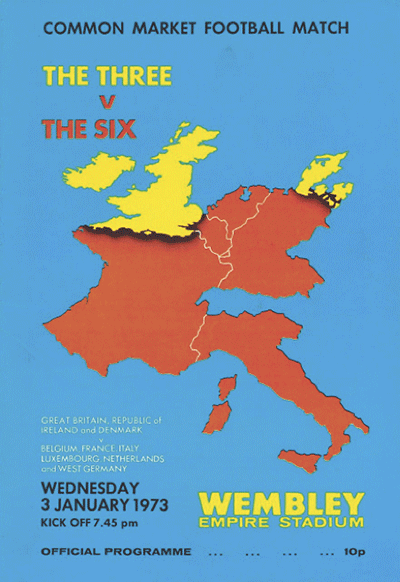 Beckenbauer was similarly gushing about Neeskens' movements, suggesting he was "panther-like" in his ability to glide around the pitch. Although, predictably, The Three demonstrated a more blue collar approach to the match, they won anyway thanks to goals from Scotland's Colin Stein and Jensen. Neeskens later joked: "Our team focused perhaps a little too much on the artistry, while England [sic] wanted to win whatever the cost."
Outside Wembley on a freezing January evening, placard-bearing protesters pointed out that the "Fanfare For Europe" festival had cost British taxpayers around £350,000. "It's an early sign that Britain no longer has control over its own affairs and that in the end, belonging to a Common Market will cost us far more than we can possibly hope to make from it," said one demonstrator.
Five days later, a European-themed version of the talent show Opportunity Knocks was broadcast on ITV. Acts from across the Common Market countries performed and Johan Cruyff, who didn't play at Wembley, was persuaded to be briefly interviewed. After a clip showing him playing for Ajax, Cruyff reassured viewers that membership of the EEC would have "little noticeable effect on British football". Off air, he joked: "One day, Dutch footballers might play in England."
Twenty years later, with freedom of movement for EU workers enshrined in the Treaty of Maastricht, Cruyff's prediction would come true. Back in 1973, with the "Fanfare For Europe" festival now over, the English media was free to start fretting over the numerous intricacies of the Common Fisheries Policy, and the failings of its football team. Jon Spurling
This article first appeared in WSC 354 – subscribers get full access to the WSC digital archive, which goes all the way back to 1986