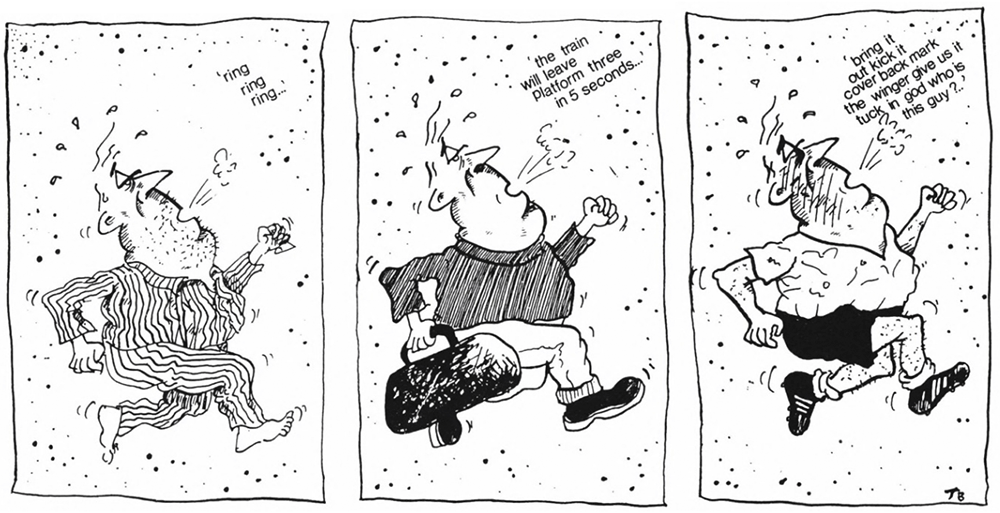 The life of a ringer is a strange one, though there's always a place for you if are left-footed, as Roger Titford explained in WSC 45
There are two types of ringers in park football: the prized and the Polyfilla. Use of the prized variety represents a serious attempt to defraud your opponents by including someone else's star player.
Use of the Polyfilla variety is the last desperate effort to fill a gap in the team left by the entire midfield suddenly going to the centre-forward's wedding. This latter is the variety to which I belong and I will now share with you the unique insights such a position affords.
It is a nomadic and obsequious calling. Few chances to play are ever turned down; it might be your last. How does one prepare for the call that might only come twice a season and then only an hour or two before kick-off? Polyfilla ringer is never fit, generally without shin pads or tie-ups, occasionally hungover, but always with his boots in the back of the car.
It is said that John Burridge, currently appearing in goal at Newcastle United, always takes his boots into Wembley with him, "just in case. " One day he will be canonised as the patron saint of ringers – St A N Other…
The arrangements of the ringer are frantic. Finely calculated trade-offs between another hour in bed, followed by a pleasant, sunny lunch at the pub versus a tortuous journey, a stressful ninety minutes and the possibility of feeling stiff for the next four days. Which bus, which train, which lift, which park?
There are many, many ways to get lost on the way to parks, within parks, parks that are split in two parts, on the way to dressing rooms that don't exist, in the search for "the team in red, you can't miss us". Searches in parks have the disadvantage of being undertaken on foot and there is the risk of arriving late, panting, and being told: "We weren't sure whether you were coming so Fred's son Jason has got changed. How about running the line for the first half?"
The dream is always the same; rocket in a couple of 25 yarders and round off the hat-trick with a diving header. A few drinks in the bar with like-minded fellows afterwards and the inside left shirt for the rest of the season.
The reality is pretty consistent too. "You right or left-footed?" "Left-footed, good. Left back OK?" I've lost count of the times I've said that I've never played there before but I'll give it a try. As I loiter on the touchline, my innate midfield dynamism stifled, I muse on whether "enforced left back-ism" is a hereditary condition.
Frankly, I blame Sid Tapp, the man my father was unable to displace at right back in the Rothschild School (Brentford) team. He moved to left back, learned to kick with his left foot, and passed on that marginally useful extra on to me.
Where are all the left backs? God, it's a thankless position. "Tell you what, skip, I'm off on an overlap." 'Skip' doesn't like that. He would love to be a ferocious jailer. Deep down he likes intimidating people, preventing them moving, stopping their fun. That's why he's centre half and captain.
Generally speaking (and remember I've played for more teams than Keith Edwards, if only once at each), 'Skip' has got a 'tache and strong regional accent redolent of the soccer hotbed from which he was quarried/wrought/mined/fished/blasted, delete as regionally appropriate.
This combination of virtues appears to give him the authority to curb my overlapping and allow me, as the sole recompense of my presence, the consolation of being continually roasted by some spiky-haired, ear-ringed young devil, not yet born when England won the World Cup. At this point I could happily hire Ray Wilson in either, or indeed, both of his professional capacities.
No matter who you play for, this state of affairs exists. My 'ringering' has spanned the football universe. From the Workers Revolutionary Party to the House of Commons, from august institutions like the Oxford Union and BBC Radio to the exotic Gemini and Malibu of the Hackney Marshes League it's the same everywhere!
Take the last occasion. Delighted to accept the privilege of playing for the House of Commons without having to undergo the usual arduous selection process of winning a seat in Parliament, amazed that I was allowed to take the field of play without having to claim to be Micky Foot or Eddie Heath and, as ever, belaboured by the bloke with the 'tache going on all game, "For Christ's sake, keep it tight, Sonny. " One of the '87 Scottish Labour intake I was told; or just as likely, another ringer, but of the more prized variety.
Sometimes you wonder whether, in fact, more than two or three players ever have anything to do with the institution they are representing on the pitch. Perhaps there are actually more football teams than there are players. Maybe there's still hope of that hat-trick. Just call… 'Ringer' Titford
This article was originally printed in WSC 45, November 1990. Subscribers get free access to the complete WSC digital archive – you can find out more details here
Illustration by Tim Bradford