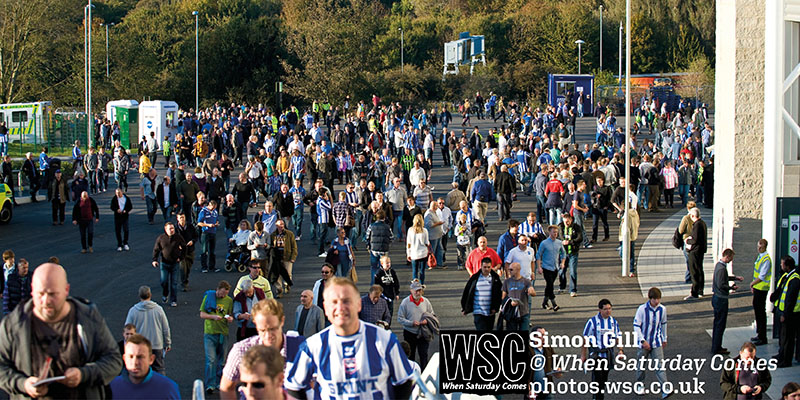 After almost a year without full stadiums, the connections made through football are missed just as much as the goal celebrations
February 22 ~ It's a cold Tuesday night in December 2018. Right at the very top of the West Stand in Brighton's Amex Stadium I'm sitting next to my rather frail dad. We look up and suddenly Albion striker Florin Andone is off, running the length of the pitch over on the far side. He gets close to the byline, finds a way through two defenders, and we both feel that joyous collective silent gasp when an entire stand gets to its feet and anticipates. Andone takes strike, puts it away in the corner and we're – incredibly – 3-0 up at half time against old foes Crystal Palace. As local radio pundit Warren Aspinall roars on the commentary now imprinted on our memories: "With only ten men!" I hug the old man tightly. Probably a bit too tightly for an 82-year-old. He hugs me back. I get a touch of the Martin Tylers and shout in his ear: "We'll never see anything like this ever again!"
On March 7 last year I went to my last football match, a trip to Molineux with my son. The usual away day rituals: the anticipation the night before, setting the alarm. Those jokey conversations as the train pulls away from Euston with random Reading fans on their way to Birmingham. Finding a McDonald's for the boy and getting lost walking around the ring road several times because I'd calculated that we needed to arrive "in good time" – a ludicrous two-and-a-half hours before kick-off. And something unusual once we were inside the away end – the most intense hand-washing in the gents that I'd ever witnessed.
On the pitch it was a grim 0-0 draw which, though we didn't realise at the time, started to show that Graham Potter had enough in him tactically to keep us comfortably up in a season that was about to come to a halt. And then nothing. Weeks of nothing. Those drumbeats of a life supporting a club – the excuses to sit over a Big Mac with your 18-year-old, to have a coffee with random strangers, to do most of the things that make up a life you've filled with football for decades – now silent.
So, like many others, I struggled. March turned to April and on and on it went. I missed the connections I'd invented for myself. Those trips with Nigel and Steve and Cameron from Lewes to Falmer, scooped into a full-up carriage like a Tokyo commuter train. I missed spotting Warren and Jim and having that same Albion conversation – "Should be winning this" – whether at Victoria station or in the Arthur Wait Stand or outside the Emirates. I missed seeing blokes on the West Stand who I didn't really know outside of football, or even their real names: Bozza from North Stand Chat over there; Ady and Al, the Albion Roar podcast presenters, trying to get the crowd going; bumping into the bloke who sits behind me who was on Top of the Pops in the 1970s. I missed the weekly sneaky look in the row beneath us at whatever incredible partition lunchbox of goodies one dad had conjured up for his six-year-old (hopefully) future fan, to keep him occupied while he moaned about Solly March. I even missed eating that fantastic hot crumbly sausage roll from Piglets Pantry, being almost proud that it costs an astonishing Brighton price of £4.10.
Fast forward to December 2020. The city of Brighton and Hove is under tier two restrictions and thus the Albion are one of several clubs in the Premier League allowed to hold matches in front of 2,000 fans. Tickets go on sale for the game against Arsenal on December 29. I nab some for my lot, which arrive with a list of terms and restrictions that runs to two pages. "Please avoid close contact with others, including high-fives, fist bumps and hugs." Two days before Christmas we learn the city will be in tier four from Boxing Day, and we start all over again.
A few weeks later, Dad calls. We've barely seen each other for much of 2020 – just a handful of visits, most of them conducted in his immaculate back garden. This is the call I've been hoping for. "I'm getting my vaccine tomorrow," he tells me. And then we move on to more important matters, like Brighton's miserable home form and whether Potter should go. "This will end?" my dad asks me. I pause and think. "Of course it will." Jem Stone
Photo by Simon Gill/WSC Photos
This article first appeared in WSC 407, March 2020. Subscribers get free access to the complete WSC digital archive – you can find out more here