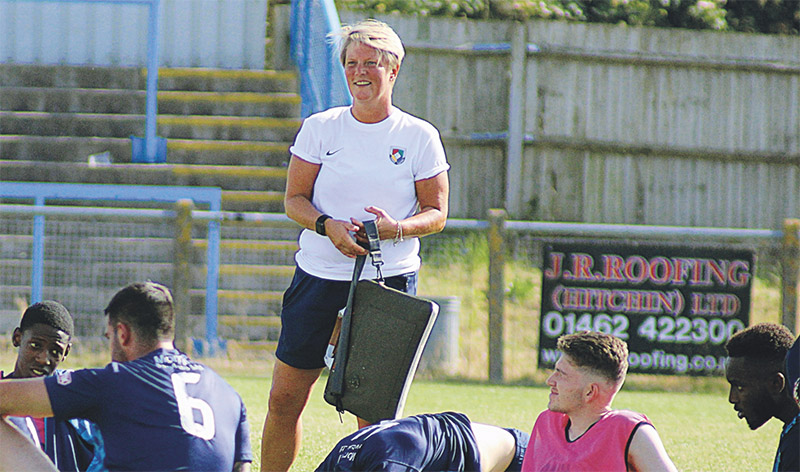 The judgements made on women coaching in the men's game are swift and unforgiving – and a reflection of the archaic attitudes that still pervade the game
11 March ~ When Carolina Morace made history in 1999, becoming the first woman to manage a professional men's team, some might have expected to see a steady stream of women taking up prominent roles in men's football. However, the reality has been far more predictable. Morace lasted two matches at Serie C1 side Viterbese before she left, frustrated by the meddling of notoriously volatile club president Luciano Gaucci. Helena Costa's story is a similar one. The Portuguese coach left Clermont Foot in the French second division before she had even taken charge of a match, citing deeper problems and accusing the club of just having hired her as "a face". Costa's place in French football history was taken by Corinne Diacre, now head coach of France women, who clearly felt comfortable enough to last three full seasons in Ligue 2.
From the vitriol aimed at Alex Scott (seven-time league, seven-time FA Cup and Champions League winner) since becoming a prominent pundit on men's football to the realistically fictionalised Norwegian drama Heimebane, women coaches in men's football are a long way from the norm. While Shelley Kerr (now the Scotland women coach) has spoken of her three years at Stirling University in the Lowland League in positive terms, archaic attitudes hang around football. Announced as the new coach of Oberliga (Germany's fifth tier) side BV Cloppenburg just before Christmas, Imke Wübbenhorst has already had to fend off a moronic question from the media about what happens in the locker room. The 30-year-old coach went viral for her quip about selecting her team "based on penis length".
With Cloppenburg rooted to the floor of the regional Oberliga Niedersachsen and just 12 games to find safety, Wübbenhorst's biggest fear isn't failure but rather failure being blamed on her gender. The task ahead is one those around Wübbenhorst have described as "a suicide mission", so the pressure on the coach is only likely to grow over the next three months.
For those select few, the trailblazers such as Wübbenhorst, Kerr, Diacre, Morace and Lisa Fallon (at Cork City), there is everything to lose and little to gain. Clearly this isn't just an issue in England but nor is it exclusive to football, as an article on the sports blog SB Nation highlighted last year: "Of the roughly 2,600 coaches employed by the NBA, NFL, NHL, MLS and MLB (including minor league affiliates), the total number of female coaches is six." Judgements will be swift and unforgiving for those odd few, not just trying to be successful at their respective jobs but carrying the weight of an entire gender on their shoulders.
In England, women's football has been on the up since the Lionesses claimed the highest finish at a World Cup of any senior England team since 1966, when they took third in Canada four years ago. Yet, as we have seen many times over, the disdain and Neolithic attitudes pervade around the sport. For Natasha Orchard-Smith, the only woman you'll find on the touchline in senior men's football in England, there is little difference between coaching boys, girls and men. The coach of Arlesey Town in Bedfordshire cut her teeth with her son's youth teams before moving onto Arsenal's Regional Training Centre then to her current club, in the Spartan South Midlands League. Although Orchard-Smith won't be rubbing shoulders with Pep Guardiola and Jürgen Klopp any time soon, her meticulous planning and keen understanding of the game are sure to win over plenty of fans while inspiring other women.
The respect for Orchard-Smith shown by her players is a litmus for her coaching prowess. As journalist Glenn Moore says regarding the prospect of a woman coaching in the Premier League: "In terms of her reception within a club, if she knows what she is doing the players would accept her very quickly. Players can suss out the frauds and respect those who know their stuff."
There also exists the wider problem in men's football of handing out managerial jobs to those with successful playing careers. Even the most successful women to have ever played football will still be brushed off as they've only had experience in the women's game. So, while Phil Neville can be given the nod to take charge of the England women's team with the scantest of managerial experience, the likes of Chelsea coach Emma Hayes or Silvia Neid, who won a World Cup with Germany, would have to take their credentials and accolades and start on one of the bottom rungs in the men's game. Head down, skin thickened, enduring the contempt, refusing to be knocked back or defined by their gender, one success at a time. Sophie Lawson
Photo by Lydia Goldsmith
This article first appeared in WSC 385, April 2019. Subscribers get free access to the complete WSC digital archive – you can find out more here